31% of USDT Supply Is Sitting on Exchanges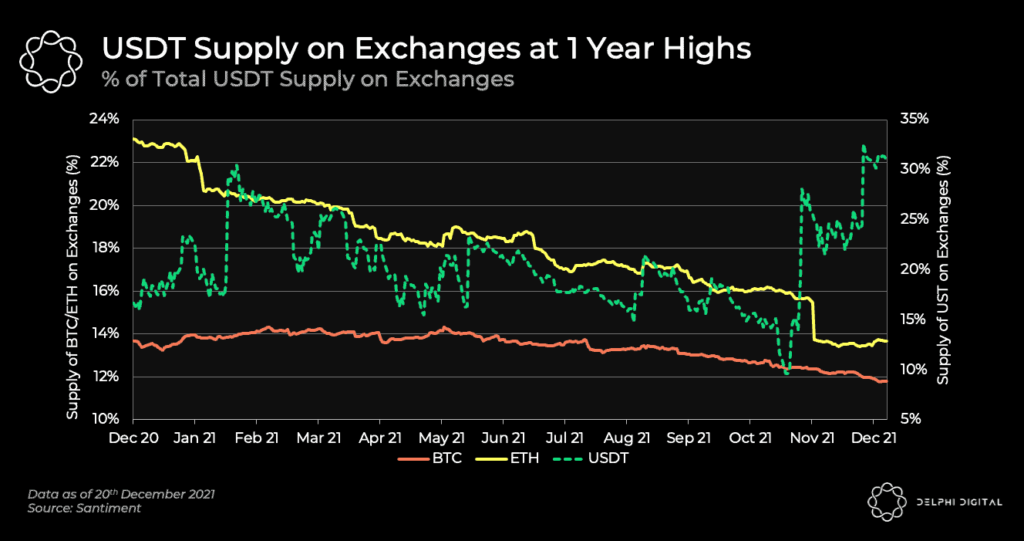 Risk assets fell during Asian hours weighed down by rising Omicron cases and tighter restrictions in Europe. Crypto markets were not spared, giving back weekend gains.
USDT supply on exchanges is at a 1-year high, indicating that investors have become risk-averse and sold into stable assets. About 31% of the total USDT supply are sitting idle on exchanges, suggesting traders are turning risk-off or locking in end-of-year profits.
ETH and BTC assets on exchanges have been declining over the year, standing at 11.8% and 13.7% of total supply on exchanges respectively. One of the main drivers of the trend is the search for higher yields on-chain. Earlier this week Microstrategy announced they are looking to generate yield on their Bitcoin holdings. As more institutions and investors search for yield, we may expect this trend to continue.