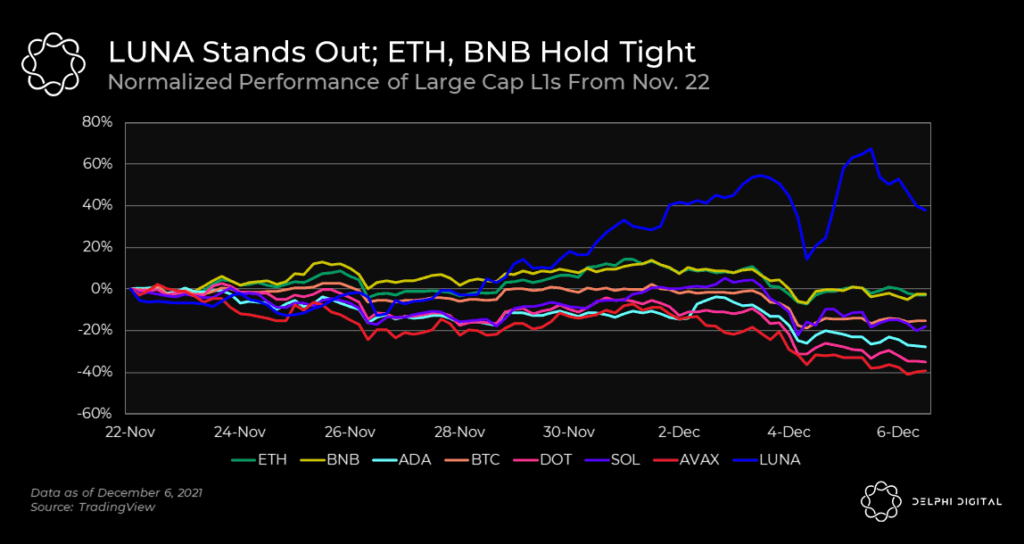 LUNA looks to be a moon mission as the only top 10 coin in the green over the last two weeks — granted it just broke into the top 10. It's tough to say what's causing this increased appetite for LUNA, but our best guess is it's a reaction to the proposal to burn 90M LUNA and mint 3-4B UST.
Despite erratic performance across the market, ETH and BNB are holding much better than other large caps (barring LUNA) — something we noticed earlier last week. Whether it's heavy bidding or just an unwillingness from holders to sell, both of these coins have held up extremely well.
Note that the chart above catches the top of AVAX but not the other coins as it's indexed to Nov. 22. AVAX was closing in on new highs around then while the rest had already put in a local top. However, it's evident that ETH and BNB have held through this entire dip with more resilience than most large coins. If things do turn around from here, both of them should outperform their peers.