Avalanche Usage Trends Up While Ethereum Remains a Stronghold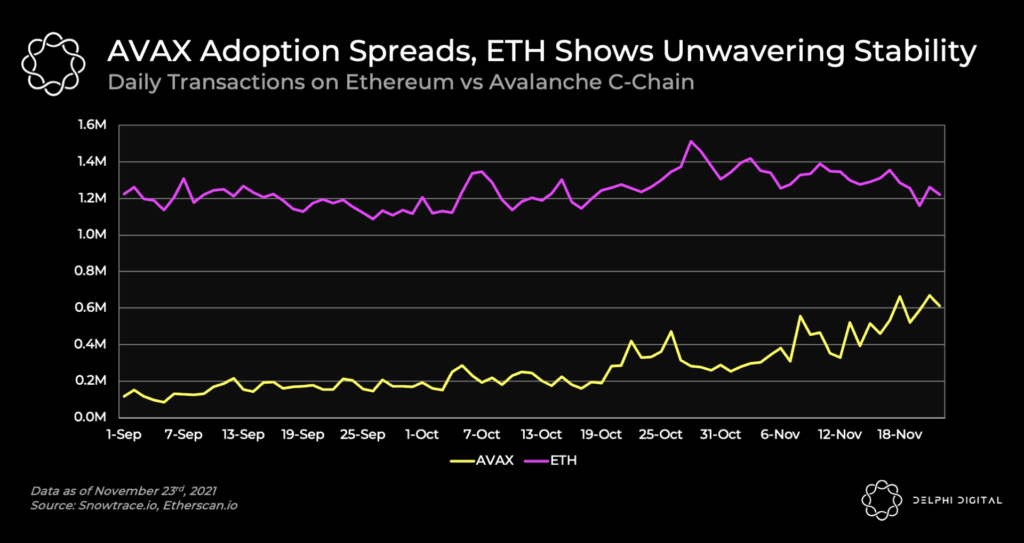 AVAX C-Chain adoption has been increasing lately and recently hit 600k daily transactions.
Avalanche's EVM and Metamask compatibility, much cheaper fees, and familiar DeFi experiences have been tailwinds for adoption. Naturally, this has boosted on-chain transactions and demand for the ecosystem's native gas token.
There has been an ongoing debate around L2 scaling versus cheaper L1s. Ethereum is costly to use and effectively prices out users with smaller positions. Unfortunately, live L2 solutions like Optimism, Boba Network, and Arbitrum have yet to see serious adoption (only Boba has a native token, a valueless governance token not used for gas). On the flip side, cheaper L1 solutions like Avalanche are seeing more usage than L2s.
There is still no defined winner yet as Ethereum usage remains strong. Nonetheless, Avalanche is showing itself to be a formidable competitor. On top of advocacy from notable Crypto Twitter influencers, one of the main reasons for Avalanche's success is due to Avalanche Rush, an ecosystem incentives program for attracting users to interact with projects that deploy on Avalanche (like Aave and Curve).