Bitcoin & Tighter Policy May Not Mix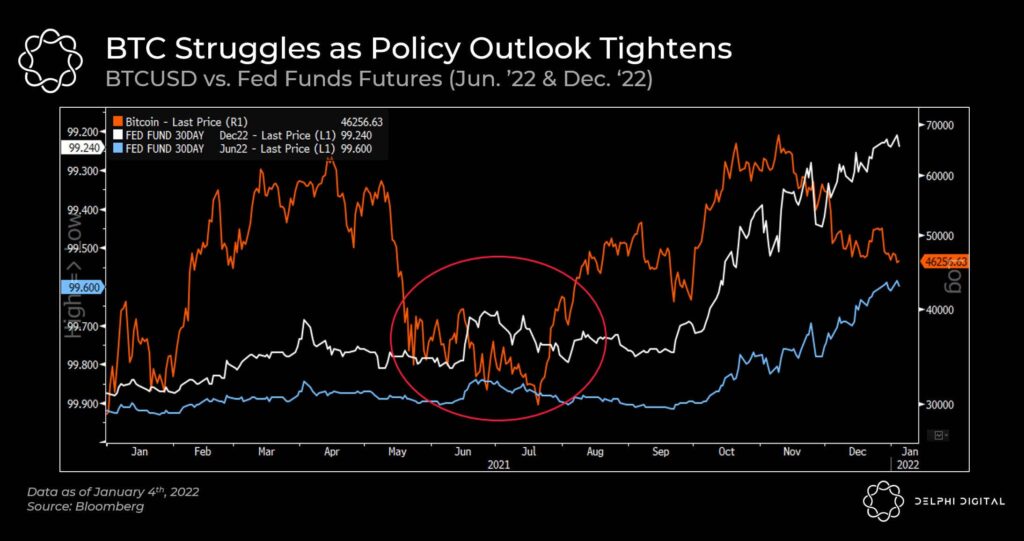 The last few months of 2021 saw a material shift in the macro landscape away from the accommodative "do whatever it takes" rhetoric that characterized much of the last 18 months. Instead, policymakers now find themselves "behind the curve" as inflationary pressures continue to pressure major central bank leaders to hike rates sooner than initially anticipated.
We saw a glimpse of this last summer when forecasts for Fed funds futures began to tick higher as headline CPI in the U.S. topped 5% on a year-over-year basis. BTC did not perform well (to say the least) and it's sell-off was exacerbated by mass liquidations and deleveraging.
Fast forward several months and we've seen a seemingly similar chain of events play out, with Fed funds futures implying higher rates as BTC struggles to combat tighter conditions and a significant slowdown in global liquidity growth.
Notably, the market is now pricing in at least one Fed rate hike as early as May 2022; Fed funds futures now imply a 100% chance of at least 3 rate hikes by the end of next year, compared to just one rate hike three months ago.