Buy Options, Get Paid Variance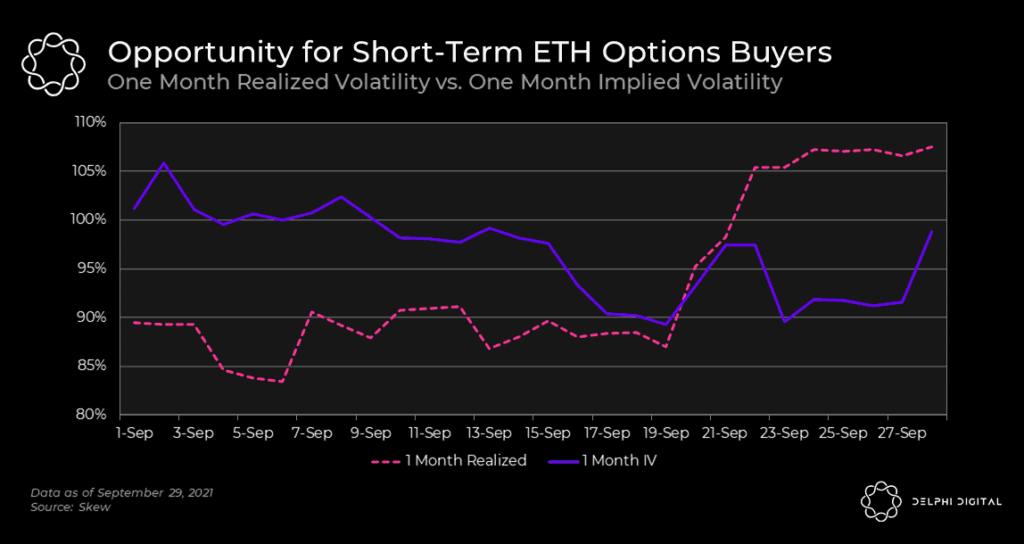 Implied volatility is the future expected volatility of an asset, while realized volatility is the actual volatility an asset has seen historically. Looking at the one month figures for both data points, we see that realized volatility is higher than implied volatility.
This is unique because realized volatility is typically lower than implied volatility, as options sellers want to price volatility in a way that allows them to earn a spread. This spread is often referred to as the variance premium — a price option buyers pay sellers for bearing risk on their behalf.
With realized volatility higher than implied volatility for one month options, there is no longer a variance premium, but a variance discount. Effectively, those buying options are able to do so at a cheaper volatility than the market is actually seeing.
Putting two-and-two together from the last chart (calls are cheaper than puts) and this one (buying short-term options are cheap), there's an opportunity for willing ETH bulls who believe a bounce is due in the next month or so.