Columbus-5, Burn Baby Burn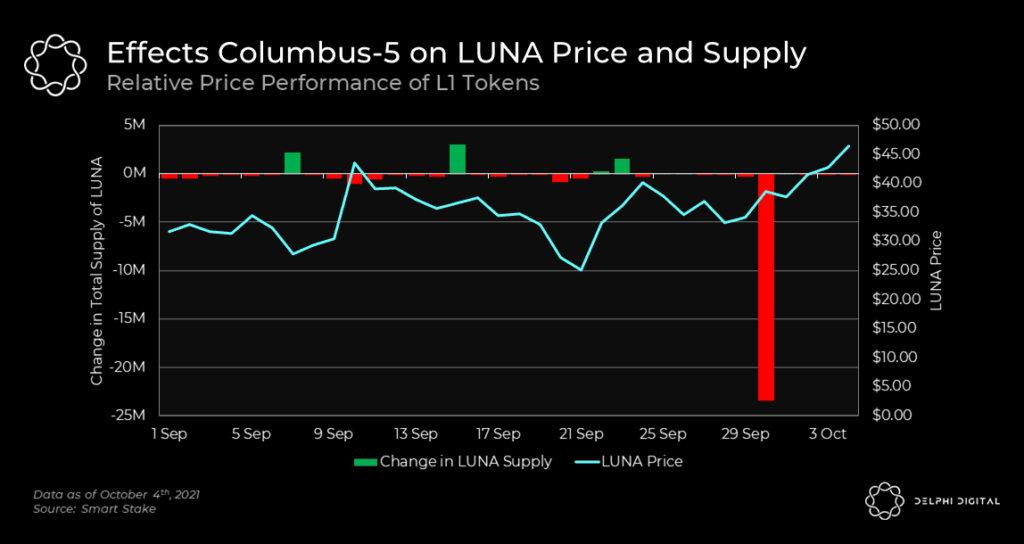 Terra's highly anticipated Columbus-5 upgrade went through on Sept. 30. While there were no drastic price movements on the day, LUNA rallied considerably over the weekend, with price making new all-time highs for two consecutive days now.
The Columbus-5 upgrade was a major boost to the Terra network. The most significant change to the token economics was the decision to burn LUNA permanently instead of transferring it to the community pool. In addition, LUNA that had previously been sent to the community pool was burned to the tune of ~23.4m LUNA (worth over $1bn at current prices).
The supply burn places deflationary pressure on LUNA making it increasingly scarce, similar to EIP-1559 for Ethereum. This was a key driver for recent price action.
Another significant change worth mentioning is the adoption of Inter-Blockchain Communication (IBC) which will open Terra up to the Cosmos ecosystem. The implication of this is wider adoption of Terra's UST stablecoin, which could become the stablecoin of choice for Cosmos app-chains.