Convex Finance Owns Largest Piece of CRV Pie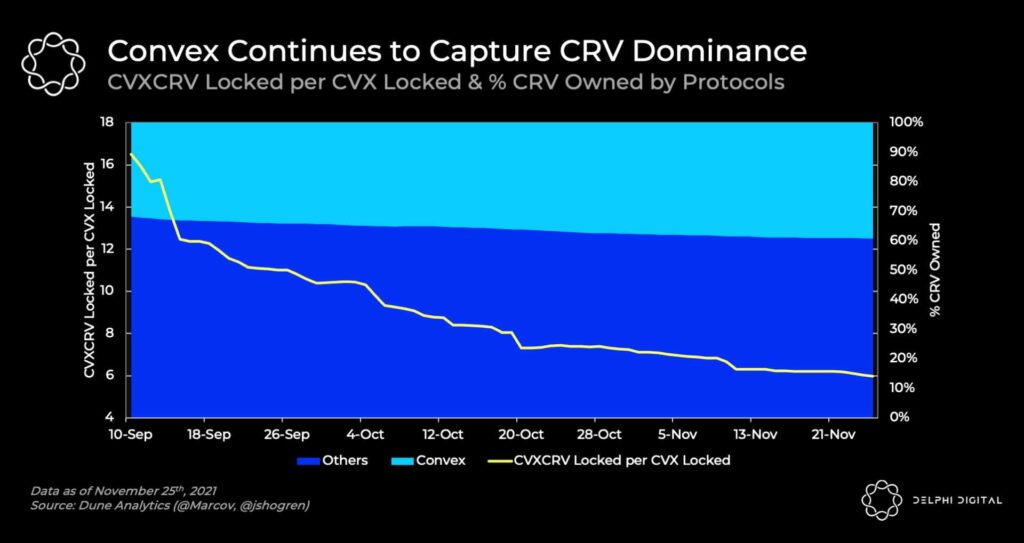 Convex Finance continues to dominate the Curve wars as it owns the largest share of veCRV among other yield aggregators, growing from 32% in September to 39% today. The political power of being a CRV "whale" is extremely valuable, as it allows for Convex to boost Curve rewards for Convex's depositors instead of having individual depositors lock up their own CRV to boost yield rewards.
Currently, each locked CVX is in control of ~5.94 veCRV. There is also a new phenomenon where market players aim to influence CRV gauge rewards on liquidity pools through owning CVX, instead of locking up CRV. By locking CVX, you're keeping it locked for 16 weeks + 7 days, compared to locking CRV for 4 years to boost rewards, it is a more attractive play to lock and vote for Convex's allocation of veCRV.
For a deeper understanding of how Convex came to become such a political power within the Curve ecosystem, do take a look at the Convex Report published by our research team.