Derivatives Drive Price Discovery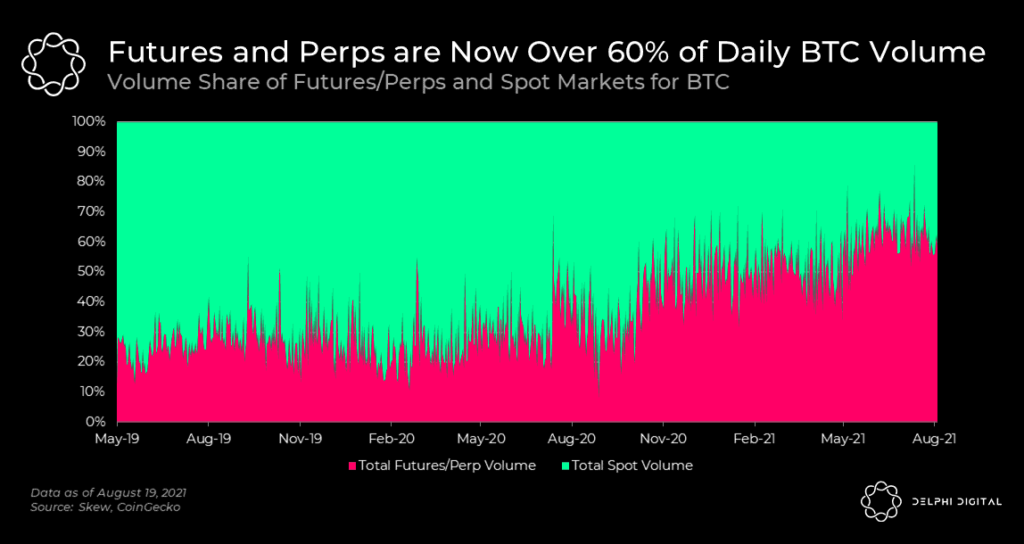 Over the last year, futures and perps have become the most popular financial instruments in crypto. For BTC in particular, these instruments now account for well over 50% of volume on a consistent basis. Perpetuals are eating into spot market activity, becoming the prime source of price discovery.
The push into derivatives has resulted in accelerated price discovery. The most obvious example of this is May. 2021, where over-exposed longs single-handedly caused a -30% day by getting liquidated en masse. The accelerative nature comes from easy access to leverage and the need for options market makers/dealers to hedge their exposure (or risk delta and gamma squeezes).
As we noted yesterday, BTC is pouring out of exchanges. Naturally, as less BTC sits on these exchanges, spot volumes cannot grow as rapidly as they did in the past. A BTC-USD perpetual swap is just synthetic BTC exposure, which means you don't have to actually own the asset to have exposure to it. The combination of spot BTC leaving exchanges and interest in the space ramping up has led to futures and perp volumes going "up only."