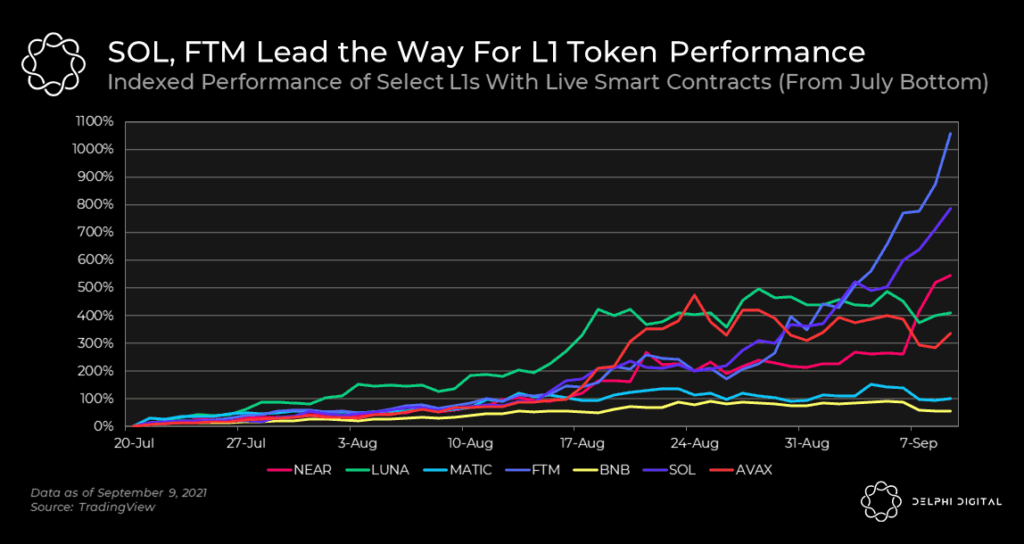 As mentioned, Solana has the cleanest-looking growth curve among major L1s. Elsewhere in the pack, Avalanche and Fantom are banking on big incentive programs, and Terra is seeing a surge in growth with several new projects primed for launch in the coming months.
Looking at the price performance since the Jul. 2021 bottom — which coins stand out? SOL and FTM lead the market with AVAX, LUNA, and NEAR not too far behind. BNB (Binance Smart Chain) and MATIC (Polygon) were both top performers between Jan. and Apr. but TVL (and token price) have fallen out of favor vs. other networks.
The idea here is pretty clear: a token that performs well encourages investors to pour capital into the ecosystem, thus funding growth and user acquisition. It's no coincidence that the best-performing tokens are the ones attracting the most capital right now.