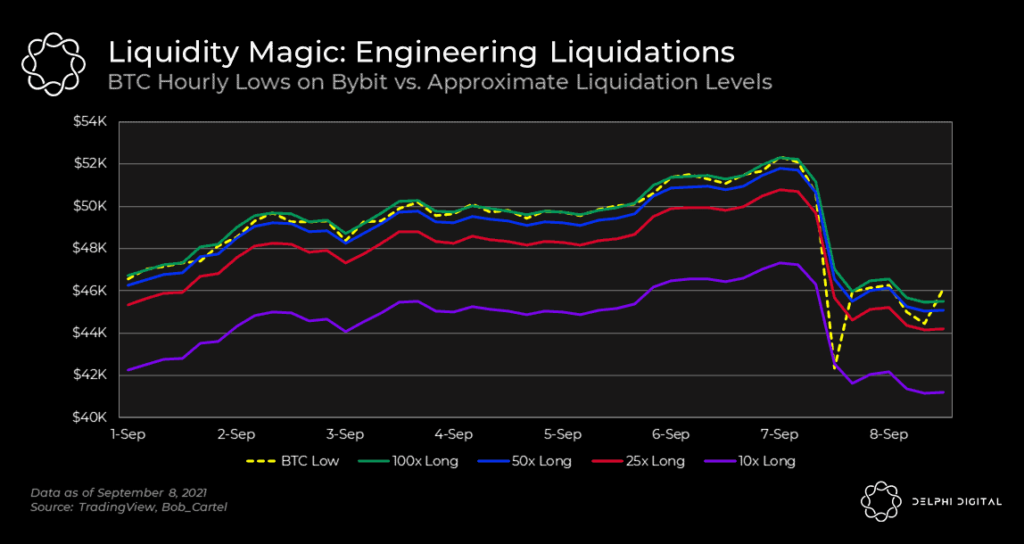 Liquidations are a great way to sell BTC at an exorbitant premium or buy it for far below its fair value. Yesterday was a case of longs get liquidated, implying whales buying cheap BTC from leverage traders who got in over their heads. Often times, larger players engineer liquidations by forcing price down to a certain level and allowing to leveraged positions to cascade. The reason for doing so, as mentioned above, is the ability to generate a large amount of liquidity to purchase BTC below fair value.
In the chart below, we compare BTC's hourly lows to the approximate long liquidation levels (for different amounts of leverage) on Bybit — where most of the over-levered apes play. In the normal course of a week, we see high leveraged positions (50x-100x) get tagged and liquidated often. Sometimes it goes as far as the 25x, and in edge cases like yesterday even 10x longs aren't safe. It's uncanny how price reversed right at the level where 10x long liquidations sat.
Buyers who got trapped at the top were the fuel for this flash crash. And over 50% of the fresh open interest the market put on since the July lows have been wiped out.