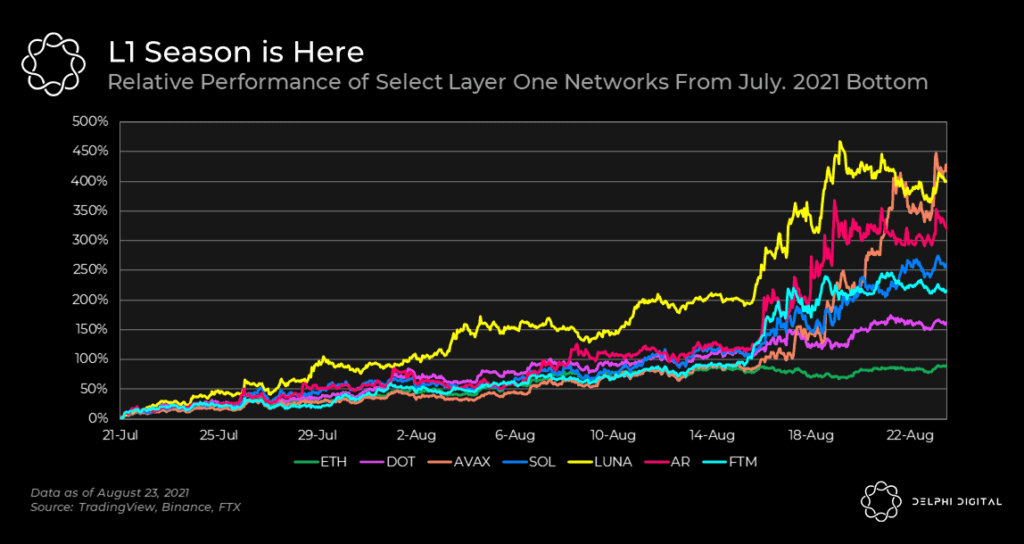 Over the last couple of weeks, crypto has enjoyed a relentless uptrend and layer one protocol tokens performed the best. SOL, LUNA, and AR led the way with stellar performances in early August. AVAX has recently caught up on the back of it's 9 figure liquidity mining program.
Each outperforming L1 has its own narrative driving price. For Solana, it's NFTs — though NFTs on Solana don't have anything close to the same volume as their counterparts on Ethereum. LUNA price catapulted as Lido and Anchor partnered to bring liquid staked ETH to Terra.
What stands out, however, is ETH's underperformance relative to other L1 assets. Ethereum's market cap is 10x higher than the second-largest network on this list (DOT), which makes it much more difficult to move price. But remember: the less liquidity and the steeper an asset's price swings up, the more likely it is to fall with an equivalent ferocity. ETH's liquidity and size partially shields it from this, though it still does have violent drawdowns from time to time.