Futures Spreads Are Tight (Most of the Time)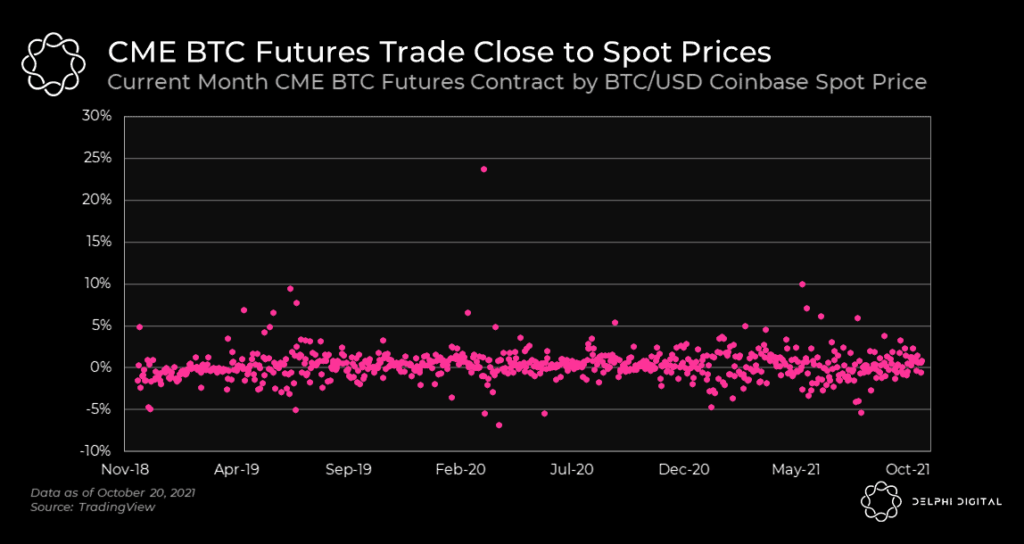 According to the ETF's prospectus, ProShares will hold the current month's futures contract. At the end of the month, when the futures are on the verge of expiry, they sell those contracts and buy futures for the upcoming month (i.e. sell Oct. '21 futures to buy Nov. '21 equivalents). This process is called "rolling," and there are some important costs associated with it.
When the price of an asset's futures contract is higher than spot price, rolling contracts forces the fund to sell the contracts it holds at a lower price than the next month's higher-priced contracts. For example, CME BTC futures for Oct. are trading at $64,560 at the time of this writing while Nov. futures are trading at $65,190. If this were the end of the month, and the ETF had to roll its contracts forward – in this case by selling Oct. futures and buying Nov. futures – it would incur a ~0.97% cost; and that's just the cost of rolling futures for one month.
From the above chart, we can see that futures usually trade within 5% of spot price, with anomalies occurring during liquidity crises. If the futures market is in backwardation, the next month's futures contract will be lower than the current month's, putting ETF investors at an advantage. However, this occurs less frequently as BTC rarely experiences prolonged periods of backwardation.