Institutions Aren't Coming — They're Here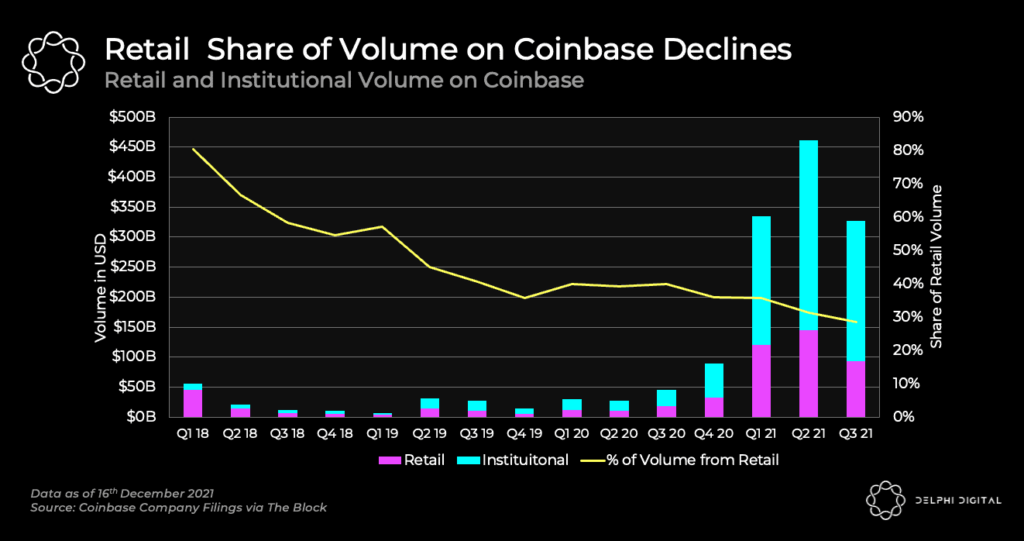 Institutional demand for crypto assets has been making headlines quite frequently in recent months. Whether it's NYDIG raising $1B in funding from the likes of WestCap and Morgan Stanley, or Anchorage raising $350M from Goldman Sachs, a16z, and others.
This institutional demand is also reflected in Coinbase's data. Over the first three quarters of 2021, institutional capital has flowed into the exchange at lightning pace. The first three quarters of 2021 has resulted in 5.7x more institutional inflows to Coinbase than the entirety of 2020.
Total volume was over $1.1T through the first nine months of the year, with institutional demand responsible for 68% of that. While retail saw a massive surge in H1 2021, their contribution to Coinbase's total volume declined by 7.5% in Q3.
Interestingly, almost 60% of Coinbase's Q3 2021 volume came from "other crypto assets", compared to 50% in Q3 2020. Long-tail assets like SHIB and DOGE have been extremely popular with Coinbase's retail clientele — maybe even institutional investors.