King Dollar Sends Warning Signs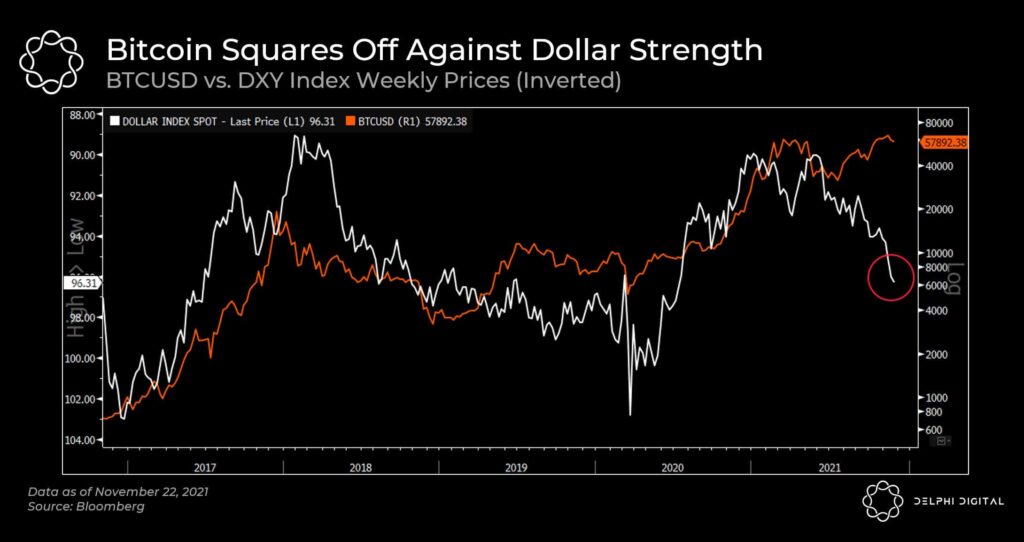 We're starting to see the world of global macro heat up heading into year-end and once again find ourselves coming back to the most important macro variable right now—the U.S. dollar—which has strengthened considerably in recent weeks. With growing expectations for tighter monetary policy and an acceleration in U.S. economic data, the dollar appears to be well-positioned against other major currencies.
We covered the implications of a stronger dollar in our latest markets report, Deleveraging, Volatility, & Mixed Market Signals, published last week. But this is one macro trend we're watching closely given its broad implications for both crypto and traditional markets.
As stated in the 11/18 markets report: "A stronger greenback would have you believe the same tailwinds that propelled global asset prices—including BTC and crypto—over the last 18 months are starting to reverse course. And that assumption wouldn't be entirely misguided; we see several indications that global liquidity growth is slowing, and the shift towards tighter policies to combat rising inflation and a strong (albeit fragile) economic recovery, especially here in the U.S. Consequently, we've seen a considerable run-up in the dollar alongside Fed funds rate futures, which now imply 100% chance of two rate hikes by end of 2022 and a nearly 40% chance of a third rate hike by next December."