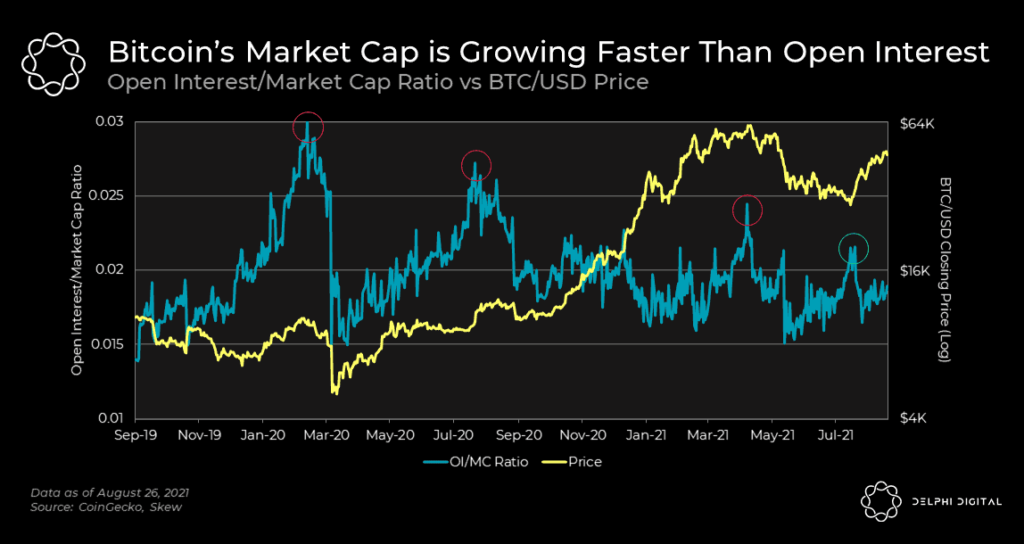 We've often tried to use different measures to gauge the level of leverage in crypto markets. Another useful metric is the ratio between BTC's open interest across futures and perps, and its total market cap. When the ratio is rising, open interest is growing faster than market cap and vice versa. On its own, this probably isn't a very useful data point. But with the added context of price and trend structure, we can actually pull away some useful insights.
Look at the leverage ratio and price during Mar. 2020, Jul. 2020, and Apr. 2021. In all 3 instances, we saw open interest grow faster than market cap after a significant rally. This was essentially a swathe of longs getting trapped near the top.
On the flipside, the latest spike in the ratio was near the bottom after BTC took a 50% drawdown. Given the way the ratio declined after price began to rally, it seems likely that late shorts were rinsed, thus wiping out some open interest.
We can also see during Sep. 2020 to Mar. 2021, the ratio trended lower. But BTC price rallied hard, implying that demand for spot BTC exceeded demand to hold leveraged positions. With leverage penetration increasing in crypto markets, its useful to spot these pivot points to get a firmer grasp on where the market is heading.