More Signs of Low Leverage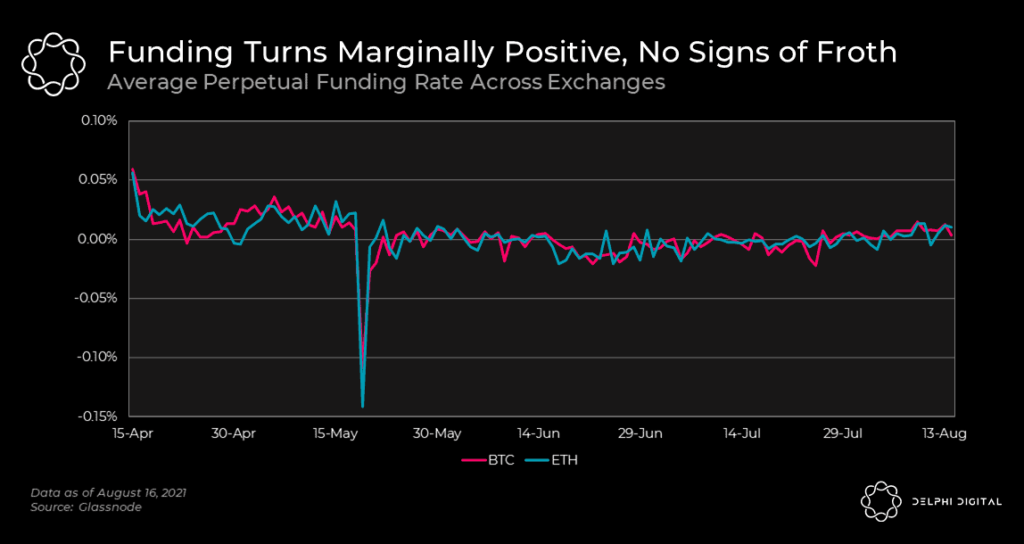 Another sign the market isn't being propped up by leverage comes from funding data. When funding is positive, it means the perp is trading higher than the spot index for said asset. When funding is negative, the perp is trading at a discount to the spot index. Positive funding implies more buyers than sellers, and negative funding implies the opposite.
In Apr. and May. 2021, we saw funding rates hit insane levels — as high as 0.10% per 8 hours for sustained periods of time. BTC and ETH price were moving vertically; everyone and their mother wanted more exposure to crypto. We all know what happened next. Leveraged buyers tapped out and the market cascaded downwards, fueled by heavy liquidations.
Funding data for the last month paints a bullish picture, as it shows us during this entire rally, funding never really hit exuberant levels. In fact, the funding trend just marginally flipped positive in recent days.
Simply put, current funding data shows us traders have been in no rush to get long BTC, and that frothy conditions are still a way off.