NFTs Now Endorsed by Brands and Celebrities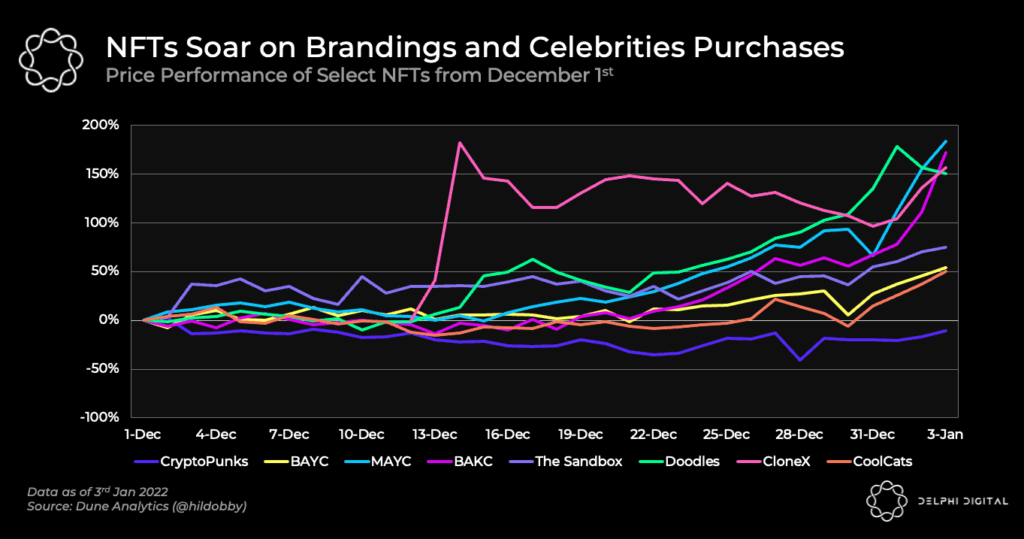 While it might have looked gloomy for the wider crypto markets, the NFT market had it good the past month. Dec. started out with Metaverse real estate from Sandbox soaring, triggered by Softbank and Adidas's purchase.
BAYC season is next as Adidas Originals purchased an ape. This was followed by multiple celebrities (too many to be named), with the latest being Eminem. This BAYC hype spilled over to its sister projects MAYC and BAKC as they are the cheaper alternatives to BAYC. These branding partnerships and celebrity purchases have brought in a lot of attention to BAYC, ultimately forcing BAYC prices higher, and bringing it closer to flipping CryptoPunks in floor price.
RTFKT studios (Creators of CloneX) were also acquired by a large brand you may have heard of — Nike.
Mutants (MAYC) were late to the party but caused a huge commotion as 'Mega Serums' started to get acquired. When used, they revealed a newly minted Mega Mutant. The latest one to be revealed was bought for 888 ETH by Taylor Gerring, co-founder of Ethereum. This led to the acquisition of "Mega Serums," and another one was bought by 0x_b1 for 999 ETH. Following that, CEO of Chain Protocol, Deepak Thapliyal purchased one at a new high of 1,542 ETH.
Other notable mentions are Doodles which rose by 150%, and Cool Cats which rose by 50%.