Powell's Hawkish Comments Spark Volatilit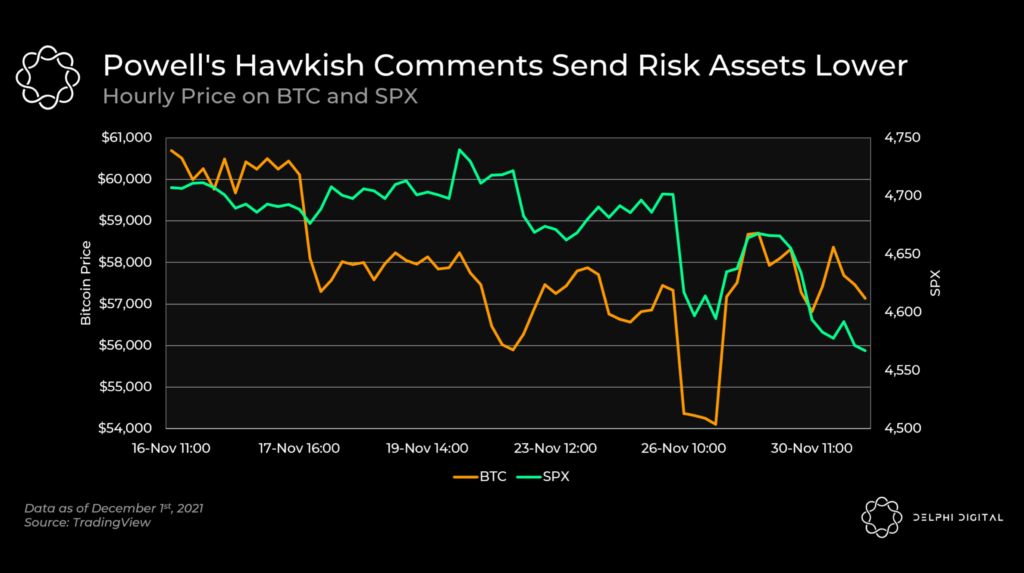 US equity markets opened higher today, recovering from yesterday's dip incited by Fed Chairman Jerome Powell's comments. At a Senate briefing, Powell said the risk of persistently higher inflation has increased and noted it may be appropriate to consider wrapping up their balance sheet taper plans sooner than initially planned.
This doesn't mean the Fed will stop expanding its balance sheet, but rather it implies an acceleration of the rate at which they plan to decrease their monthly asset purchases. The Fed will reduce its asset purchases from $120B to $105B this month, and Powell's recent comments suggest we could see that number fall a lot faster. This is likely to be a topic of Debate at the FOMC meeting in December, but the market has already started to price in expectations for tighter monetary policy as we head into 2022.
With bond purchases potentially ending quicker, the slowdown in global liquidity growth contributes to a somewhat negative outlook for both the equity and crypto markets alike in the near term. Adding to those fears is the sudden emergence of the Omicron variant of the coronavirus, which caused quite a bit of volatility across global markets this past week. Overall, there are reasons to exercise caution as an investor until we have more clarity.