Top 10 Blockchains by Total Value Locked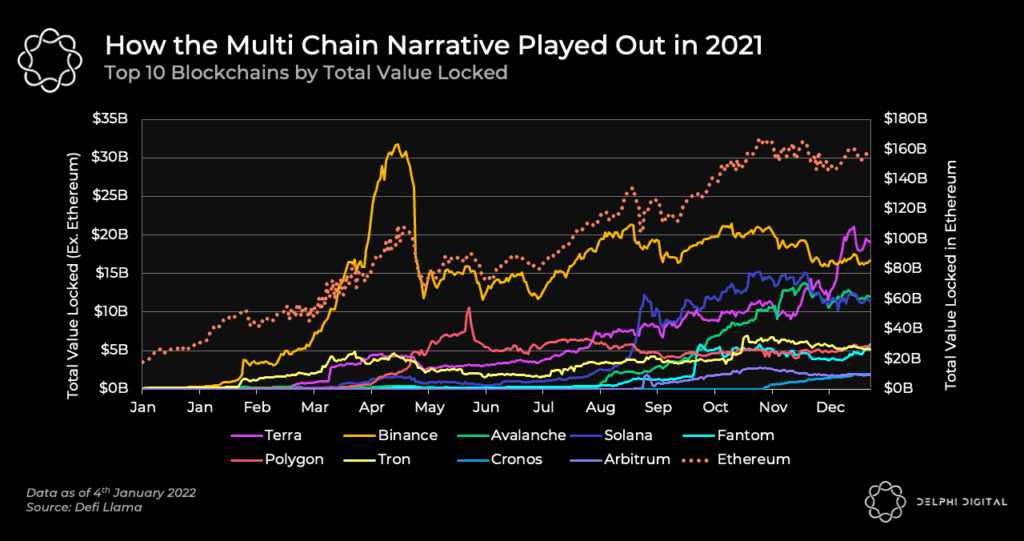 Note: Ethereum TVL is on a separate axis to better highlight fluctuations in other L1 TVL.
The "multi-chain" narrative was strong in 2021 as various layer 1 blockchains and layer 2 scaling solutions emerged to address the scalability problems that have historically plagued Ethereum.
The amount of capital locked grew exponentially year-on-year on already existing chains like Terra (356x) and Polygon (17,100x) while new chains like Cronos and Arbitrum that launched in the later half of 2021 managed to eke their way into the top 10 list.
Influencing this exponential growth were push factors such as the high gas fees on Ethereum as well as pull factors including innovative projects being launched on other chains, not to mention farming opportunities from newly launched protocols. Various ecosystem funds were raised to incentivize users and developers to build on these native chains, facilitating further capital inflows.