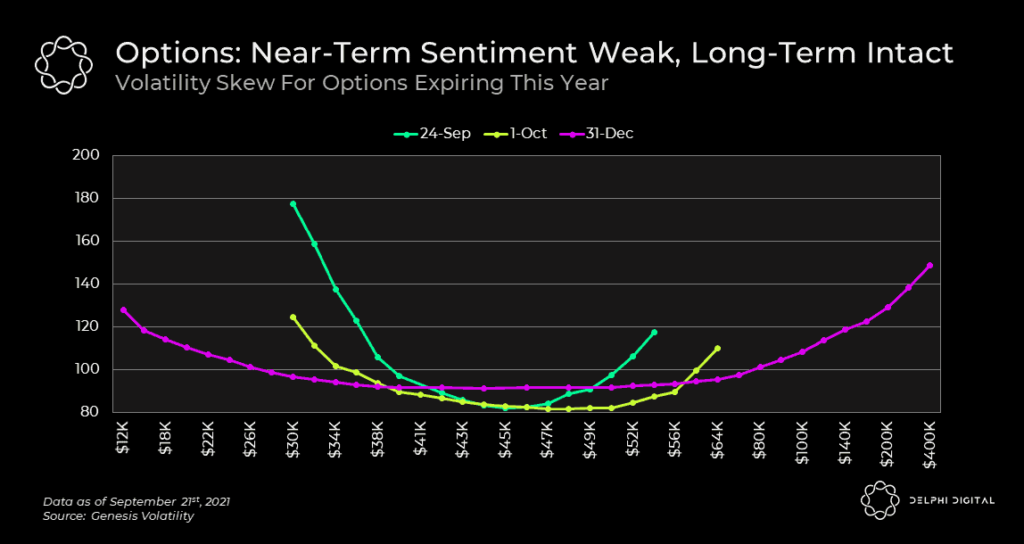 This chart is a bit daunting to look at, but fear not. What you're seeing is the volatility skew — a chart that plots the implied volatility of each strike price across a single options expiry. The perfect volatility skew looks like a smile — low at strikes that are close to current market price with near-even increase in implied volatility as strikes deviate from market price (either higher or lower).
Look at the Sep. 24 skew. There's a long tail for strikes lower than market price and a much less aggressive steepening for strike prices higher than market price. On the surface, this looks like calls with a strike price higher than $45K are trading at a low implied volatility (and are thus cheap). But in reality, this structure is askew because nobody is trying to buy out-of-the-money calls, so activity on those strikes is pretty much dead. The Oct. 1 expiry shows a similar structure, albeit not as lopsided. In short, this implies the market is leaning bearish in the short-term.
Now look at the skew for the Dec. 31 expiry. The implied volatility of strikes near current price are fairly flat, and the tails are quite even with a slightly more aggressive skew towards the right. This is almost the perfect skew structure (note how it looks like a smile) and implies that the option market still has a balanced view on markets over the mid-term.