Earlier this week, Art Blocks had a huge spike in sales volume, hitting > $1 million for the first time since March. This is quite impressive, considering how we are in a deep NFT bear market.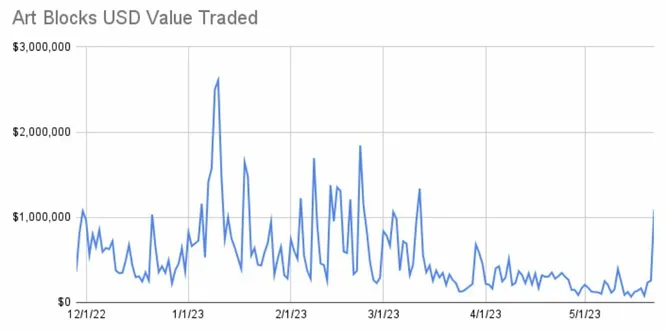 Source: NFTstatistics (@punk9059)
This was spurred by a wildly successful Sotheby's auction where 2 Fidenzas, a Ringer, and several other artworks were sold for multiples of their expected prices. These were auctioned off from 3AC's NFT collection
Fidenza #725 sold for $1.0M

Fidenze #861 sold for $241,300

Autoglyph #187 sold for $571,500
Since then, the floors of several gen art collections have shot up 20 – 60+%. It's too early if say if this will become a sustained trend, but these high sales at a renowned auction house like Sotheby's are sure to capture the attention of collectors globally.