NFTs had their worst weekend in a long while. Bored Apes, Mutant Apes, Azukis, Memeland Captainz, and many other "blue-chip" PFP collections fell 30 – 60% over the week. Selling accelerated over the weekend.
What's going on here? I think:
The trigger for this major selloff is the Azuki Elementals mint on June 28. This was a $38M drain from the Azuki community into the team's hands. Several holders took out loans to buy Elementals (mint & secondary market).
As mentioned in my previous post, I believed there was a reasonable chance that the Azuki IRL party would be a "sell-the-news" event. Azuki was already somewhat fragile with significant leverage in the system (almost 700 Blend loans at one point, 7% of the total supply).
The Azuki Elementals reveal raised many questions:
Why do they look like OG adukis? Was this a cash grab?
What do you actually get by owning an OG NFT?
Where's the innovation?
The TL;dr is that everyone's expectations were overly high. The team kept things under tight wraps and didn't manage expectations, instead hyping it up. Azuki prices went into free fall as panic sellers greatly outnumbered buyers
In one universe, this selloff could have been isolated to Azuki. But NFTs are never in isolation. Many Azuki holders also hold other PFP NFTs and vice versa. This led to a contagion of panic selling across multiple NFT collections.
The price action in PFP NFTs shows how they function as classic Veblen goods. NFTs that looked good at 15 ETH no longer look as good when they are now at 5 ETH!
Demand evaporated as prices fell.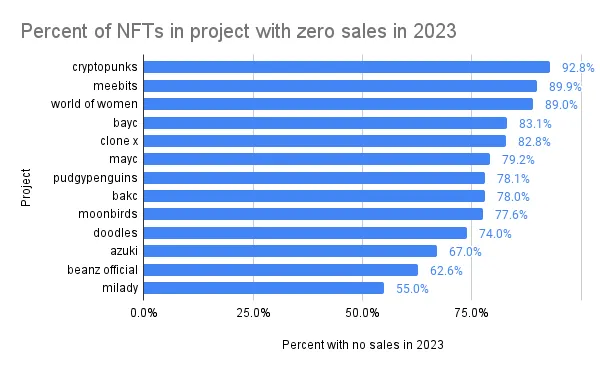 Worst still: Even though a good % of NFTs are held by diamond-handed community members who haven't sold for months-years…
…a large amount of the liquid supply of NFTs is in the hands of Blur farmers, who have been slinging them around in a PvP battle to earn Blur points over the past 4 months. They have no incentive to hold onto their NFTs. So once the selloff started, they only added fuel to the flames and exacerbated it.
What's going to happen next? Will outline my thoughts in the next post, stay tuned.