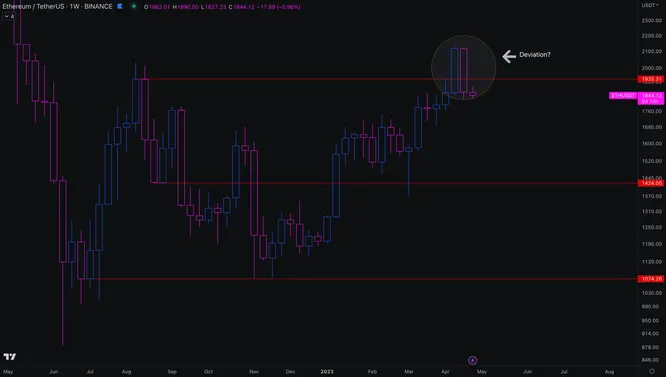 Ethereum being relatively weaker against BTC isn't news. But, once the Shanghai overhead was cleared, ETH did receive a healthy bid. It closed above its current weekly range high but didn't see any follow-through from it. The price was smashed back down below the weekly range high while printing a 'bearish engulfing' candle.
It is a deviation? Seems likely. Unless ETH manages to reclaim the level or take out its recent high, it will continue to be a deviation. For bears, any push into the low to mid-$1900s region should provide resistance. On the other hand, bulls would want to see a strong close above that region and ideally a close above the most recent high. If resisted, the next target would be the mid-range in the $1400s which is confluent with the 2018 ATH.
The majority of market participants were expecting a "sell the news" event to transpire. But the market wasn't so forgiving. With the opposite move having played out, is it possible that ETH does go lower from here as it manages to "fake" everyone out? That remains to be seen.
Being a key inflection point, it wouldn't be unreasonable to expect choppy price action around this region before picking a direction.