Numerous Cosmos protocols have coordinated on Twitter today hinting at something being released tomorrow. Being as all of the images are of trains, it's likely implying something to do with a cross-chain development. More specifically, Axelar, the protocol which links Cosmos chains to non-Cosmos chains tweeted with the hashtag #cosmosandbeyond.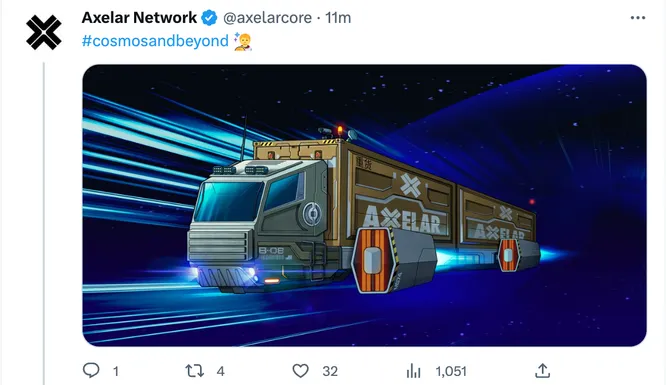 Circle just released their CCTP protocol last week with Ethereum and Avax. Is it possible CCTP is coming to Cosmos with Axelar as the routing bridge? Axelar adds general message passing to Circle's CCTP and they have announced plans in the past: https://www.circle.com/blog/composable-usdc-seamless-multichain-ux-by-axelar.
*UPDATE 05/02: While there was no Circle angle to this, Axelar has indeed announced their GMP (general message passing) is now available between Cosmos and EVM chains. This allows more than just tokens to be sent, but things like cross-chain swaps as well.
Some of the first protocols to launch are:
Sommelier launching their DeFi vaults on Arbitrum. GMP will allow Sommelier (a Cosmos chain) to send messages to Arbitrum to manage things like GMX vaults.

Stride has announced stATOM/ATOM pools on Arbitrum

Osmosis will be utilizing for cross-chain swaps from EVM chains.

Among numerous others…