Last year, short-sellers reaped significant rewards in the market; however, this trend has shifted. Historically, over extended periods, taking long positions has proven more rewarding across various financial markets, including the cryptocurrency sector.
Adapting to such changing currents can be challenging for many. Consequently, short-sellers who profited last year have struggled to adjust their strategies and now face repercussions. Let's examine an example: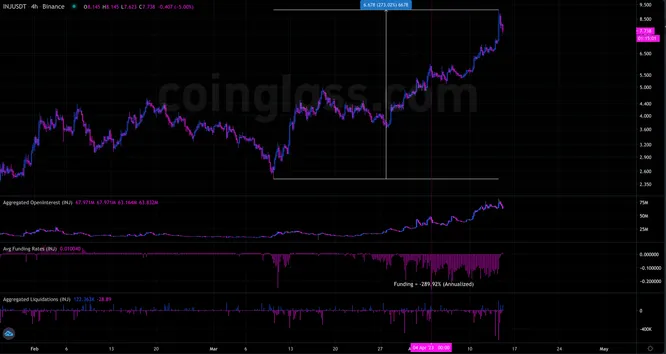 Since the announcement of a $150 million ecosystem fund in January this year, INJ has maintained a consistent upward trajectory. Accustomed to countering every altcoin rally, short-sellers now bear the brunt of their actions. As the price has surged by 270%, funding has remained predominantly negative throughout this rally. Additionally, the liquidations tab reveals that the majority of liquidations are on the short side.
In a peculiar twist, when perma-bears eventually shift to long positions, the market may experience a substantial correction.