Chart of The Day: Arbitrum Odyssey Begins!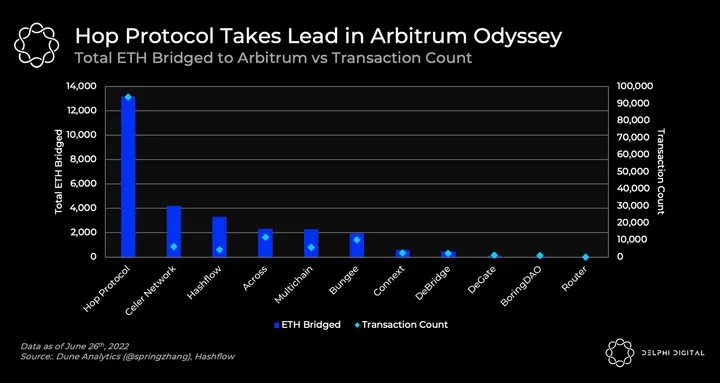 ---
[Excerpt from a Delphi Insights Report]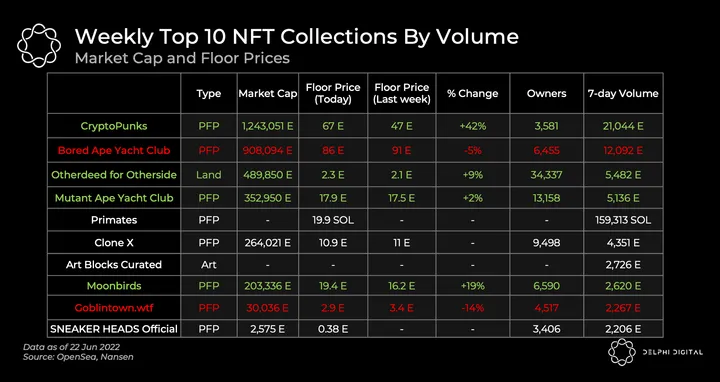 Once again, the 'blue chip' NFT collections are dominating NFT trading volumes as the free mint narrative peters out. This week, the most significant move among the 'blue chip' NFTs was in CryptoPunks, which soared over 40% from a floor price of 48E (17 Jun) to 68E (20 Jun). This comes on the news that Noah (previously at Christie's) will be joining Yuga Labs as the Brand Lead for CryptoPunks, to ensure that there'll be "no Punks on lunchboxes".
Interestingly, Punks were already flying off the shelves (>100 sold in 24 hours), and prices started moving up even before the announcement on 19 Jun, which has led to speculation of insider trading. It seems too much of a coincidence to believe it was just due to normal price volatility, although there's no way to prove this conclusively. CryptoPunks have unique provenance and history, and I believe they will continue to be valuable in the years to come.
On the other hand: Steve Aoki, famously known as a top signal in NFTs, just bought a Punk this week.
A good piece of news — OpenSea has migrated to Seaport, its new web3 marketplace protocol. This is a long-awaited major improvement for OS and improves its competitiveness vs marketplaces like LooksRare, which has been adding features rapidly. Some benefits include:

Save an estimated 35% in gas fees when selling or transferring NFTs.
Make collection offers on all items in a collection, or trait offers for specific traits. This could improve the liquidity for NFTs.
Soon-to-come: Bulk listings & purchases, real-time creator fee payouts.

Other breaking news: Doodles announced that Pharrell Williams has joined as a Board member and Chief Brand Officer.
For more information, Delphi members can see the full NFT Insights here.
---
[Excerpt from a Delphi Podcast]
We sit down with

Colin Brady

(Chief Creative Officer) and

Luke Paglia

(Chief Operating Officer) from

AMGI Studios

, the team behind

My Pet Hooligan

, a desktop PvP video game that takes place in their proprietary Metaverse The Rabbit Hole. We discuss the cultural impact of strong IP, Hooligram technology, Pixar-level expressiveness in-game, and much more. 

Show Notes: 

(00:00:00) – Introduction. 

(00:01:37) – The power of a global brand / strong IP. 

(00:10:33) – Overview of AMGI Studios.  

(00:16:30) – User generated content, immi, and Hooligrams. 

(00:28:26) – Dive into My Pet Hooligan.

(00:46:17) – Roadmap and alpha release.  

(00:52:54) – Closing thoughts. 

Social links: 
Resources: 
More
For more, you can see our latest Delphi Podcast releases here.
Notable Tweets
Keanu Reeves and Alexandra Grant Enter the Futureverse
LooksRare Launches Conditional Listing
dYdX V4 to Be Built on Cosmos-SDK