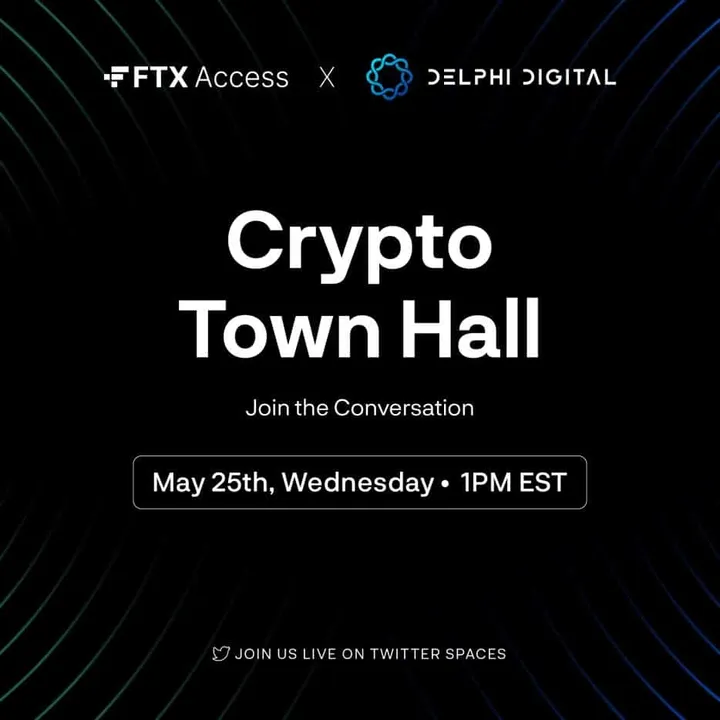 We've partnered with FTX Access to start a monthly #CryptoTownHall on Twitter Spaces, and the first one is tomorrow at 1 PM EST❗️
Topics we'll be diving into:
📈 Markets
🧱 Modular Blockchains
⚖️ ETH Scaling
🔬 Valuing L1s & more
Set a reminder HERE! so you don't miss it!
---
Chart of The Day: Crypto Shrouded In Fear

Note: The Crypto Fear & Greed Index is derived from analyzing emotions and sentiments from the markets using Volatility, Market Momentum/Volume, Social Media, Token Dominance, and Trends.
Crypto investors are shrouded in fear as BTC continues to trade downwards alongside bearish macro sentiments. BTC is currently testing the $28-30K region that is acting as strong support, and if it resolves lower, we might likely head into the $22-24K region.
The Fear & Greed Index has hit 8 points out of 100, the lowest seen since March 2020. This could be a bottom indicator as markets tend to bounce more often than not after reaching 'Extreme Fear' levels.
Markets seem to remain cautious on key events this week, namely FOMC's minute's release on Thursday and PCE Price Index release on Friday.
For more market updates, Delphi members can see our latest Market Insights here.
---
[Excerpt from a Delphi Insights Report]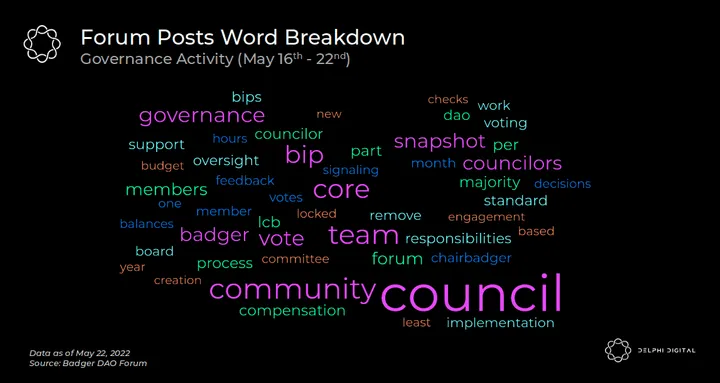 Synopsis: 

Badger is discussing adopting a new council model with clearly delineated responsibilities and processes for the members. Broadly, the proposer divides the model into four parts:

Part 1 establishes the Badger-Improvement-Process.

Proposals move from creation to forum signaling, to snapshot voting, and finally to implementation. Each section of this process has requirements that proposals need to meet before moving on to the next.

Part 2 creates a system of checks and balances for council decisions.


Part 3 defines the roles and responsibilities of council members.

The council will consist of seven members – two from the core team and five from the community. There are additional roles, including the amazingly named position of ChairBadger, and a process to bring in outside expertise.
The ChairBadger. Image credit: Connor Smith

Pro Arguments: 

There are no pro arguments presented in the forum, but the community seems favorably disposed to the proposal.


Con Arguments: 

The one counterargument brought up in the forum is that there is no way for the community to remove specific council members. Instead, the community would have to remove the entire council. Only having the option to remove the entire council could make it hard for the community to manage council accountability. Additionally, removing the entire council could create enough chaos in the DAO that the community might never attempt it. Conversely,

Tritium

, a core member, feels that allowing the DAO to remove specific members could create a toxic situation.

Our Position: 

We like this proposal because it is a fleshed-out and straightforward governance process for Badger. Often DAOs create relatively light models that fail to consider all the pitfalls of DAO governance. These light models often lead to adhoc governance that performs well in bull markets when everyone is happy but may not be able to handle the contentiousness caused by bearish price action. The model Badger DAO discusses has many similarities to existing corporate or non-profit governance, which isn't necessarily bad. Corporate governance arose in its current form because it is effective. Adopting corporate-like governance does bring up the question, though, that if DAOs are re-creating corporate governance, what's the point? However, we feel that DAO governance is a spectrum between full automation and dependence on outside actors. We expect protocols to slowly become more autonomous in the future when better tools and processes are in place. But in the meantime, we may need to adopt corporate-like governance processes to get us there.

For more, Delphi members can see the full DAO Insights here.
---
[Excerpt from the Monthly Chartbook]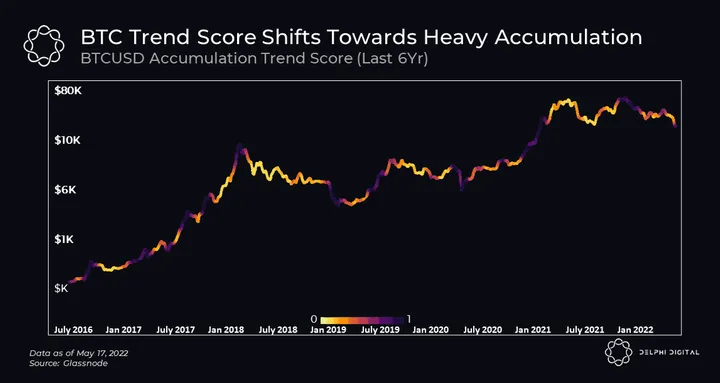 Glassnode's Bitcoin Accumulation Trend Score is an indicator that attempts "to reflect the relative size of entities that are actively accumulating coins on-chain in terms of their Bitcoin holdings." The scale at the bottom of the chart is a combination of both the size held by entities and the amount of new coins that have been bought or sold over the last 30 days. A trend score closer to 1 shows that larger entities are likely accumulating and a trend score closer to 0 indicates larger entities are likely distributing (or at the very least not accumulating additional Bitcoin holdings).
In the wake of the most recent market drawdown, the Bitcoin trend accumulation score is nearing 1. In fact, this is the first time that the trend accumulation score has printed these levels in more than 6 months. We have discussed the dynamics of how large entities behave and execute their positions within the market. Using this lens, it makes a intuitive sense as to why the Bitcoin accumulation trend score is printing these levels. Larger market participants tend to accumulate positions during down trends and look to distribute those positions as the market shifts into a bullish uptrend.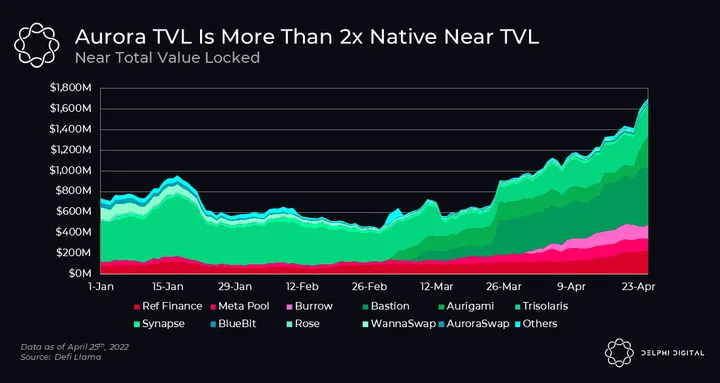 Aurora is the EVM implemented as a smart contract on Near and has nearly 3x the TVL on native Near.
Back in November, Trisolaris (a Sushiswap fork) was essentially the only protocol used on Aurora and account for the (roughly) entirety of Aurora's $150M TVL. This was the case throughout 2022 until the launch of two more primitives – the money markets Bastion and Aurigami.
Bastion has been, by far, the largest driver of capital to Aurora. Their lockdrop hit $300M in March and they announced a $9M raise from notable funds a few weeks later. Due to the lockdrop and heavy incentives on the platform, there is a negative borrow on stablecoins at -1.5%. This makes Bastion one of the cheapest places to borrow in crypto and will continue to drive more capital to Aurora. Other money markets can't compete with a negative borrow and being the same EVM experience people are familiar with, the switch is simple (just bridge and change Metamask to the pre-populated Aurora RPC).
With Near's $800M+ ecosystem fund, AURORA incentives from the DAO (i.e. cheap fees), and continued venture capital interest, it's unlikely the momentum will stop. You can check out the full ecosystem here.
For more, Delphi members can see the full Monthly Chartbook here.
Notable Tweets
Arbitrum DeFi & Potential Airdrops
Binance Integrates Optimism $ETH
StepN Boosts Orca Utilization