An interesting trend I've noticed lately: new smaller DeFi protocols launching using NFTs first, instead of fungible tokens.
The latest is PintSwap, which is building a "censorship-resistant p2p/OTC DEX focused on trading lowcaps with size"
One use case example: you'll be able to trade UNIBOT tokens on PintSwap without the 5% buy and sell tax because it is like a token transfer at the contract level.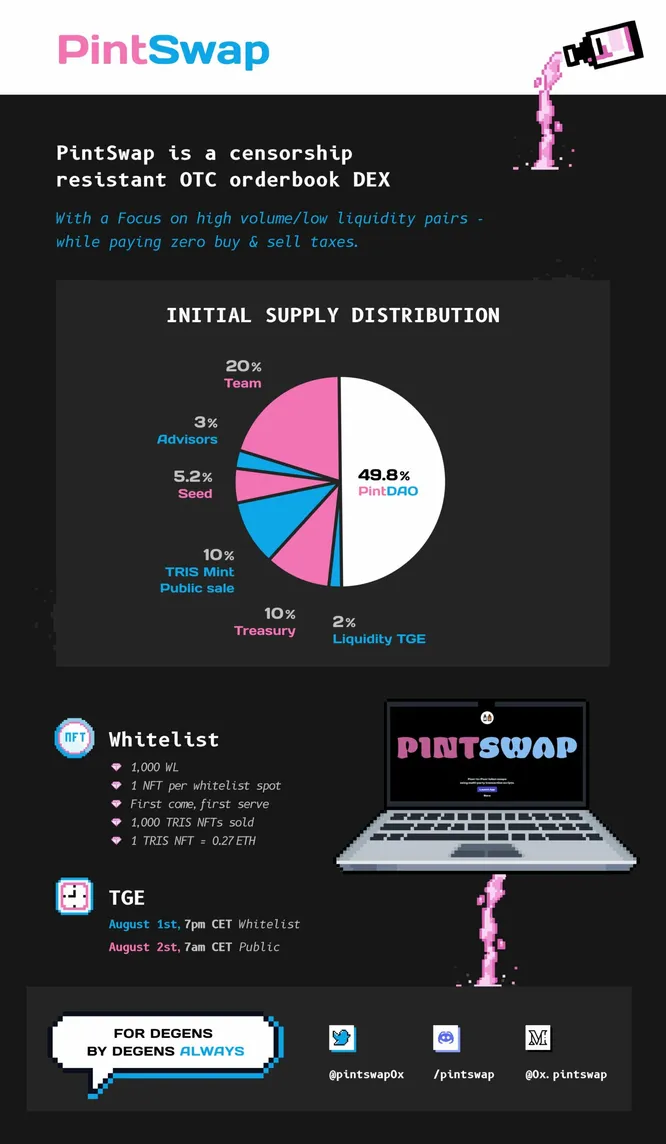 PintSwap launched its NFT collection on 1 August, with 1000 TRIS NFTs sold at 0.27 ETH each. Now, it's trading at 0.45 ETH, a 66% increase from the mint price. Recently Pepe analytics, another small-cap protocol, launched with 400 NFTs at 0.35 ETH each. Post launch, the NFTs traded as high as 5 ETH (15x from mint price)
TRIS NFT holders will be able to exchange their NFTs for 10% of the tokens when the product launches. At the current floor price, it implies a FDV of $8.3M.

According to Castle Chronicle (screenshot above), there were some "smart money" players amongst the NFT holders.
One reason could be the novelty of launching via an NFT: it is more fun for everyone compared to plain old Token Generation Event. You can include different pictures, rarities, and traits, for example.
Given the recent trend of these type of NFT mints doing well, it would be worth keeping an eye on new launches.