Stanley Druckenmiller spoke recently at the 2023 NBIM Annual Investment Conference and was interviewed by Nicolai Tangen, the CEO of Norges Bank Investment Management.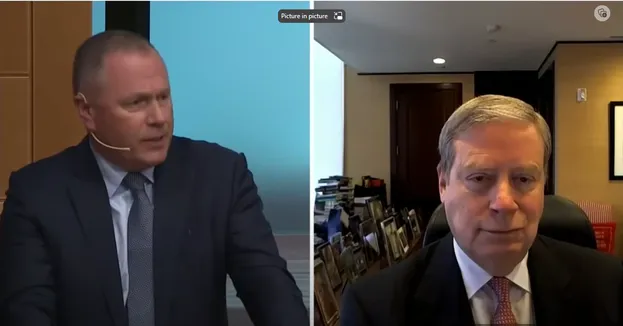 Norges Bank manages the Norwegian Sovereign Wealth Fund, which is the largest publicly held financial fund in the world.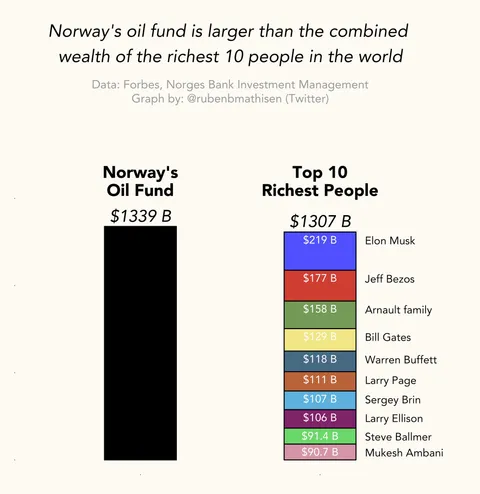 Known colloquially as "Norway's Oil Fund," the fund owns approximately 1.4% of all global equities, making it a whale among whales.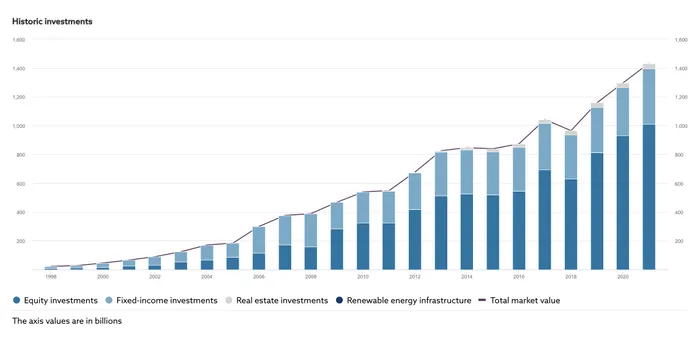 The country of Norway — and its sovereign wealth fund — has been a big winner over the past two years as energy prices ripped. It's benefitted as European importers shifted away from Russian oil and gas to other exporters like Norway.
In fact, from 2021 to 2022, Norway's energy revenue tripled, with the extra income corresponding to ~$16,000 per Norwegian citizen.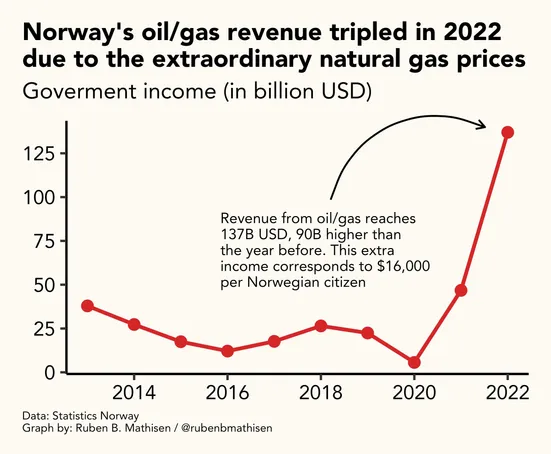 All this to say, Druck's interviewer is no slouch! Anyways, let's get to the convo.
Note: all quotes are from Druck's giga-brain; everything else is added context from my smol-brain…
This is the most uncertain economic outlook Druck's seen in his career — there's no historical precedent.
"I'm in the hard landing camp, probably later this year." But Druck's unsure how to play the expected hard landing right now. The bond market is tough because its essentially controlled by Fed policy which is hard to predict.
"The Fed has shown some mettle in the past year, but historically, I wouldn't say Jerome Powell is a profile in courage." Lol whatta line…
"The response to Silicon Valley [Bank] unnerved me a little. In 4 days, they printed enough money to wipe out the entire reduction in the balance sheet that had been done over 4 months."
Bottom line on the Fed: "I don't have a lotta faith that if we get into a hard landing, they're going to hold the line."
"Equities are complicated [right now]. Gun to my head, I'd be short the economy, something pure like the Russell 2000. Old economy, economically-sensitive stuff."
"The one area I feel reasonably comfortable about is I'm short the U.S. dollar. Currency trends tend to run for 2 or 3 years. And we had a long one here [with the U.S. dollar]."
"I missed the dollar run up over the [last 9 months. It's probably the biggest miss of my career in currency trades. I just couldn't bring myself to own Joe Biden and Jerome Powell." Another banger…
"I think that on a relative basis, the tightening in the U.S. going forward will not be as much as foreigners."
"We've weaponized the dollar and you've got people like Lula running away asking why we need to be trading in U.S. dollars. It's not a bad question. Historically, we [the US] could be trusted. We had a rule of law."
"About the only space I have real risk on is the U.S. dollar. And I'm also long gold for the same reasons."
"My PnL doesn't move more than 30-40bps per day; that's how buttoned down I have it right now."
On the question of how much of Druck's process is analysis vs gut feeling — "there's a saying: with analysis comes paralysis."
"Soros used to say: 'invest then investigate' — which I was already doing before I met him."
Druck watches price action to check biases and question ideas and positions. He also "keeps young people around who like to argue."
"I wouldn't be surprised if the stock market wasn't higher in 10 years. But like the 1968-1982 period, we will have big swings. So stay patient. The central bank will respond in some way that will give you the opportunity to make money."
This last comment echoes a point Druck made earlier in the interview — "one of the most important things you can do is not play when you don't see a fat pitch. When you're seeing the ball well, swing big."