In last week's activity feed post, CPI Print Meets Expectations, we noted a few keep points:
"Inflation slowed for the 10th consecutive month, with CPI coming in at roughly 4.9%, slightly lower than the 5.0% expectations."
"As noted in the tweet, with the labor market remaining strong, corporate earnings surprising to the upside, and inflation still at unacceptable levels, a June rate hike cannot be ruled out."
It is worth revisiting the market expectations around future rate hikes at the time of these CPI prints, and fortunately, we have screenshots.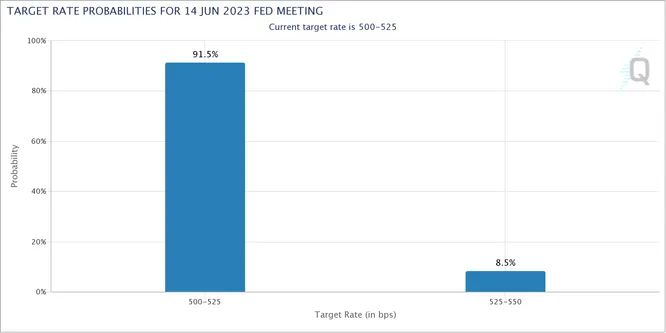 Last week the market was pricing in a 90%+ chance of a pause (no rate hike) at the June FOMC meeting. Fast forward 8 days, and it seems like reality is starting to set in, again.

Markets are now pricing in >30% chance of another 25bps rate hike at the June FOMC meeting, up 4x from the 8% probability just 8 days prior. Interesting… let's continue to monitor how market expectations change as we approach June 14.
The longer I continue to participate in markets while actively managing capital, the more I realize that things are never 'really' fully priced in.