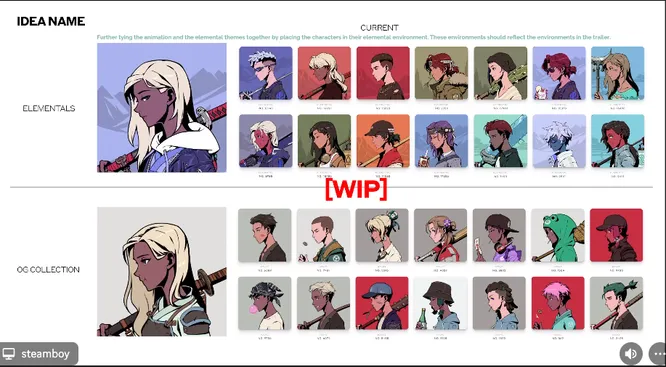 Azuki held a discussion with their community just an hour ago on Discord, to address the uproar around the recent Elementals mint and future plans.
TL;dr on what happened this week: Azuki raised $38M from their own community by selling out their Elementals collection at 2 ETH each. And it turns out the Elemental art looks quite similar to the OG Azuki collection.
So let me quickly summarise some of the key takeaways from today's discussion:
The team acknowledged that they missed the mark with the mint. They've made a commitment to their original supporters, the 'OGs', promising to make amends.
On the similarity in art styles between the OG collection and Elementals: Azuki will be launching a community vote to update Elemental backgrounds. (see one WIP example in the screenshot) This is set to be a significant change in their history.
Looking ahead, Azuki is venturing into the world of anime. They see this $20B industry as ripe for disruption and are developing a new type of anime, starting with shorts.
All revenue and upside from this anime venture will flow back to Azuki. They will be experimenting with ways for token holders to get involved in the story, for example, to be able to interact with NPCs or modify the storyline.
On the Green Beanz, a mysterious new initiative that Azuki has been teasing: It will be exclusively for OG Azuki holders and will focus solely on the anime. It's important to note that it won't change metadata. It won't be a new NFT collection, and won't be tradable. More details will come closer to the anime release.
On their plans for the next 6 – 12 months:
Release a collectors status product

Complete the Elementals art community vote

Short-form anime series based on Azuki IP

Going back to roots: surprise and delight holders

Tokenising Azuki culture on chain (details TBC)
Overall, it was great to hear from the team about their plans for the future. It is clear now that Azuki is leaning into anime production as their core business, just like how Yuga Labs is leaning into gaming/metaverse.
Be aware: producing a high-quality anime series is a herculean effort and it takes time. Azuki NFT holders will need to have long-term faith in the team's capabilities. Yet if they can be successful, they would be trailblazers in a large industry of global culture (anime) that sorely needs a refresh.