Market Update
The markets are red again, with BTC and ETH both nuking into the Asia session and consolidating near the lows for the rest of the day. After a splendid run, AVAX is down 18% over the last 2 days, and Avalanche ecosystem coins took a hit too. But the degen hit SAFEMOON and FTX sweetheart SOL are unfazed by the downturn.
Leverage Impact
We've often tried to use different measures to gauge the level of leverage in crypto markets. Another useful metric is the ratio between BTC's open interest across futures and perps, and its total market cap. When the ratio is rising, open interest is growing faster than market cap and vice versa. On its own, this probably isn't a very useful data point. But with the added context of price and trend structure, we can actually pull away some useful insights.
Look at the leverage ratio and price during Mar. 2020, Jul. 2020, and Apr. 2021. In all 3 instances, we saw open interest grow faster than market cap after a significant rally. This was essentially a swathe of longs getting trapped near the top.
On the flipside, the latest spike in the ratio was near the bottom after BTC took a 50% drawdown. Given the way the ratio declined after price began to rally, it seems likely that late shorts were rinsed, thus wiping out some open interest.
We can also see during Sep. 2020 to Mar. 2021, the ratio trended lower. But BTC price rallied hard, implying that demand for spot BTC exceeded demand to hold leveraged positions. With leverage penetration increasing in crypto markets, its useful to spot these pivot points to get a firmer grasp on where the market is heading.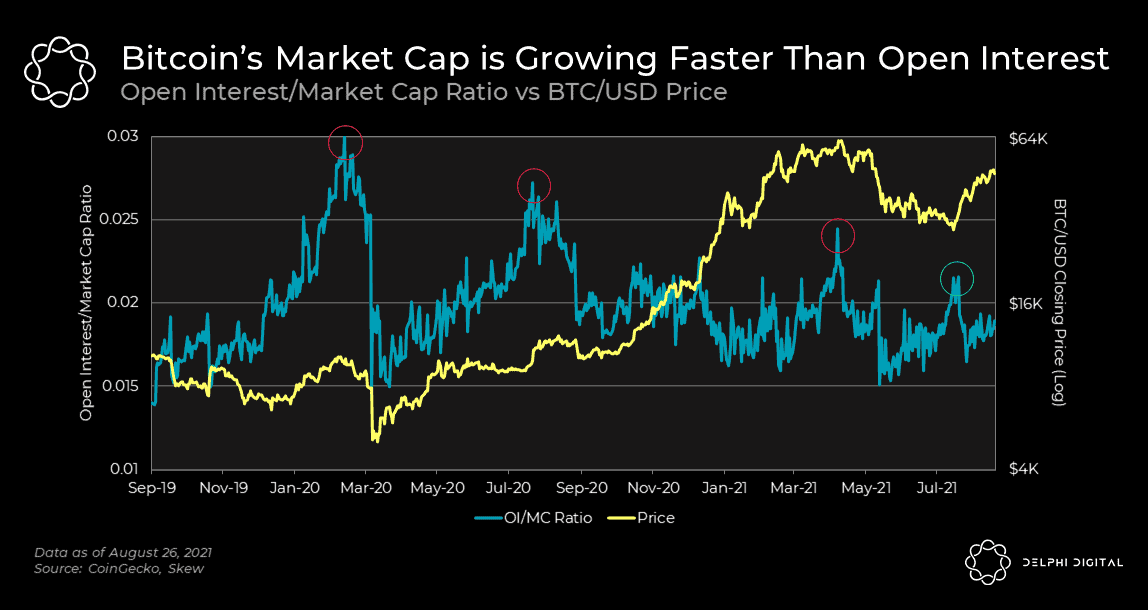 The Vols are Ringing
Implied volatility for near-term BTC options have been trending down for a couple of weeks now. Realized volatility, or actual volatility, has been a lot lower for the same time horizon.
With the options market starting to price in lesser volatility, this could be a signal that the market is in for a period of "chopsolidation," where BTC just establishes a price range and hovers inside it. But if the short-term downtrend continues, we could see realized volatility pop (since the market is still in a mid-term uptrend), which could potentially cause IV to increase again as investors buy up puts.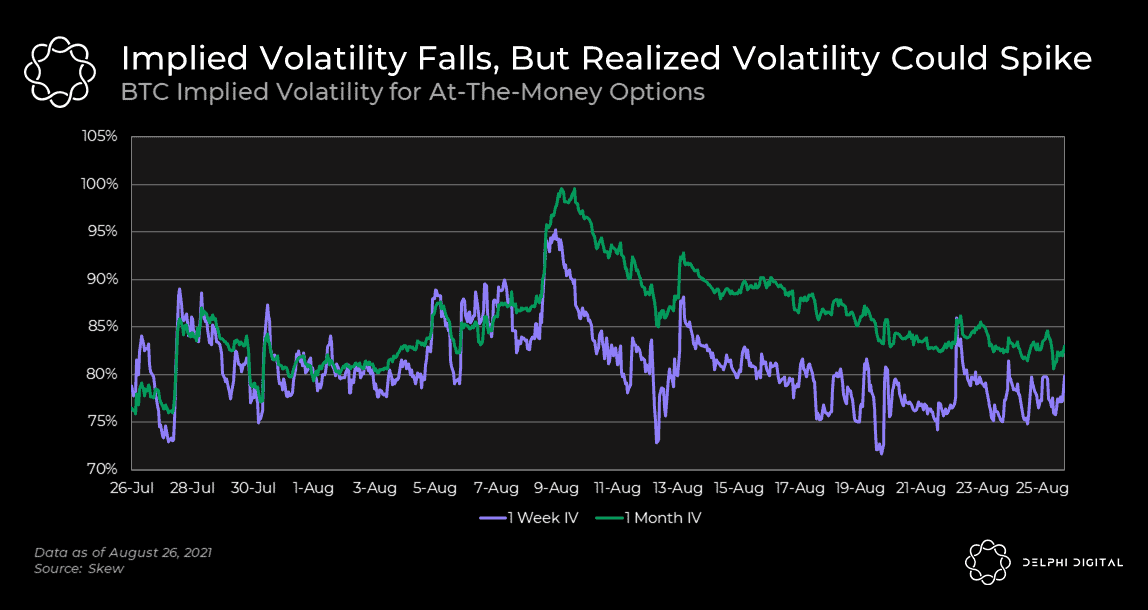 CME Traders Get Short?
CME's open interest increased over the last few days, while open interest on crypto-native exchanges took a tiny hit. With price moving down on shorter time frames and open interest on CME ticking up, this is a sign that institutional players on CME might be positioning for further downside.
Additionally, looking at the CME's Commitment of Traders (last updated on Aug. 17), leveraged funds have been adding shorts as their net open interest moves further into negative territory.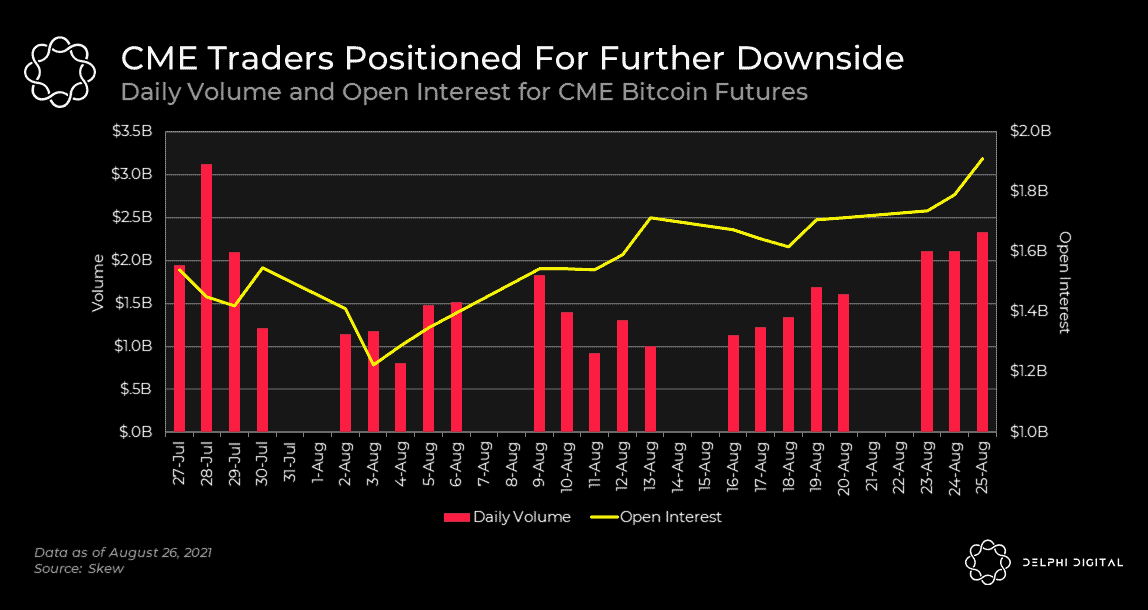 DEXes in Need of a Jolt
Ethereum DEX volume has fallen significantly relative to spot volumes on the big three centralized exchanges. The highest readings are from DeFi summer, where the mania was more or less contained to on-chain primitives. But as the market took off in late 2020, the ratio DEX to CEX volume fell despite an exponential increase in DEX volume (because CEXes were doing much more volume too).
The below graphic isn't a representation of total DEX volume (or CEX volume) as it only measures Ethereum DEX volume. But the past six months have been huge for non-Ethereum base layers like Polygon, Solana, BSC, and (more recently) Avalanche, which is possibly why there's been no pop in recent weeks.
However, it does confirm that Ethereum DeFi usage is stagnating a little bit. The entire ecosystem is need of a jolt of fresh energy and excitement.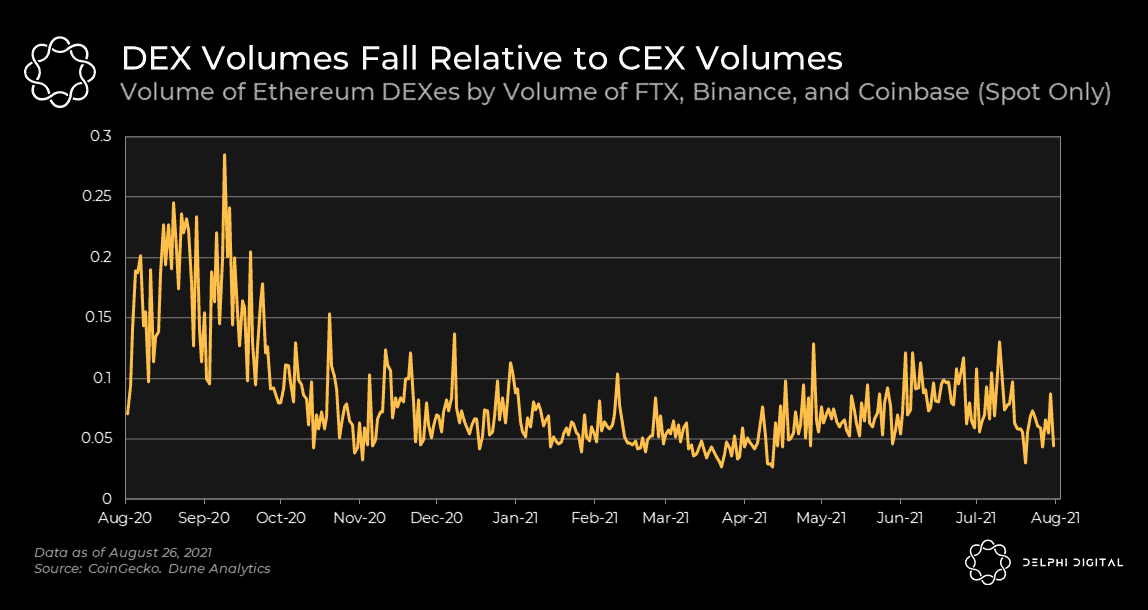 Notable Tweets
How to break into Web3
1/ It's here: a megathread on how to get a job in Web3

We'll cover must-dos & 3 scenarios
1) working in CeFi/a big company
2) working in a smaller startup
3) working at a DAO

TLDR; it's all about investing time & energy to showcase your interest before you even apply for a role

— jimmy.jpg is hiring for devs and community (?,?) (@0xJim) August 26, 2021
OpenSea hits the $3 billion milestone
today @opensea just hit $3B in transaction volume for 2021 ?

time taken for us to reach each billion in lifetime transaction volume?

$1B: 3.5 years
$2B: 2 weeks
$3B: 9 days

and this nft thing is just barely getting started

— Rex (@RexAsabor) August 26, 2021
Let the Optimistic games begin!
Ethereum is scaling and Hop is bridging the gaps?

Say hello to Hoptimism: the first fast bridge connecting @optimismPBC to Ethereum and other scaling solutions.

Transfer assets in and out of Optimism in minutes ⚡️https://t.co/z8K0uAa2xg pic.twitter.com/gMlHjtL8wz

— HopProtocol (@HopProtocol) August 25, 2021