Market Update
BTC opened the Asia session with a fair bit of selling, but this reversed fairly quickly as demand showed up at the beginning of the European session. BTC has been cooling off over the last few days after a strong rally into the range high, and the rest of the market is pretty much just following BTC.
Stablecoins Becoming Margin Asset of Choice
A big change is coming about in BTC market structure. In the past two years, futures have become an influential force on BTC's price discovery. The vast majority of futures open interest was margined by actual BTC as collateral. But as FTX, Binance, and other popular venues started to accept stablecoins as collateral, there's been a surge of traders migrating from coin margined positions (BTC) to cash margined positions (stablecoins).
The shift became even more visible in recent months as cash margined open interest soared in the aftermath of the May crash. At the same time, coin margined open interest has been trending downwards since Apr. 2021.

 

The most important implication of this is that longs don't have the added boost of holding both spot BTC and BTC futures while it goes up, but they're no longer exposed to deeper losses when their position turns against them (because their margin is in stablecoins, not BTC). For shorts, they can take advantage of downtrends without their margin value eroding, but they lack protection when BTC moves up. When short sellers hold BTC spot as margin and short BTC futures, they have a natural hedge because if the short turns against them, the gain on their spot BTC would offset some of their loss. With cash margined shorts, this is no longer the case.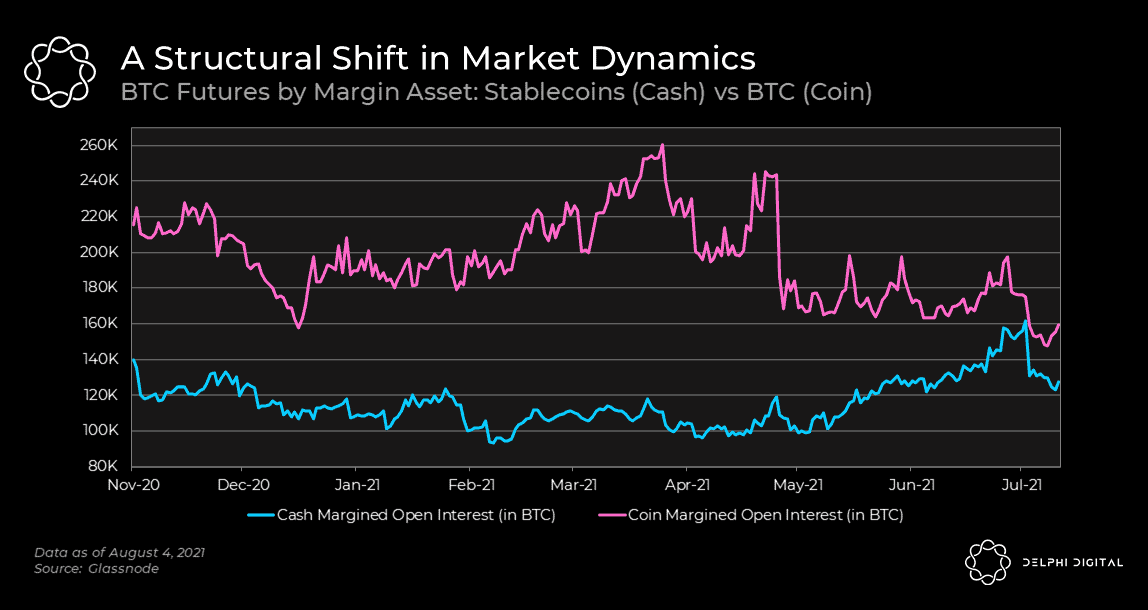 Options Open Interest Down, But With a Silver Lining
Over a billion dollars of options open interest were wiped out after July's contracts expired. The aggressive call option buying we saw last week has simmered down as well. This is normal, and open interest usually recovers its lost ground as long as sentiment and demand remain intact.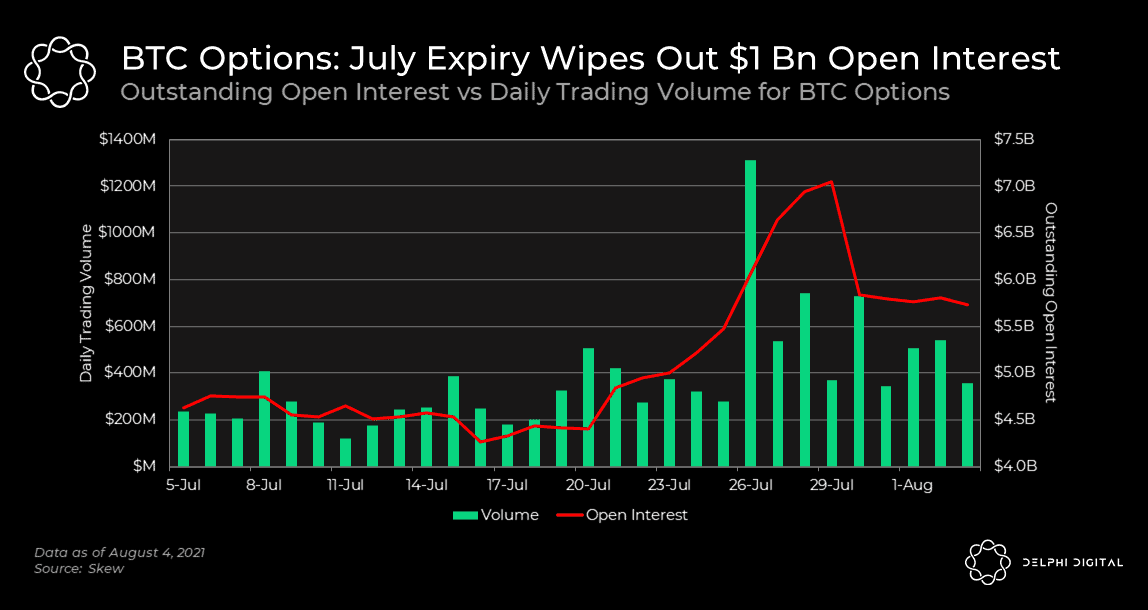 On the bright side, the put-call ratio — which is the ratio of put volume/open interest to call volume/open interest — has been falling since mid-July and hasn't really pushed up yet. This indicates that market participants aren't rushing to buy puts in anticipation of a deep pullback.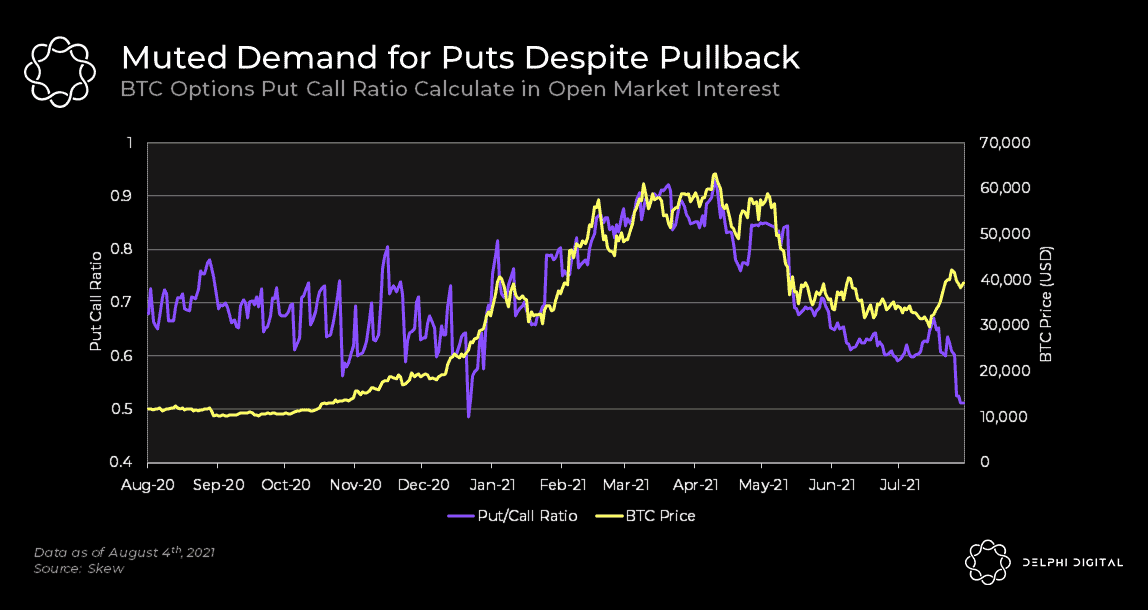 The Upside of Un-pegged Currencies
RAI by Reflexer has been gaining traction as concerns of centralized stablecoin reserves like Tether being revealed to only have 2.9% of reserves in Cash and 49.6% in Commercial Papers, an unsecured short-term debt. This means the risk of holding Tether may be higher than the market perceives. Regulators too have been starting to discuss regulating stablecoins and may categorize them as a security, commodity or derivatives that will be subjected to their respective laws.

 

Investors now look for an alternate stable asset as even DAI, a 'decentralized' stablecoin has ~63% exposure to USDC. RAI tries to fill the decentralized stablecoin gap through the use of only ETH as collateral.

 

RAI is a non-pegged stablecoin backed by ETH with a managed float regime, which tries to stabilize its price through constant devalue or re-valuing of redemption price. To keep the price of RAI/USD stable, it relies on arbitrageurs to take advantage of RAI's market price difference and its redemption rates.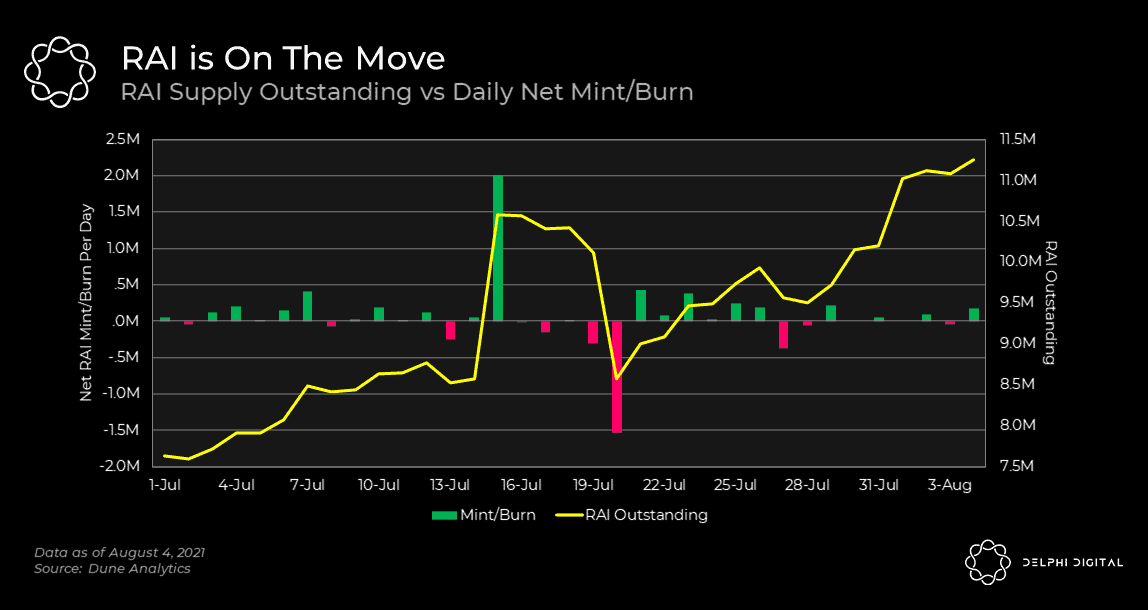 Notable Tweets
The much-awaited DYDX token is live!
The dYdX Foundation has launched DYDX, the governance token of the dYdX protocol ?

DYDX powers a community-led ecosystem of governance, staking, and rewards. Read more from @dydxfoundation: https://t.co/RPooXbAro2

— dYdX (@dydxprotocol) August 3, 2021
Conflict of interest and governance wars in DeFi
Governance wars on listing BOND as a collateral asset into the Aave Protocol@Barn_Bridge VCs voting YAE@saffronfinance_ VCs voting NAY

Discussions https://t.co/MU0KgtXbwc pic.twitter.com/K1mQfzhLvw

— stani.eth ? ?‍❄️?? (@StaniKulechov) August 3, 2021
Delphi Labs' Gabriel Shapiro joins UpOnly to break down the SEC's crypto stance.
Regulatory deep dive with crypto lawyers @lex_node @SH_Brennan & @MarcGoldich

Presented by @blockfolio (now FTX).https://t.co/e4psrsIdMc

— UpOnly (@UpOnlyTV) August 3, 2021