Metus vulputate eu scelerisque felis. Nulla facilisi cras fermentum odio eu. Scelerisque fermentum dui
faucibus in ornare quam viverra orci sagittis. A iaculis at erat pellentesque adipiscing commodo elit. In
fermentum et sollicitudin ac orci. Ultrices sagittis orci a scelerisque purus. Faucibus ornare
suspendisse sed nisi lacus sed viverra tellus in. Mauris cursus mattis molestie a iaculis at erat
pellentesque adipiscing. Volutpat diam ut venenatis tellus in metus vulputate. Eu consequat ac felis
donec et odio pellentesque. Eu mi bibendum neque egestas congue quisque egestas diam. Quam
lacus suspendisse faucibus interdum posuere lorem. Quam id leo in vitae. Ut faucibus pulvinar
elementum integer enim neque. Id ornare arcu odio ut sem nulla pharetra diam sit. Molestie ac feugiat
sed lectus vestibulum mattis. Ipsum nunc aliquet bibendum enim facilisis. Euismod nisi porta lorem
mollis aliquam ut porttitor.
Iaculis nunc sed augue lacus viverra vitae congue eu consequat. Gravida neque convallis a cras.
Nunc scelerisque viverra mauris in aliquam sem. Non odio euismod lacinia at quis risus sed vulputate
odio. Purus faucibus ornare suspendisse sed. Turpis egestas maecenas pharetra convallis posuere
morbi. Nec feugiat nisl pretium fusce id velit ut. Nunc congue nisi vitae suscipit tellus mauris a diam.
Posuere sollicitudin aliquam ultrices sagittis orci. Urna nec tincidunt praesent semper. Turpis nunc
eget lorem dolor sed viverra.
suspendisse sed nisi lacus sed viverra tellus in. Mauris cursus mattis molestie a iaculis at erat
pellentesque adipiscing. Volutpat diam ut venenatis tellus in metus vulputate. Eu consequat ac felis
donec et odio pellentesque. Eu mi bibendum neque egestas congue quisque egestas diam. Quam
lacus suspendisse faucibus interdum posuere lorem. Quam id leo in vitae. Ut faucibus pulvinar
elementum integer enim neque. Id ornare arcu odio ut sem nulla pharetra diam sit. Molestie ac feugiat
sed lectus vestibulum mattis. Ipsum nunc aliquet bibendum enim facilisis. Euismod nisi porta lorem
mollis aliquam ut porttitor.
Iaculis nunc sed augue lacus viverra vitae congue eu consequat. Gravida neque convallis a cras.
Nunc scelerisque viverra mauris in aliquam sem. Non odio euismod lacinia at quis risus sed vulputate
odio. Purus faucibus ornare suspendisse sed. Turpis egestas maecenas pharetra convallis posuere
morbi. Nec feugiat nisl pretium fusce id velit ut. Nunc congue nisi vitae suscipit tellus mauris a diam.
Posuere sollicitudin aliquam ultrices sagittis orci. Urna nec tincidunt praesent semper. Turpis nunc
eget lorem dolor sed viverra.
lacus suspendisse faucibus interdum posuere lorem. Quam id leo in vitae. Ut faucibus pulvinar
elementum integer enim neque. Id ornare arcu odio ut sem nulla pharetra diam sit. Molestie ac feugiat
sed lectus vestibulum mattis. Ipsum nunc aliquet bibendum enim facilisis. Euismod nisi porta lorem
mollis aliquam ut porttitor.
The Aku Story
"Mom, can astronauts be black?" Those five fleeting words from his 4-year old nephew sparked a new chapter in Micah Johnson's life, a former professional baseball player who left the majors four years ago to pursue his passion for art and creative expression.
Like many artists, Micah's work is a reflection of his own experiences and views. He's an avid advocate for social equality and is well known for depicting historic moments in black history in his work. When the pandemic hit, Micah picked up a brush and started on a new artistic inspiration, painting dozens of portraits featuring young black kids as cosmonauts. In an interview with USA Today, he noted how his nephew was his inspiration to start painting astronauts because "an astronaut is a universal statement and can stand the test of time."
After much anticipation and mystique, Micah brought his latest creation to life last February when he introduced the world to Aku, The Moon God. Who is Aku, you ask? He's one of the world's first-ever digital explorers "whose confidence and ingenuity have him on a mission to prove that no dream is too big and no obstacle is too large."
The first Aku chapter drop sold 1,400 editions in a matter of minutes. The success of the sale convinced Micah there was something special about his new NFT-based character, and with ~$2 million in proceeds, he set out on a journey to prove it.
Initially, Micah thought he'd spread out the 10 chapter drops over the course of a couple years, slowly building momentum and excitement for Aku. But that plan was short-lived after interest in subsequent chapter drops surged. Fast forward to today and we've already witnessed the successful completion of all 10 Aku chapter drops, the last of which – aptly titled, "The Finale" – dropped in late February.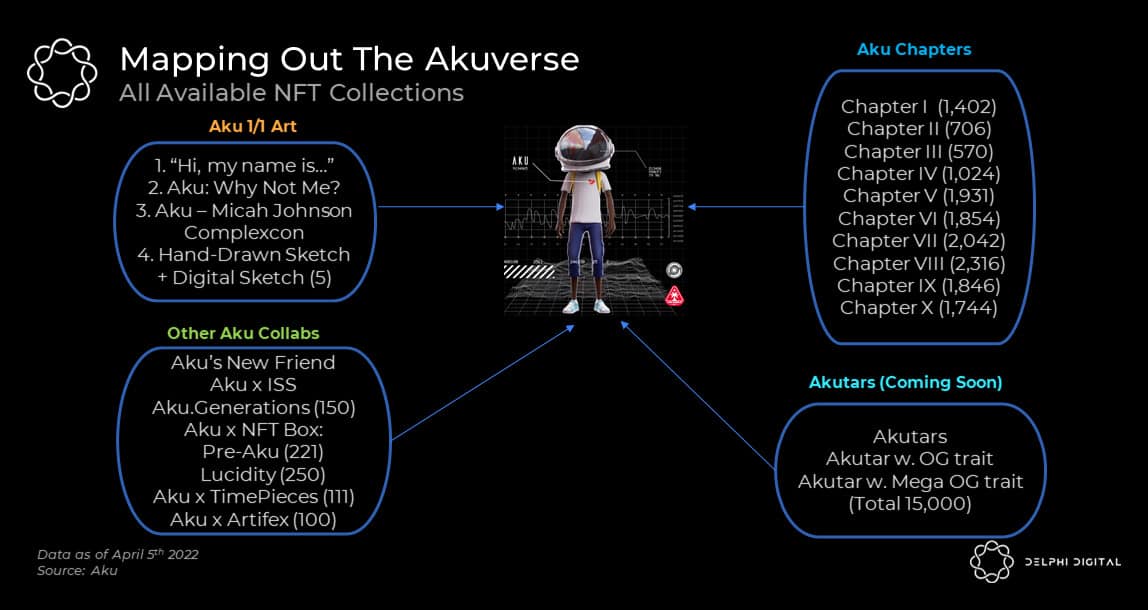 Aku is arguably the most powerful NFT-based character today. His likeness and storyline have resonated with thousands of people, many of which had little to no interaction with NFTs previously.
Micah Johnson, the creator of Aku, is leading one of the first web3-native media companies centered around community, inclusion, and empowerment. Aku isn't just another NFT "project". It's the foundation of a bigger vision to flip the traditional media playbook on its head. And it's starting to get some serious attention.
Aku was recently named one of Fast Company's Top 10 Most Innovative Media Companies of 2022. Aku was also the world's first NFT-based character to be optioned for TV and film by a major production company, stirring quite a buzz among Hollywood studios and influential icons alike.
Aku's Growing Popularity
As interest in Aku has grown, so too has trading volume for Aku-related NFTs. Last month, total trading volume for Aku chapter NFTs reached 225 ETH on OpenSea, their highest month on record. This bucks the broader trend of NFT trading volumes, which fell throughout most of Q1. For context, volumes on OpenSea, the world's largest NFT marketplace, peaked back in January.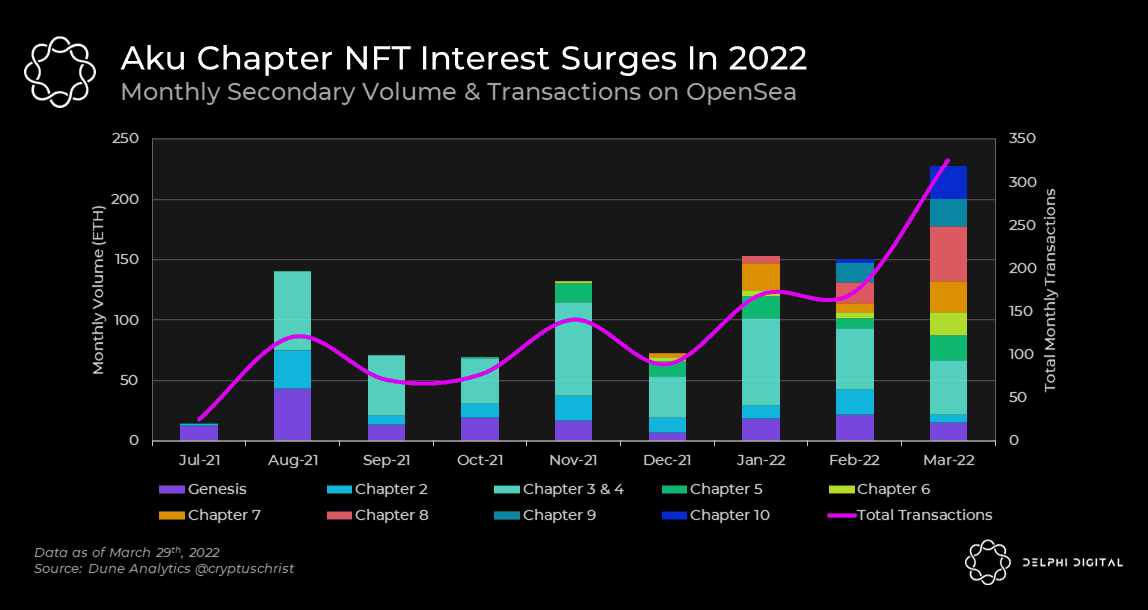 And that's just monthly volumes on OpenSea. There's also been over $9M of secondary sales volume on Nifty Gateway to-date.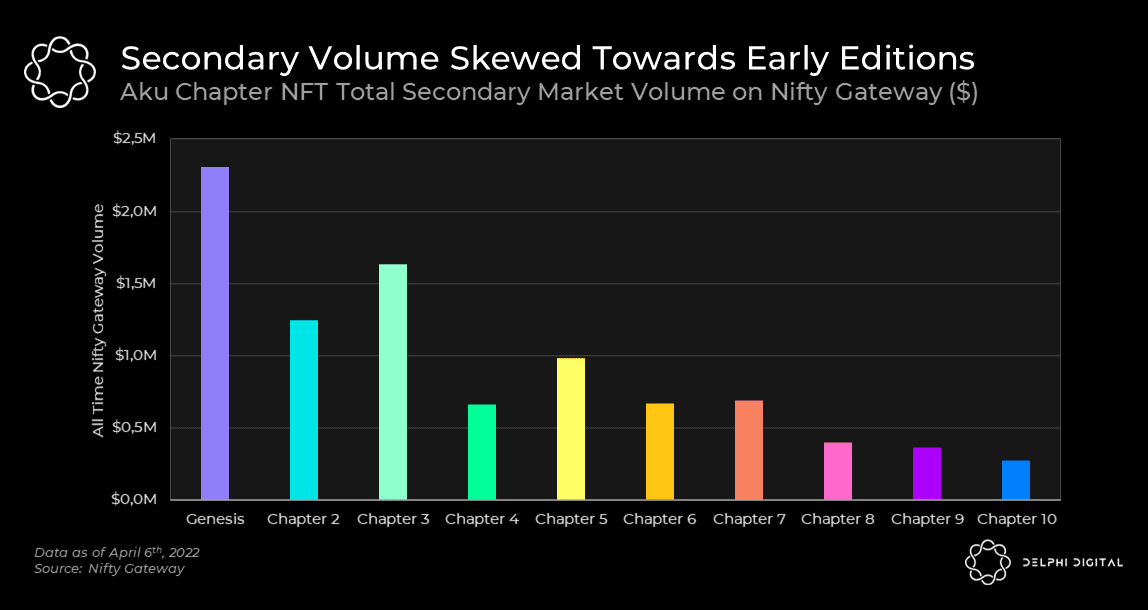 Note: This data was captured a few days ago and does not include the spike in trading volume or prices we've seen over the last 24 hours, which only confirms the growing excitement around Aku and the upcoming Akutar snapshot. It's also a notable example of how quickly things move in this space.
The Rise of Diamond Hands
One of the hallmarks of the Aku community is its high percentage of "diamond hand" holders, or NFT owners who refuse to sell their chapters, even in the face of significant price appreciation. There are 1,743 editions of the aforementioned Chapter X NFT, for example, yet less than 30 of them are available for sale between OpenSea and Nifty Gateway, representing less than 2% of total supply.
Zooming out, there are 15,435 total Aku chapter NFTs (or "editions"). "Moon Gods" are defined by those who hold at least one edition from all 10 chapters. The current cost to achieve Moon God status – and acquire an edition from every chapter – is roughly $75K. There are only ~470 complete Moon God sets today, adding an element of exclusivity for the most passionate Aku collectors.
Across all 10 chapters, only 2% of total editions (~320) are available for sale on secondary marketplaces. Depending on the chapter, the percentage of editions currently available for sale range from 1.5-3%. Chapter IV seems to have the largest percentage of editions available for sale at the time of writing, which we'd expect given it was distributed as a free airdrop.
In terms of scarcity, Chapter III is the scarcest chapter with only 570 total editions. It also boasts the highest floor price (currently ~10 ETH on Nifty or 11.5 ETH on OpenSea). The number of Chapter III editions is important because it represents the maximum number of possible complete sets; there can only ever be 570 Moon Gods.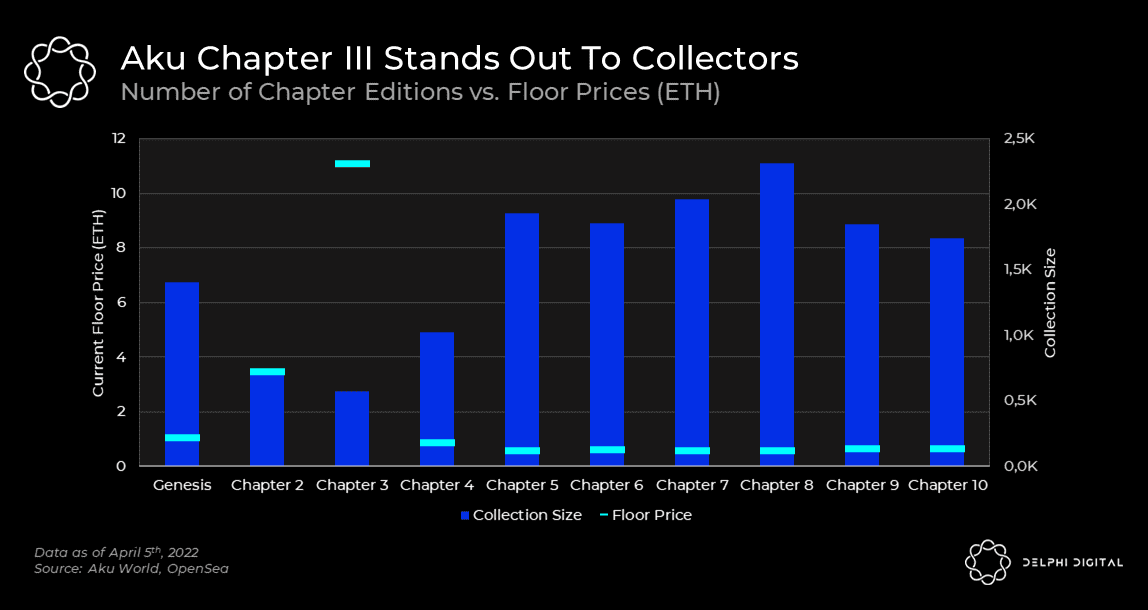 Chapter II has the second highest scarcity with 706 total editions, and its floor price is also the second highest (~4 ETH). Interestingly, the two chapters that were airdropped to existing chapter holders (IV & VIII) have maintained a floor price well above the initial sales price for new paid chapter drops ($999).
For context, Bored Ape Yacht Club (BAYC), which boasts one of the strongest NFT brands, has ~8% of its total ape supply listed for sale. Azuki, another extremely popular NFT collection, has ~11% of its total supply available for sale currently. Some of the individual NFTs in these collections are listed at astronomical prices, so it's not a perfect parallel, but this just goes to show how strong the community of Aku chapter holders really is.
The floor prices for nearly every chapter have also risen since their initial mint dates. When measured in USD terms (as opposed to ETH), most chapters are trading at least 2x higher than their original mint price. Prices across all chapter NFTs seem to be trending higher recently, in part driven by the upcoming Akutar launch. Note: Chapters III & IV were minted on the same contract so historical floor prices on the chart below reflect the lowest priced NFT of both collections (i.e. Chapter IV's historical floor price).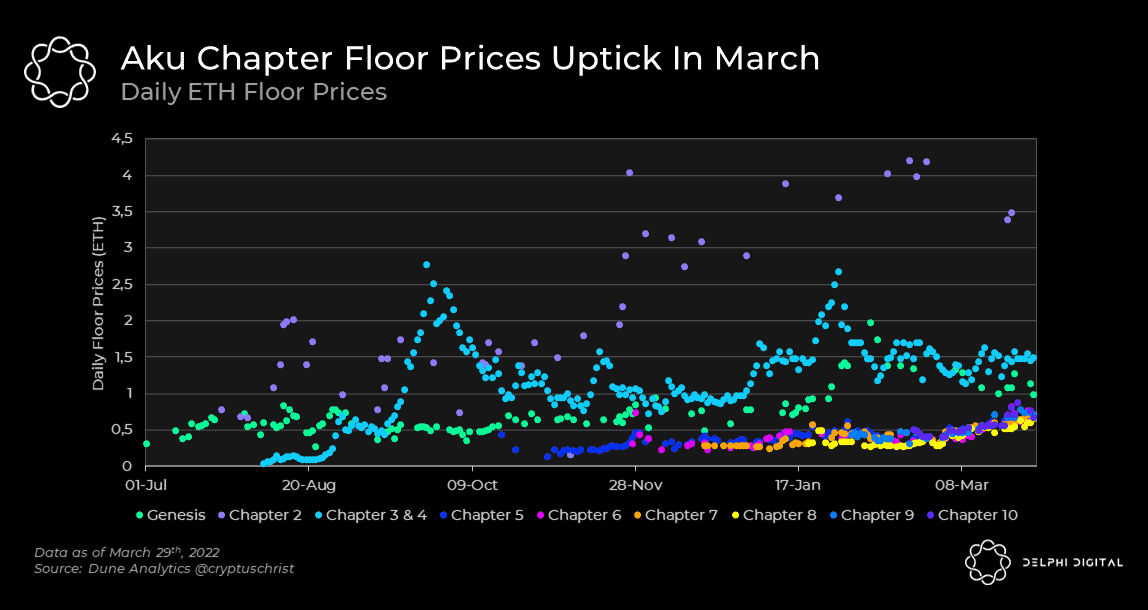 Many early supporters are still part of the Aku community. Over 85% of all Chapter I-IV NFTs were first acquired at least 90 days ago, according to seniority distribution data tracked by Nansen. Chapters VIII, IX, and X were all minted between late January and February yet a majority of each chapter's editions were first acquired at least 30-60 days ago.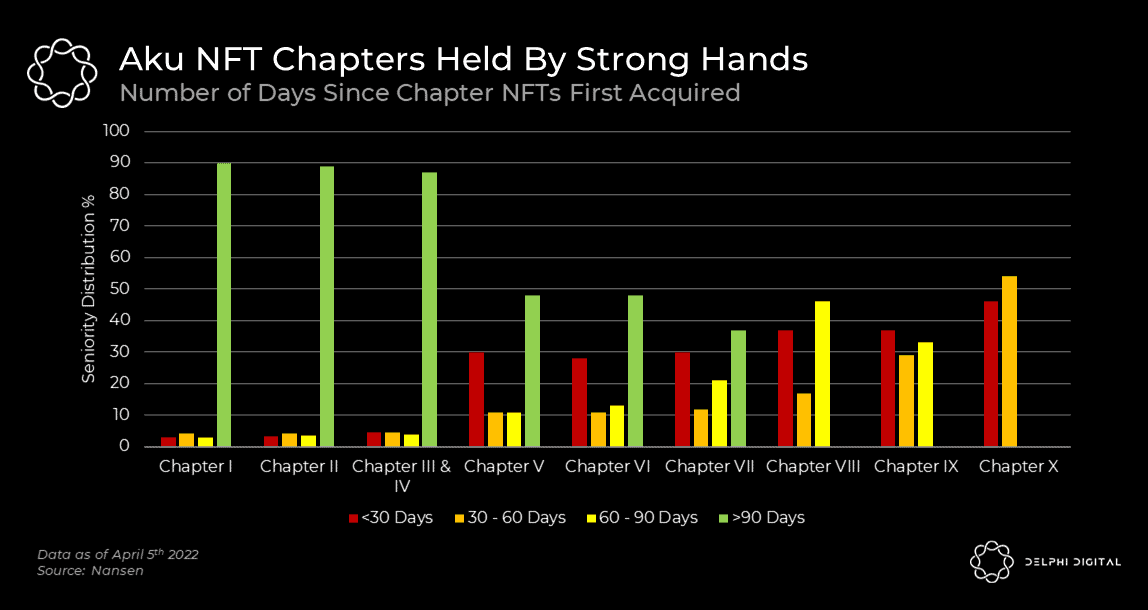 We've also seen the number of unique addresses holding Aku chapter NFTs expand. Back in July 2021, only 140 unique addresses held a Chapter I edition, compared to nearly 450 unique addresses today. This doesn't just apply to early chapters either. In the few days following the last chapter drop, roughly 200 unique addresses held a Chapter X NFT; that number has more than doubled over the last six weeks, implying a greater distribution of chapter holders. Note: not all of this increased distribution is organic since some chapter holders may choose to spread their NFTs across multiple addresses.
Akutars & The Akuverse
The next major milestone for Aku is the highly anticipated launch of Akutars, a collection of 15,000 unique 3D avatars that will come pre-equipped with base traits, OG Traits, Mega OG Traits, or traits from one of 6 Brand Collaborators. Each Akutar will be assigned to 1 of 5 teams (3,000 per team) and will have the opportunity to participate in upcoming competitions and games, fostering even more engagement within the Aku community.
Each Akutar has been designed in Unreal Engine so the graphics are on par with many of today's popular gaming characters.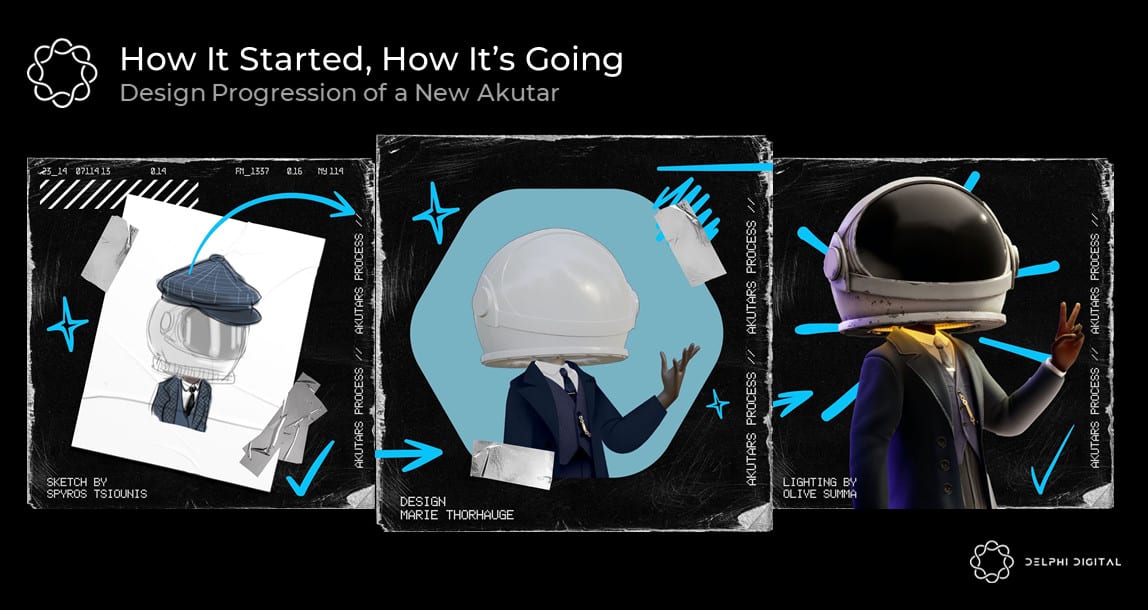 "Each Akutar grants you entry into the ever-expanding Akuverse, where lines are blurred between the digital and physical worlds. In which Akutar owners gain exclusive access to culture-defining experiences, products, and collaborations."
Akutar Launch Details
Chapter holders will always be the foundation of the Akuverse. The free Akutar airdrop is just the first of many rewards for chapter holders as the Akuverse unfolds and expands.
The official Akutar public launch is scheduled for April 22nd but Aku chapter holders (and select non-chapter NFT holders) will be eligible for early access via a free airdrop. The snapshot to determine eligibility for the free airdrop will take place on April 7th at 10am ET.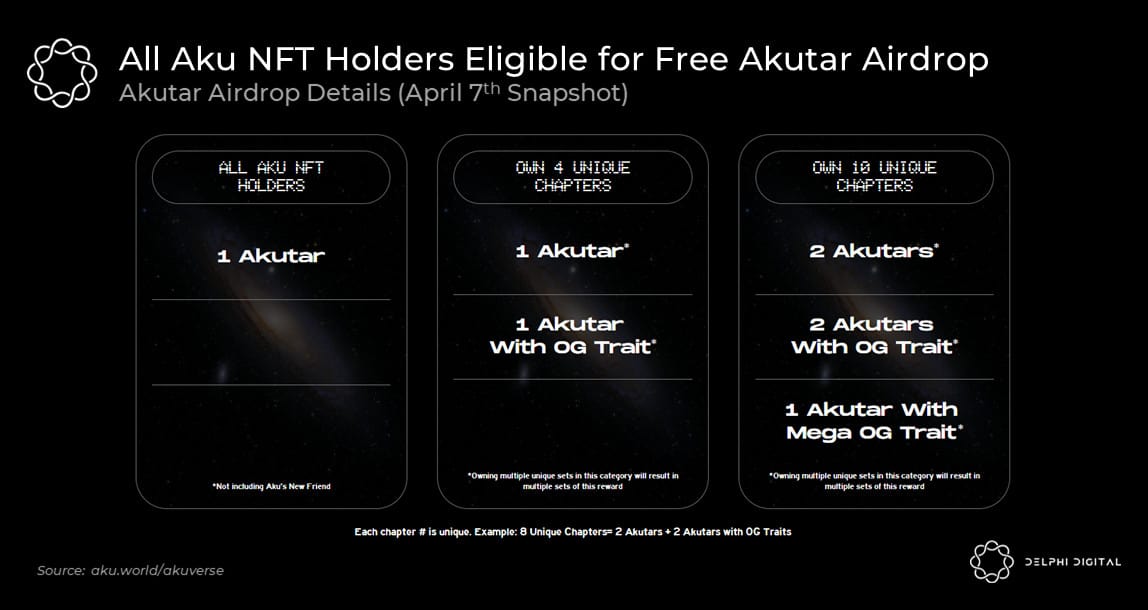 Here's a quick breakdown of the Akutar airdrop based on each type of Aku NFT holder.
Every Aku NFT holder will be eligible to receive at least one base Akutar

Every holder that owns 4 unique chapters will be receive:

Moon Gods will be eligible to receive 5 individual Akutars, including:

2 base Akutars

2 Akutars each equipped with an "OG" trait

1 rare Akutar exclusively for Moon Gods with a special "Mega OG" trait
The OG traits and Mega OG traits are only available to the above categories, meaning each will have a certain level of scarcity depending on how many "set of 4" and Moon God holders there are at the time of the snapshot.
More details on the price and auction dynamics for the public mint will be released soon, so be sure to follow Aku and Micah on Twitter for the announcement. Based on the breakdown of current holders, its estimated that nearly half the total supply of Akutars will be reserved for the public mint.
Below is a list of non-chapter Aku NFTs that are eligible for the airdrop, which you can also find here under the FAQ section of the official Aku site.
Pioneering the Web3 Media Flywheel
Digital assets can create strong flywheels around creators and creative IP. Active community members can be rewarded for their contributions directly (e.g. earning community-based assets like NFTs or tokens) or indirectly via appreciating asset values as demand to be part of a thriving community rises. Fans become advocates as they too have a vested interest in the creator's success.
The introduction of Akutars will expand the Aku community, but early supporters will be rewarded with their own unique Akutars, proving the value proposition of NFTs as on-chain identifiers for creators to identify, target, and reward their biggest advocates without the need to rely on external intermediaries.
There are several challenges with today's media model and the process for developing new IP (i.e. characters, storylines, animation, etc.). For starters, it typically requires significant upfront investment, which limits an individual's ability to finance the production process. In a world of on-demand streaming and endless libraries of content, creators have become somewhat commoditized and often must forgo ownership in their IP in order to attract funding for their creative endeavors. This limits a creator's participation in the success of their own creative IP.
Additionally, the creative process itself can be confined to a small number of industry gatekeepers, as opposed to tapping into the collective creativity of fans or a creator's community. Aku is a prime example of the latter as its supercharged by a growing community of collaborators who are both consumers and capital providers, creating collective leverage relative to Web2 counterparts. This type of distributed structure – where many people are incentivized to get involved and provide value in whatever way their skillset best allows – is made possible with web3 infrastructure for coordinating large swaths of disparate contributors. It also kickstarts a community flywheel effect, where members are motivated to promote the vision and story behind the IP, as well as the digital assets created around it.
It's not enough to simply create more surface area for community members to interact. There needs to be a cultural identity or shared mission that members rally behind, working together to push the community closer to its overarching mission. It's difficult to quantify such engagement, but in Aku's case, all it takes is a few minutes scrolling through the community discord. Members from all different backgrounds come together to propose new ideas, provide feedback on existing initiatives, and even help onboard new members, some of whom have little to no web3 experience.
Don't just take our word for it either. We spoke with several "Moon God" and "Moon Goddesses" to understand what they see in Aku and why they're so passionate about this community.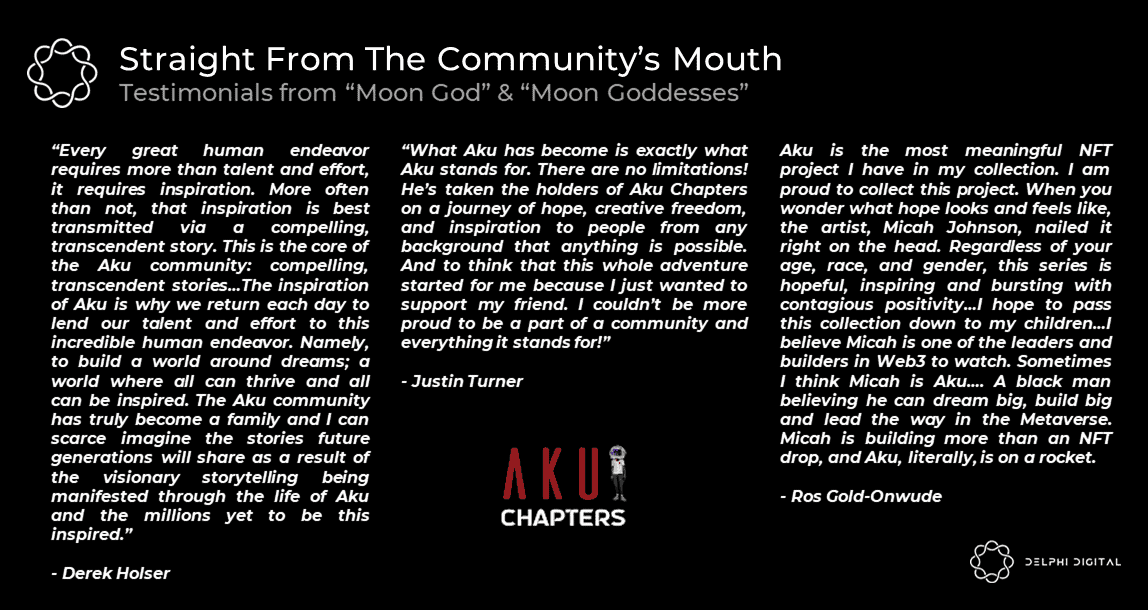 Shortcomings of "Right-Click-And-Save" Narratives
The right-click-and-save memes that surrounded last year's NFT craze helped reinforce the importance of utility (just ask your tradfi colleague who saved an image of a random bored ape how many $APE tokens they were able to claim).
We've outlined how each chapter holder will be eligible to claim a free Akutar, but this is just one example of how chapter holders will be rewarded. So far, chapter holders have been eligible to receive a special edition Aku's New Friend NFT, free chapter airdrops (Chapters IV & VIII), access to a private party in Miami, and alpha chats in Moon God and verified chapter holder Discord channels.
It's this consistent feedback loop between NFT holders and creators that will separate the most successful web3 communities over time. This future optionality – where NFT holders are eligible for exclusive drops, access, and future utility – is one of the most powerful value drivers for any web3 community.
The ability to tier community members by levels of "fandom" is another major unlock of on-chain digital assets. The artwork and origin story are certainly important, but there's tremendous value in the on-chain social graph of Aku chapter holders. Longer term, it's not hard to imagine emerging NFT projects partnering with the Aku community with unique offerings for Akutar owners or Moon God holders to help bootstrap their own communities.
Speculation gets a bad rap, but not all speculation is bad. The value of most NFT collections is driven by speculation. But it's not all JPEG traders looking to make a quick buck. There's a lot of speculation around the future utility that NFTs will provide their holders. Early buyers of the first Aku chapter weren't aware that their NFT would generate a free claim on a new Akutar NFT a year later. They also weren't privy to the bigger metaverse vision Micah and the Aku team were building towards in those early months.
Too much speculation can be toxic to an NFT community, but a healthy dose of speculation is necessary to generate excitement and continued buy-in from active community members.
A Team of Visionaries
Micah personifies the values of Aku in everything he creates, breathing life into a character that's mission and goals are as astronomical as his own. He is the captain of Aku's ship. But achieving one's dreams is rarely a journey best walked alone. Micah recognized he needed to build a world class team to manifest his dream into a reality, and so he set out to do exactly that.
The core team behind Aku is a creative powerhouse made up of over two dozen media veterans, designers, cinematographers, and production specialists. The technical team includes a smart contract developer and a front-end web designer. They even have five dedicated community managers, which play a critical role in community engagement and activation (see the end of this report for more detail on the legends leading the Aku team).
The team's primary focus for the foreseeable future will be to grow Aku into a globally recognized brand, combining a unique blend of web3-enabled experiences and traditional business verticals. Media content licensing (e.g. animated series or feature films) is just one example. Live event sponsorships, consumer products, and even virtual experiences with top celebrities and music artists are just a handful of opportunities to grow the awareness and impact of Aku.
The inaugural Aku World Miami event was a huge hit (and speaking from personal experience, it was also a ton of fun!).
Why We're All In on Aku
We'd argue there's very few creators that have put as much effort and thought into building real utility for their web3 communities than Micah has with Aku. And that's the big difference in this new web3 media model; the community is just as much a part of Aku as Micah himself.
Many NFT collections are just that, collections. There's little thought that goes into developing additional use cases and valuable experiences for their communities. The Aku team has consistently delivered on every new chapter drop. Micah himself is in the community Discord every day, while he and the team build out the infrastructure to support the Akuverse in parallel. Many people claim they're building a "metaverse", but in reality most attempts are still siloed. The team's vision for the Akuverse is to create a world with real utility and experiences that anyone can create in, and they've assembled an incredible group of industry veterans and partners to help execute on their ambitious goals. That's not to say this undertaking doesn't come with its fair share of risks, but if anyone can execute on a vision as ambitious as this one, its Micah and this team.
Aku is one of the first major examples of how the model for community-driven IP can transpire in a web3 world. In Aku's case, it starts with a unique character and an inspiring message: anyone can do anything in this world. Aku will continue to serve as a web3 gateway for many non-crypto natives, showing the world what's possible when visionaries and communities unite.
Meet the Aku Team
Creator of Aku: Micah Johnson
Micah Johnson is a former MLB player turned artist who discovered his passion for NFTs in 2019. Aside from a successful physical painting career, Micah was named NFT Artist of the Year in 2020 and in 2021 his character Aku became the first NFT optioned to become a feature film. Micah is the first creator sponsored by Visa and was recognized by Fortune Magazine as one of the Top 50 Most Influential People in NFTs.
President: Summer Watson
Summer Watson is a consumer product and marketing veteran, having held founding and executive positions at industry leading companies, including Heir with Pusha-T, Playdom (acquired by Disney), TuneIn, Pocket Gems/Episode, Skybound, CS Global and Vol. 1 (AJ  Mitchell, Eddie Benjamin, Kid Culture). She is an active partner and investor in several consumer music, fintech, data, AI and gaming companies.
Head of Legal & Business Affairs: Amanda Hendy
Amanda Hendy is an attorney, investor, and entrepreneur. Following a career in BigLaw, she co-founded the US venture arm of a global family office where she led investments across consumer and tech. She continues to serve on boards and as an advisor to several companies and is also an active angel investor.
Brand Partnerships: Kristen Fraser
After successful stints at Beats by Dre, Nike Sportswear, and Island Def Jam, where she spearheaded some of the most iconic campaigns, Kristen founded her own marketing and branding agency, PVTL. Notable clients of PVTL include: Spotify, Netflix, DJ Khaled, and Anderson Paak.
Animation Production: Spyros Tsiounis
Spyros is an animation industry veteran with experience in both Hollywood and Silicon Valley. In story development he contributed to movies like Coraline, Kung Fu Panda, The Bee Movie and TV shows like The Clone Wars and Star Wars Rebels. As a production lead he designed and managed distributed pipelines and remote teams on franchises like The Walking Dead.
Art Director: Durk van der Meer
Cinematography: Jason Brice
Creative Council: Pusha-T, Upscale Vandal 
Community Managers: My Name is Glitch…, VNL, Lawsonmc90, IrelandDreams, Joff, ChirsMannto