An Update on DeFi Markets
SEP 17, 2021 • 8 Min Read
Disclosure: Delphi Ventures has invested in BTC, ETH, SOL, UNI, DYDX, LDO and Offchain Labs (Arbitrum). This statement is intended to disclose any conflict of interest and should not be misconstrued as a recommendation to purchase any token. This content is for informational purposes only and you should not make decisions based solely on it. This is not investment advice.
Market Update
With L1 szn taking hold of crypto markets, DeFi coins have fallen out of favor over the past few months. Coupled with May's chaotic downturn, it's easy to see why sentiment for DeFi has been so poor since.

When crypto assets set a local bottom in late July, investors turned their attention to DeFi, but this was quickly overrun by L1s. Last week, we saw yet another swift yet sharp correction in the crypto market, albeit not as extreme as May. Since then, DeFi tokens have found a new lease on life, with blue chips like CRV and SNX leading the bounce. When we examine DeFi performance since August, however, ALPHA stands out against other tokens.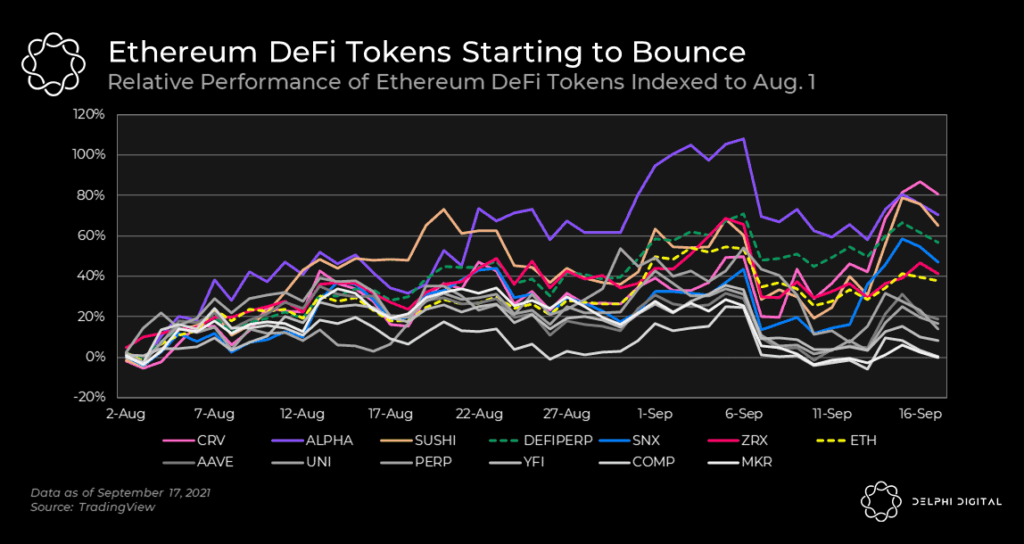 Unlock the whole story
Delphi Pro is our institutional-grade crypto research and analysis offering, providing full market coverage across deep-dive reports, analysis, data and community.
4 Weekly Insights Reports

Deep-dive Research Reports

Early Access to Delphi Media

Office Hours Calls with our Analysts

Exclusive Telegram & Discord Access

Team features for cross-collaboration*

Access our entire archive of content
Starting at $1000 a month**
Get Delphi Pro
* Team features available on multi-seat purchase.
** Based on purchase of annual subscription.