Market Update
BTC is having a choppy today after indecisive price action across market sessions. AXS is leading the crypto market today, up 31% in the last 24 hours. Today's Delphi Daily is a market update in itself, so kick back and enjoy!
Positive Outlook on BTC
BTC secured a daily close above its 200 day exponential moving average (EMA) for the first time since May, indicating that it's firmly in an uptrend. The Relative Strength Index, which measures market momentum, has also turned positive in recent weeks.
While consolidation above the moving averages presented confirms an uptrend, fake outs are a common occurrence in crypto markets. For example, BTC briefly broke above its 200 day EMA in Feb. 2018, only to break back down after three days. The next week should provide added clarity on BTC's trend.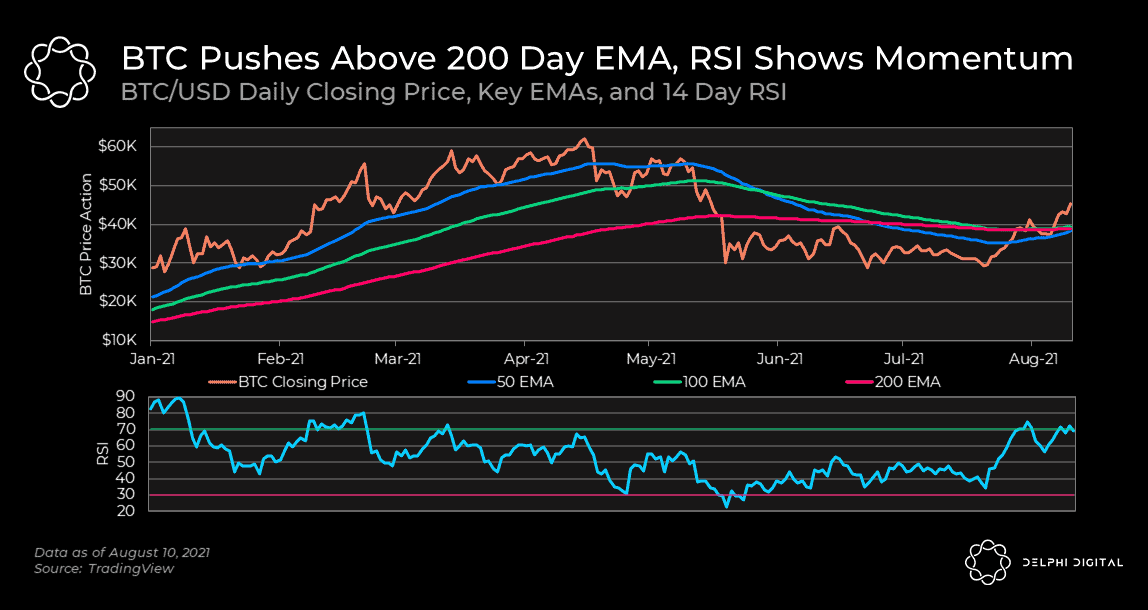 ETH/BTC Trend Flip
ETH/BTC has broken above the upper trend line that formed over the course of the last few months. Generally in periods of positive sentiment, ETH tends to outperform BTC (which we highlighted in an Ethereum report last month).
The fake out possibility exists in this scenario too. A true sign of trend confirmation would be consolidation above the trend line or an immediate continuation of ETH/BTC's rally.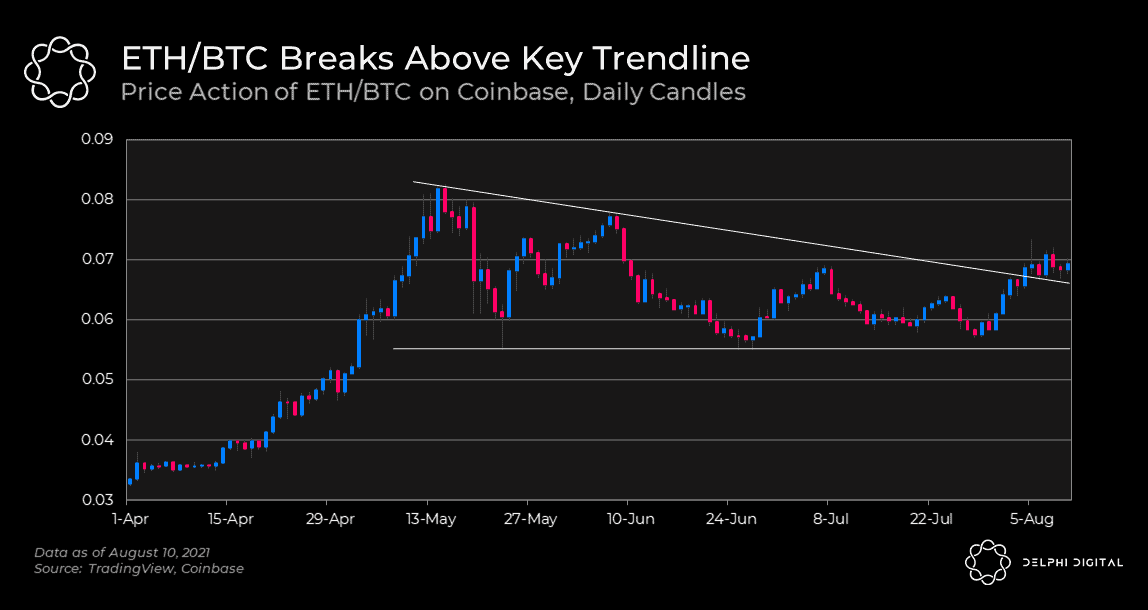 The Market No Longer Fears
After a long period of fear, sentiment in the market is turning around in spite of recent news concerning crypto provision in the U.S. government's infrastructure bill.
The Fear & Greed index generally moves alongside the market, so this isn't too surprising. The metric has already entered a state of "greed," but this isn't too concerning as the readings are fairly volatile. Additionally, the market can stay in a phase of fear or greed for an extended period of time, so entering a state of greed early into the trend isn't bearish.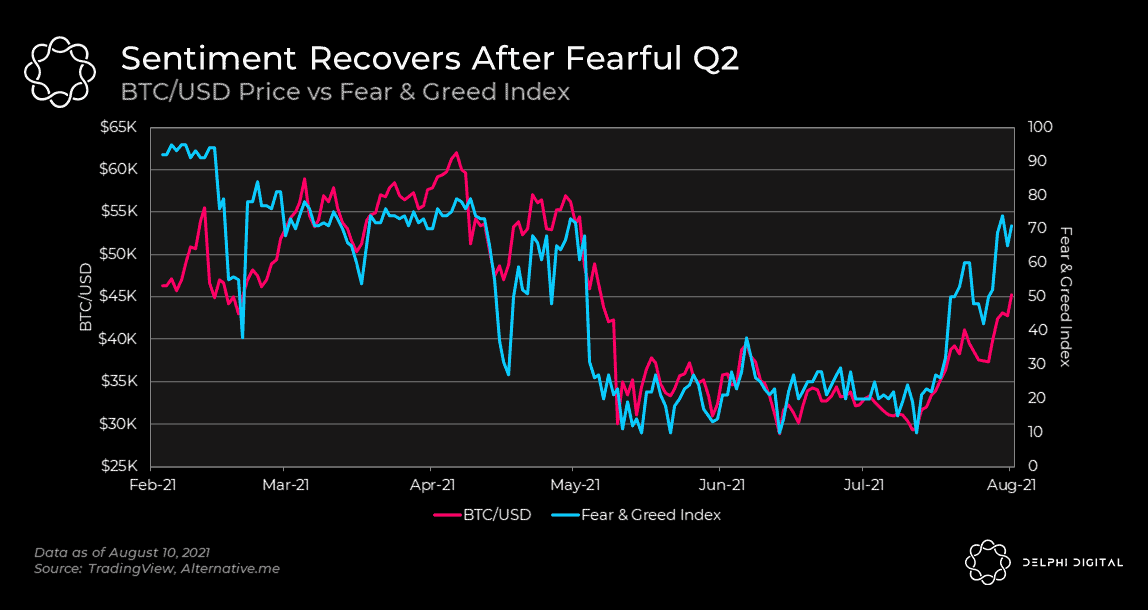 Positive Sentiment in Perp Market
After a few months of flirting with negative perpetual swap funding rates, we're seeing sentiment recover as funding starts to gradually tick up. When the funding rates are negative, it means the perp contract is trading below the index value, and indicates there's more selling than buying on the contracts. On the contrary, positive funding rates imply a perp price higher than the index price and are symptomatic of more traders entering longs relative to shorts.
The current funding trend looks similar to April – May 2020 where BTC suffered a flash crash and rates stayed negative for a good while. But in the aftermath of that, BTC's funding slowly moved up as price began to trend higher.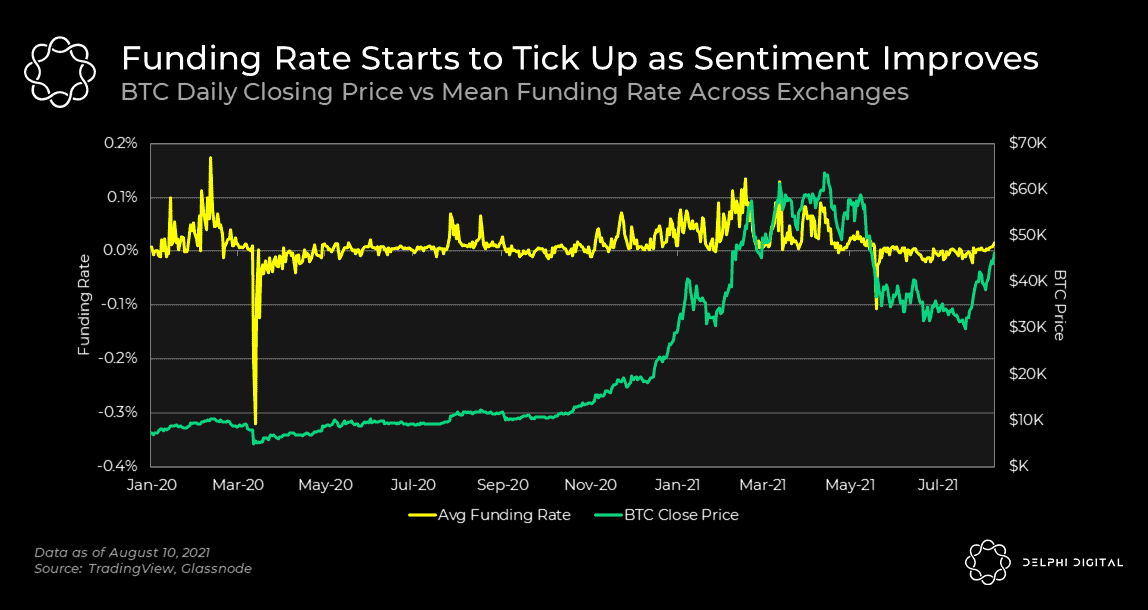 Notable Tweets
PolyNetwork found itself on the wrong end of DeFi's largest exploit — over $600 million. Slowmist claims to have identified the hacker's personal details.
UPDATE: Blockchain security firm Slowmist said in the wake of the attack that they have tracked down the attacker, including email address, IP information and device fingerprint. More info added to our report:https://t.co/d3bknAn6QJ

— The Block (@TheBlock__) August 10, 2021
AXS continues to rip.
@axieinfinty is unstoppable

Not only the play-to-earn platform has accounted for the majority of NFT Weekly Sales, but their native token $AXS has increased by a whopping 45.7% over the past 7-days.

100% of the addresses currently holding #AXS are in a state of profit.#defi pic.twitter.com/xKtX5CZBls

— IntoTheBlock (@intotheblock) August 10, 2021
Mason from Messari breaks down the NFT stack.
The Nonfungible Token (#NFT) landscape has evolved from a small ecosystem of collectors and enthusiasts to an emerging multichain ecosystem at the forefront of culture and technology.

A Thread of The NFT Stack ?? pic.twitter.com/r25eSuJ499

— Mason Nystrom (@masonnystrom) August 10, 2021