Terra and Avalanche Adoption Boost Token Prices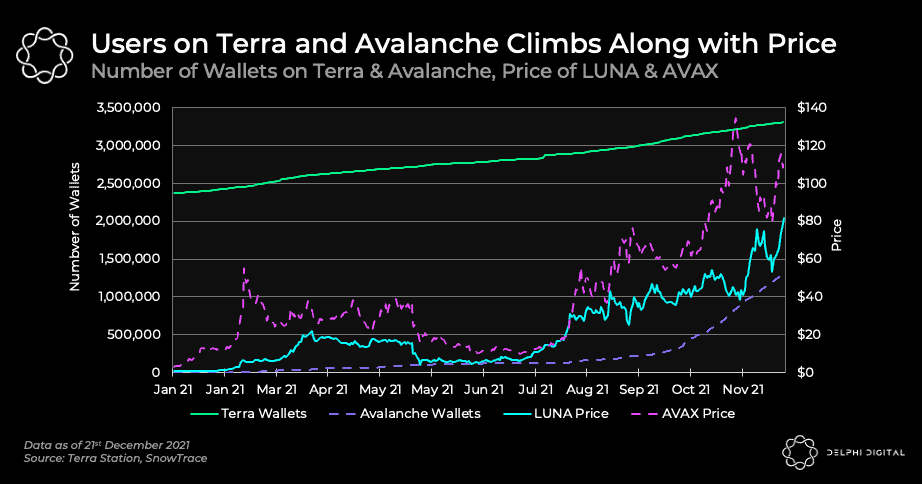 Adoption of Terra and Avalanche has grown significantly throughout 2021, with the latter seeing a surge since its ecosystem incentives kicked off in September. Since Jul. 1, the number of addresses interacting with Avalanche increased by roughly 22x, while addresses using Terra grew by 22%. As a newer chain, Avalanche is bound to have a steeper growth curve, but that doesn't diminish the tremendous growth the network has seen this year.
Market confidence has resulted in the price of L1 chains lingering around all-time highs as we head towards EOY. L1s have been the central narrative for the better part of this year. As the scaling wars heat up, it doesn't seem like this trend will end anytime soon.
Anchor Hits $10B in Deposits

Anchor Protocol hit over $10B in deposits — a result of LUNA's price hitting all-time highs. Further catalyzing this was the integration of Terra's stablecoin, UST, into Abracadabra. Recent MIM replenishes on Abracadabra Money fueled deposits into Anchor.
Abracadabra Money now has over $1B in UST deposits in its "Degenbox" strategy. The strategy deposits 85% of UST from each user into Anchor Protocol to enhance depositor yields. Almost $400M MIM was minted yesterday via Abracadabra's UST cauldron in just 8 hours.
Less Deployments on Ethereum?

Smart contracts deployed on Ethereum took a hit in Jun. 2021, and while there are still over 250K contracts deployed each month, this number is far from where it was in H1 2021.
The rising costs of deploying contracts has likely played a key role in pushing developers to alternatives networks. Whether this can eventually pick up on Ethereum-centric L2s remains to be seen.
L2 TVL Declines as L1s Steal the Show

L2's are losing market share to L1's in recent months, despite the migration of DeFi protocols from Ethereum. Most expected L2s to immediately become a hot-spot for developers and users who were priced out of Ethereum mainnet. But to the detriment of Ethereum, other L1s stole the limelight. Ecosystems like Polygon and Avalanche that dedicated a portion of their token treasuries to user incentives were key to making this happen.
Notable TVL deterrents include absent L2 native tokens, increasing gas costs on mainnet Ethereum, and reduced farming emissions.
Notable Tweets
A market update from QCP Capital
1/ Here's our market update! For more updates like this in a more timely fashion, do join our Telegram community!

https://t.me/QCPbroadcast

Now, on to the thread!
An interesting trend on BTC
When #BTC makes a move, it's cool to look at Supply in Profit to see how many holders exist in a given zone.

Surprisingly, over 5% of total supply (1.03M BTC) lives in a tiny range between $46.7k and $48.9k.

Goes to show how much action has taken place in this range in 2021.

—TXMC (@TXMCTtades) December 22, 2021
APWine hits mainnet tomorrow!
Following the success of our first Winelisting event, we're now excited to bring Christmas ahead of time! 🎁

APWine V1 will launch on Mainnet on the 23rd of December, as an early present to our faithful community 🍷https://t.co/PGMBFjMw2E

— APWine (🍇,🍷) (@APWineFinance) December 21, 2021
Delphi's Kevin Kelly highlights key crypto trends for 2022
Was 2021 a good or bad year for #bitcoin?

𝗬𝗲𝗮𝗿 𝗶𝗻 𝗥𝗲𝘃𝗶𝗲𝘄 ➡️ @Kevin_Kelly_II recaps the year for $BTC and discusses some areas for #crypto growth in 2022:

— TD Ameritrade Network (@TDANetwork) December 22, 2021