Chart of The Day: Arbitrum Odyssey Paused
On 29 Jun, Arbitrum Odyssey was paused by the Arbitrum team (Offchain Labs) to soothe high congestion and high gas fees. Arbitrum Odyssey is a user acquisition event launched on Jun 21. The recent spike in activity was due to users completing tasks for NFT airdrops and speculators hoping to receive unconfirmed airdrops using Arbitrum.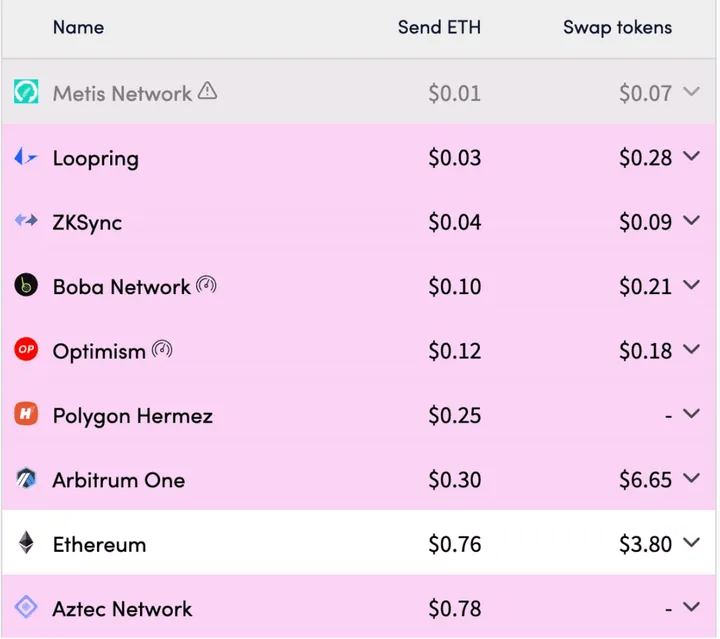 At its peak congestion, token swap fees on Arbitrum were more expensive than Ethereum. At one point, swap token fees were $6.65 on Arbitrum, while Ethereum swap token fees were $3.80.
In the first round of Arbitrum Odyssey, daily transactions on Arbitrum increased 253%, from 96,005 to 243,907 before the pause on 29 Jun.
Over the same period, daily transaction fees on Arbitrum progressively increased 1899%, from $26,272 to $478,143.
Arbitrum Odyssey Week 2 is set to resume when Nitro is launched (

exact date TBD

). Nitro should improve network throughput and reduce average costs incurred on Arbitrum even further.
For more on Arbitrum, you can read a previous Delphi Daily report here.
---
[Excerpt from a Delphi Insights Report]
Introduction: Over the past year, airdrops have been a common community-building tactic & roadmap item for many PFP projects. Essentially, this involves developing & giving away a new NFT to existing token holders for free. Airdrops can serve a number of purposes:
Provide utility for existing holders and keep them from selling
Expand the ecosystem, allowing new entrants into the community at a more affordable price point
Generate additional revenues for the project via creator fees.
Bored Ape Yacht Club popularized the airdrop model for NFTs as a major source of utility for their community, most notably by providing everyone with mutant serums that can be used to generate a mutant ape. Outside of the BAYC ecosystem, other 'blue chip' PFP projects have also followed suit with their airdrops. Let's see how some of them have performed.
In the following charts, you can also see the floor prices of the primary PFP before and after the airdrop. Price Ratio is calculated by dividing the floor price of the airdrop NFT by the floor price of the primary NFT. For example, 1.19 E (BEANZ floor price) / 10.4 E (Azuki floor price) = 0.114 or 11.4%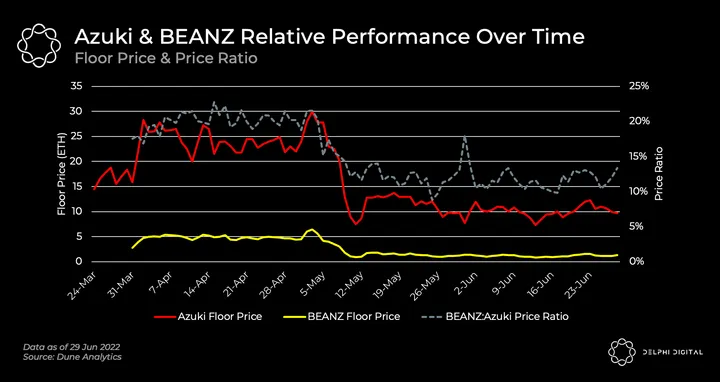 Azuki BEANZ
Launch date: 31 Mar 2022
Collection size: 20,000 (2 per Azuki)
Price: 1.19 E
Ratio of BEANZ price to Azuki price: 11.4% (or 22.8% for 2 BEANZ)
Estimated revenue: 3230 ETH (64,600 ETH in volume traded, 5% fees)
Utility: BEANZ is the fun-loving sidekick to the Azukis, created by the same artist (Steamboy). They can be paired with an Azuki to generate a 'dynamic duo' type image that can be used as a profile picture. Holders get access to a special Discord channel and future merch/collectible drops. They have also touted future collaborations, perhaps with toy brands. It appears that BEANZ fits best as a sub-brand under the Azuki umbrella.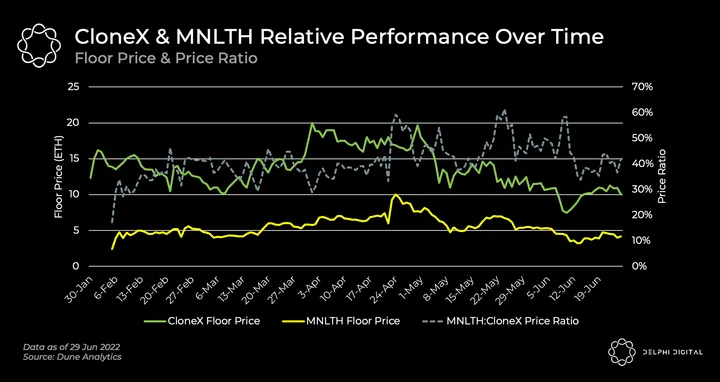 RTFKT MNLTH
Launch date: 5 Apr 2022
Collection size: 19,300 (1 free per CloneX. Currently 7,898 are left unopened)
Price: 4.3 E
Ratio of MNLTH price to Clone X: 40.9%
Estimated revenue: 5,350 ETH (53,500 ETH in volume traded, 10% fees)
Utility: MNLTH is the first collection by RTFKT studios to bear the Nike logo after their acquisition by Nike last year. This premium branding likely accounts for the relatively high value of this drop relative to the original Clone X. The community had to solve a series of puzzles over several weeks to reveal the contents of the MNLTH. When holders open their MNLTH they receive 3 different NFTs: a MNLTH 2 (unknown purpose), a pair of virtual Nike sneakers & a vial with different rarities that allow holders to change the look of their virtual sneakers. The rarest vials have a floor price of 80+ E. This is not the first airdrop for Clone X holders — they previously received Space Pods and Loot Pods as well.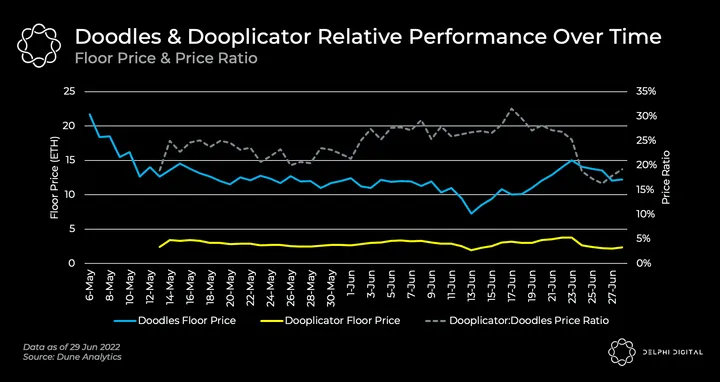 Doodles Dooplicator
Launch date: 13 May 2022
Collection size: 10,000 (1 free claim per Doodle)
Price: 2.3 E
Ratio of Dooplicator price to Doodles price: 18.4%
Estimated revenue: 390 ETH (7,800 ETH in volume traded, 5% fees)
Utility: Dooplicators are a key component of Doodles 2, which is a base-level Doodle that can be customized with wearables and will be launched in 2022. Doodles 2 is part of the team's plan to take the brand to a much larger mainstream audience beyond the relatively small community of 10,000 Doodles NFTs. Dooplicators are devices that will allow collectors to bring the rarest OG traits into Doodles 2.
Some observations & thoughts:
PFP projects have taken a variety of different approaches with airdrops. Some provide holders with utility that is directly relevant to the ecosystem (e.g Doodle's Dooplicator) while others appear to be tangential collections that can develop into their own sub-brands (BEANZ).
Well-planned airdrops that are thoughtful and intentional can be useful in growing the project's community, brand presence, and revenues. However, there are many airdrops by mid/lower-tier projects that have failed to achieve meaningful value. Airdrops of generic NFTs (i.e. every holder gets the same NFT with no rarities or utility) have generally not performed well.
There is usually a good correlation between the prices of the airdrops and the main collection — the price ratio of the airdrop vs. the main collection generally remains steady within a range over time. A price ratio of 15 – 25% appears to be typical.
There are probably 2 main groups of people who buy into airdrop collections:
One: People who cannot afford or are unwilling to spend large amounts to buy the primary NFT but want to be part of the community and participate.
Two: People who see it as a lower-cost way to capture the potential upside of an ecosystem. However, airdropped NFTs appear to move more heavily on the downside compared to the primary NFT. Example: BEANZ & Azuki during the over the month of May. One reason could be that holders are more likely to sell their airdrops first rather than their primary NFT.
Given all the possible benefits, PFP projects are likely to continue to do airdrops in the future. However, I expect that future airdrops may not be as beneficial for NFT prices as before since this tool has already been heavily employed. There are also likely to be diminishing returns with an increasing number of airdrops.
For more information, Delphi members can see the full Delphi Insights Report here.
---
[Excerpt from a Delphi Podcast]
Blake Robbins is the Principal at Benchmark, an early-stage VC firm focused on social, mobile, local, and cloud companies. We dive into all things crypto gaming, how crypto will change the creator economy, finding medium-native use cases, and much more.
Blake is a thought leader in the gaming scene. He helped build 100 Thieves, one of the largest eSports brands in the world, and worked with top creators like MrBeast.
Social links: 
Resources: 
More
For more, you can see our latest Delphi Podcast releases here.
Notable Tweets
The Bear Market Rumor Mill Churns
Consensys and Starkware Announce Partnership
EUROC Live on Circle Account