Art Blocks is a generative art platform. Recently, it's been making headlines with some jaw-dropping sales, like the 1800 ETH sale of Ringers #879 to investors Three Arrows Capital. Art Blocks gives creatives the opportunity to release their generative art projects to a community of avid art and NFT enthusiasts. Not only that, Art Blocks helps to facilitate a unique experience between artist and collector, by allowing the latter to participate in the art generation process.
In recent weeks, Art Blocks has undergone an explosion of growth, buoyed by the increased interest in the NFT market as a whole. In this report, we'll contextualize this growth and explore the top collections helping to drive it.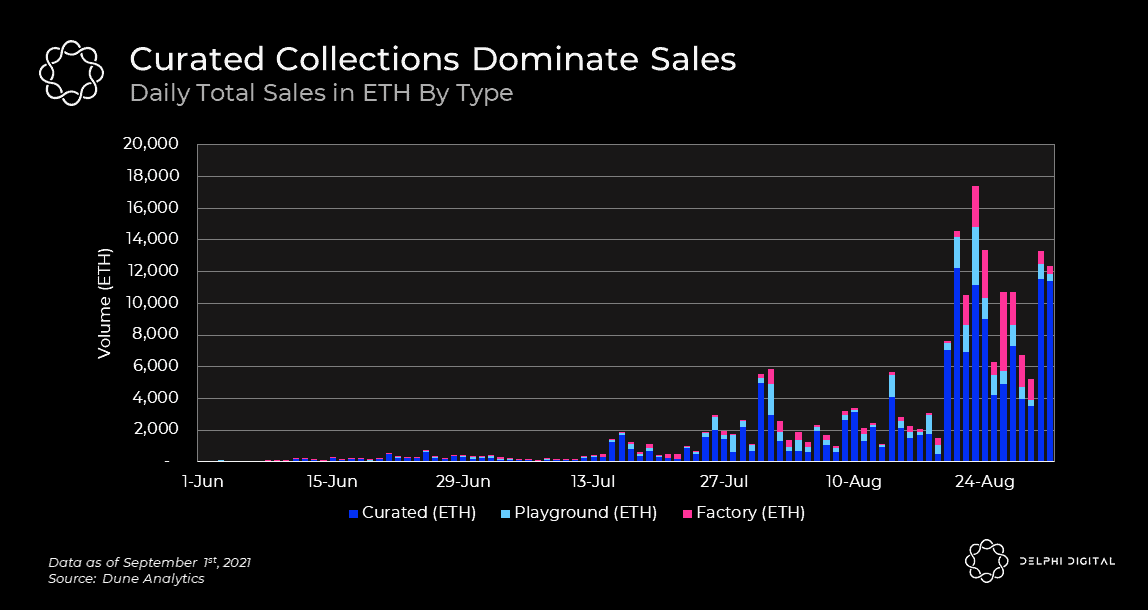 Art Blocks sales have gone from virtually nil at the start of the summer to regularly clearing days with 10,000 ETH of volume in the final weeks of August. As seen in the chart above, total volume can be broken up by and attributed to the three types of collections – Curated, Playground and Factory.
Curated – Selected by the Art Blocks curation board. The purpose of the curated category is to create a collection of art that best represents the vision of Art Blocks. Total size and value of curated projects is tied to the user base. This allows newcomers to participate in new releases as the Art Blocks platform expands over time. Curated projects have an added layer of scarcity when it comes to supply. The maximum number of full sets is determined by the smallest collection.
Playground – Playground allows for more artistic freedom. The projects are not curated and are not included in the "official" Art blocks collection. Playground is not a free-for-all though. It's limited to artists who have contributed to the Curated category. An additional requirement is that artists must only have one project on the go at a time. Furthermore, if an artist changes their project's advertised supply, they are disqualified from releasing another Playground project until they have successfully gone through the curation process.
Factory – Unlike Curated and Playground collections, the Factory category allows artists who do not want to go through the curation process to release their art on the platform. These projects still embody the same Art Blocks creativity and innovation you will find in the other categories, but with less stringent rules for the artists to follow.
Curated collections have consistently accounted for the majority of daily sales volumes over time, when compared to Playground and Factory projects. Beyond total volume, this point also holds true when looking at the top 100 Art Block sales by type, as seen below. It's worth highlighting the X axis on that chart. Notably, that all of the top 100 sales have taken place in the past month.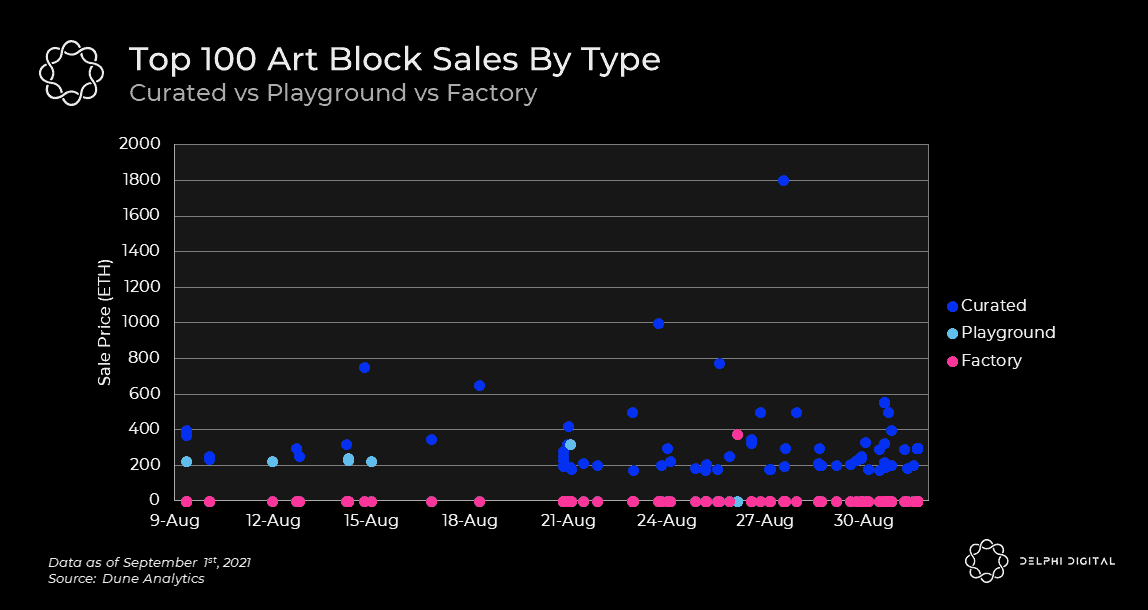 Curated Art Blocks projects are clearly the most sought after type at the moment according to marketplace data. With this in mind, let's remove the Playground and Factory types from the chart above, to zoom in on the Curated collections attaining these lofty values.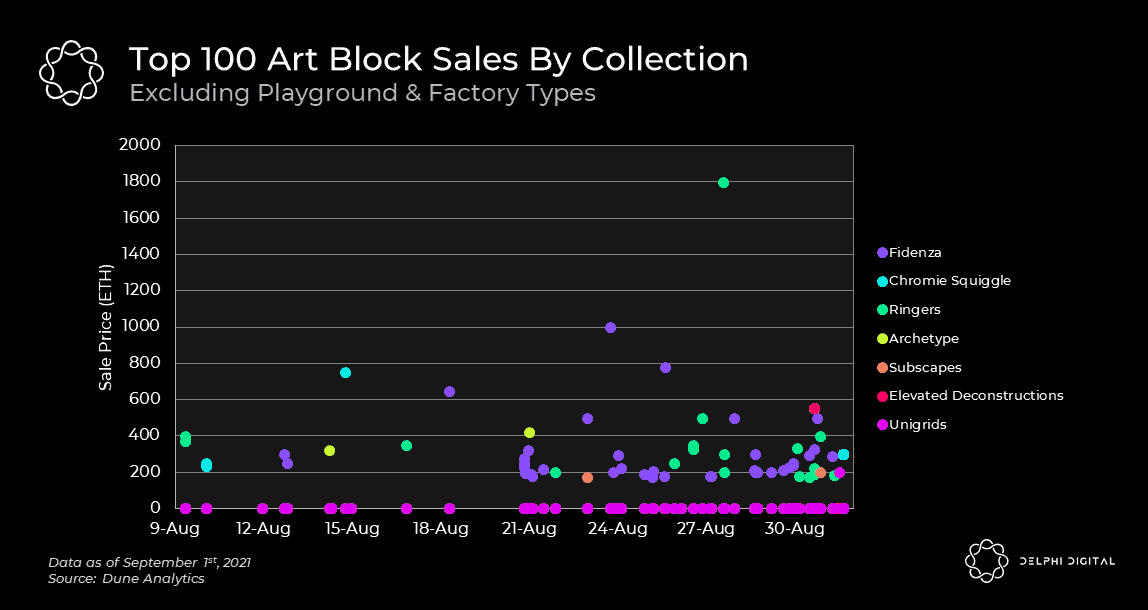 The recent sale of Ringers #879 for 1800 ETH marked the highest Art Blocks sale of all time. The piece was purchased by Three Arrows Capital, adding to their already impressive NFT collection. This Ringers sale proceeded another all time high purchase of Fidenza #313 only a week prior, selling for 1000 ETH to the same investors.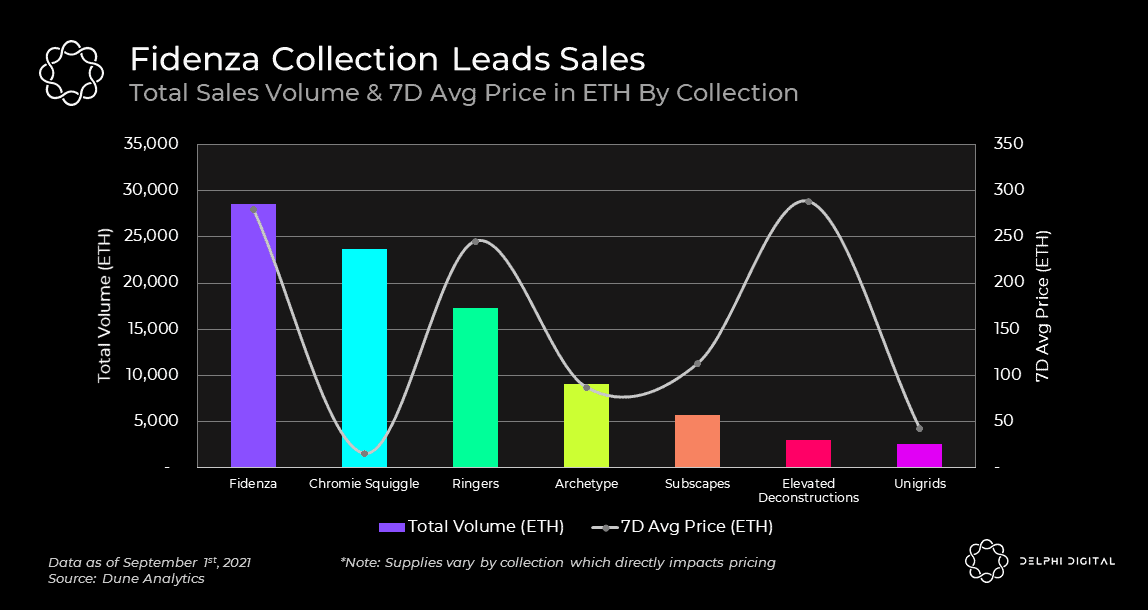 Fidenza, Chromie Squiggle and Ringers take the top spots in terms of total sales volume. The fact Fidenza leads total sales is made even more impressive when you consider the relative recency of its launch compared to the others (i.e. this summer vs ~Q1 2021). Now, we would be remiss to talk about these collections without giving you a preview of what they actually look like. This is a post about art after all. Let's dive into those top collections to discuss what makes them appealing in the eyes of speculators and art connoisseurs.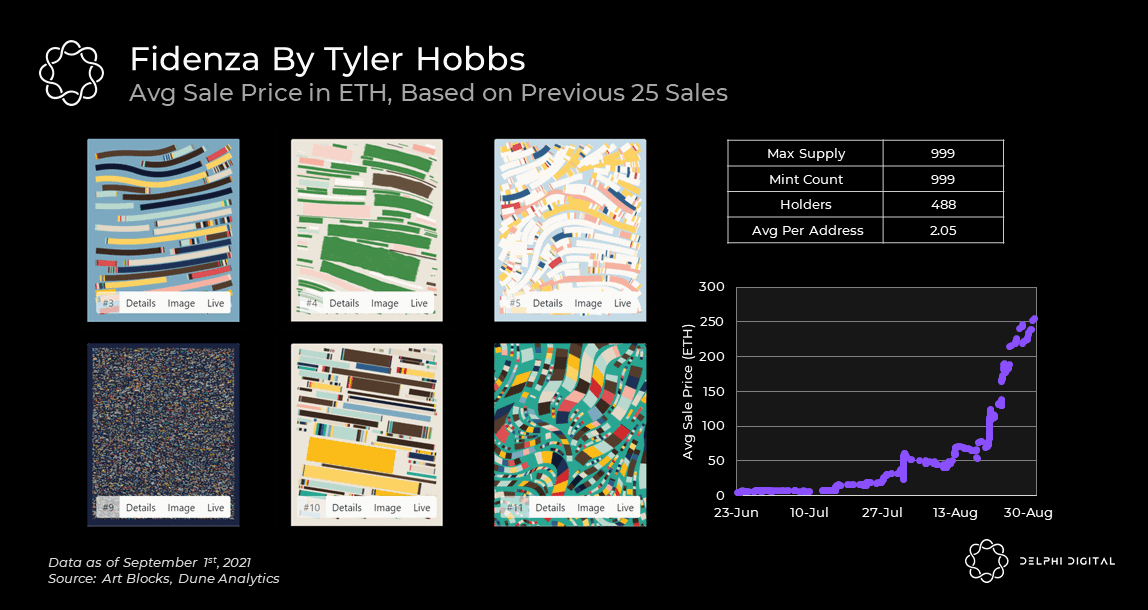 Fidenza by Tyler Hobbs is the first significant collection in which every individual piece can be perceived as a highly sought after work of art. It has unique aesthetic appeal and a high degree of complexity. The project has even caught the eye of investors such as Zhu Su of Three Arrows Capital, if you recall the 1,000 ETH purchase mentioned earlier. Fidenza has gone from an average mint price of 0.193 ETH, to a 25 day average sale price of over 250 ETH in a relatively short span of time.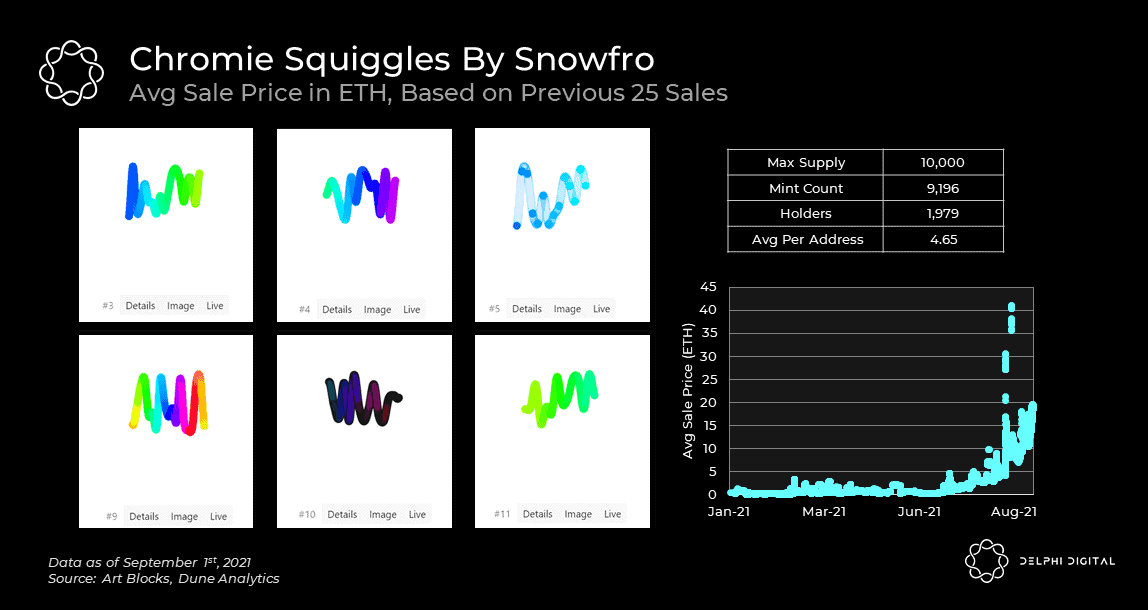 Chromie Squiggle, arguably the most recognizable Art Blocks project. It was created by Snowfro, the founder of Art Blocks, and is collection #0. Chromie Squiggle is, in the words of Snowfro, "Simple and easily identifiable, each squiggle embodies the soul of the Art Blocks platform. Consider each my personal signature as an artist, developer, and tinkerer." It embodies the idea that there is beauty in simplicity. Chromie Squiggles have gone from an average mint price of only 0.045 ETH, to a current 25 day average sale price of ~20 ETH, having recently seen a high of over 40 ETH. Importantly, Chromie Squiggles do have the largest supply of the collections in focus, with a max supply of 10,000 relative to the sub-1000 NFT supplies of the others.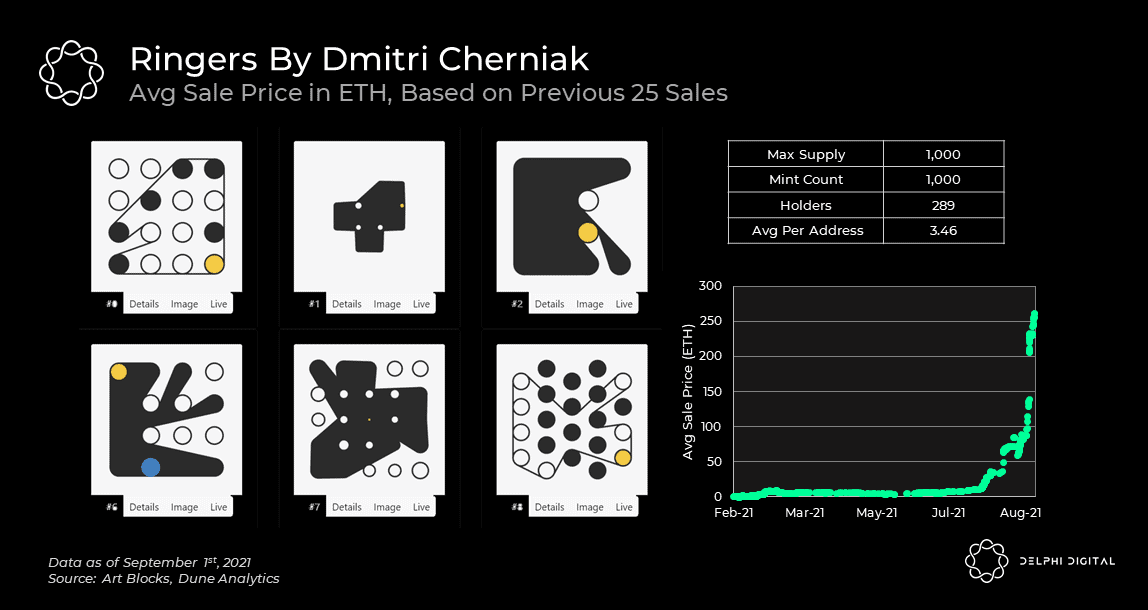 Dmitri describes Ringers as an idea that stemmed from his curiosity of the many different ways a string could wrap around an assortment of pegs. There are more possible configurations than the number of atoms in the universe, yet only 1,000 exist. Ringers was the first project with that many permutations. The simultaneous simplicity and endless possibility of Ringers is what captivated the art community. Ringers has gone from an average mint price of 0.16 ETH, to a current 25 day average sale price of over 250 ETH.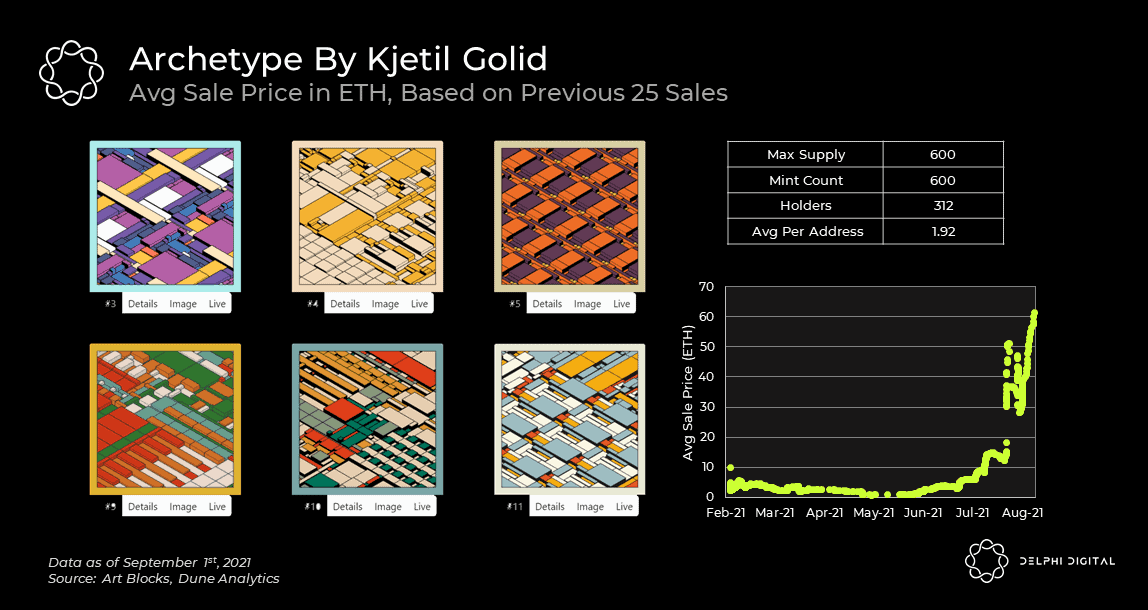 Kjetil Golid's Archetype imbues the randomness inherent in generative art, with the use of structured repetitive patterns. It strikes a balance between chaos and order. Archetype has gone from an average mint price of 0.264 ETH, to a current 25 day average sale price just north of 60 ETH.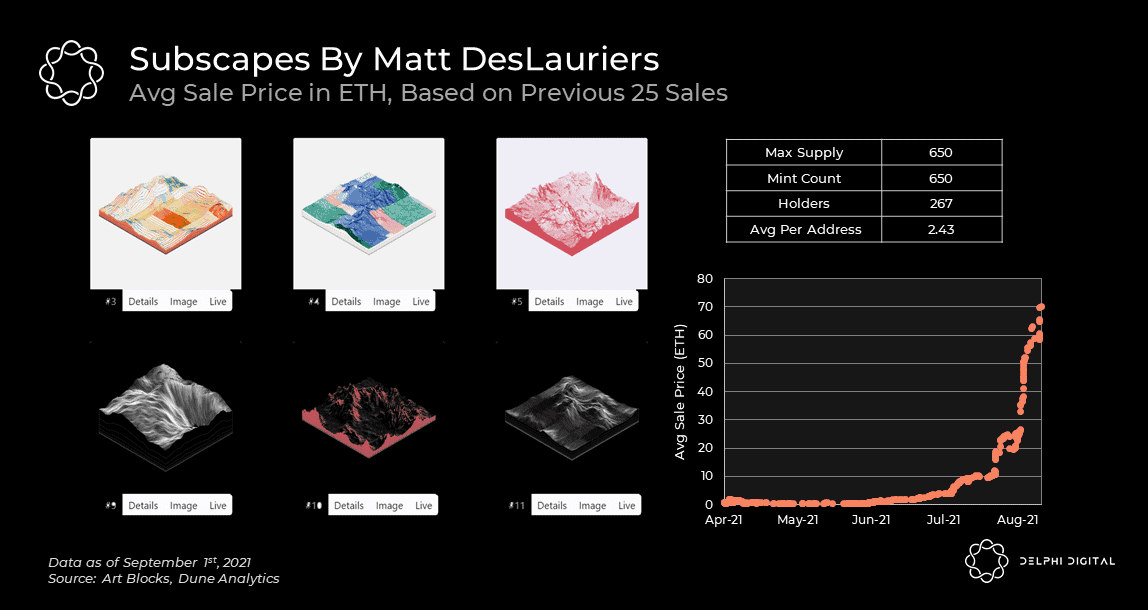 The final collection in our spotlight, Subscapes, answers the question – "what if 3D landscapes were art?". In terms of valuations, the project has climbed from an average mint price of 0.241 ETH, to a current 25 day average sale price of over ~70 ETH.
Closing Thoughts
Despite Art Blocks cementing itself as a premier platform in the NFT art market, it's starting to show signs of being over-heated. Soaring valuations, people spending thousands of dollars in gas to mint a single piece, and numerous listings on OpenSea selling at break even or for a sizable loss are all indicators worth paying attention to. Speculators in crypto are used to riding the price rollercoaster but it remains to be seen how these assets would fair in a serious downturn, given the impact non-fungibility could have on liquidity. On the other hand, long-term oriented collectors who genuinely appreciate the art may be unfazed if a near-term pullback were to occur. They weren't planning on selling this soon anyway.
As the first generative art platform to gain significant attention in both the crypto and art worlds, it isn't far fetched to say – Art Blocks is here to stay. Whether or not that Fidenza you mortgaged your house to buy has staying power though is anyone's guess. In the future, will people look back on these collections with reverence the same way we do works of art from the renaissance? Or will they simply be one of many on-chain artifacts forgotten by the collective metaverse mindshare?