Market Update
BTC and ETH had a relatively muted day, but are still in the green so far. Today's market focus, at least price wise, has been in altcoins where AXS continues to defy gravity; and other tokens like FLOW, ONE, and LUNA have done remarkably well.
Buying Hasn't Picked Up, But Fret Not
BTC exchange volume has hit its lowest level of 2021, and volume looks like it will mimic the range that occurred between July and September 2020. Ideally, you want to see aggressive buying at the bottom, and for price to lift above the range low. BTC continuing to touch the range low only increases the likelihood of the current bottom giving up.
Given how the data is shaping up, BTC needs to consolidate well above the range low (which is near $30,000) to confirm that the bottom is in. A move to the range lows could give way to another leg lower, especially since this price level would imply a confirmation of BTC's head and shoulders pattern we've been noting recently.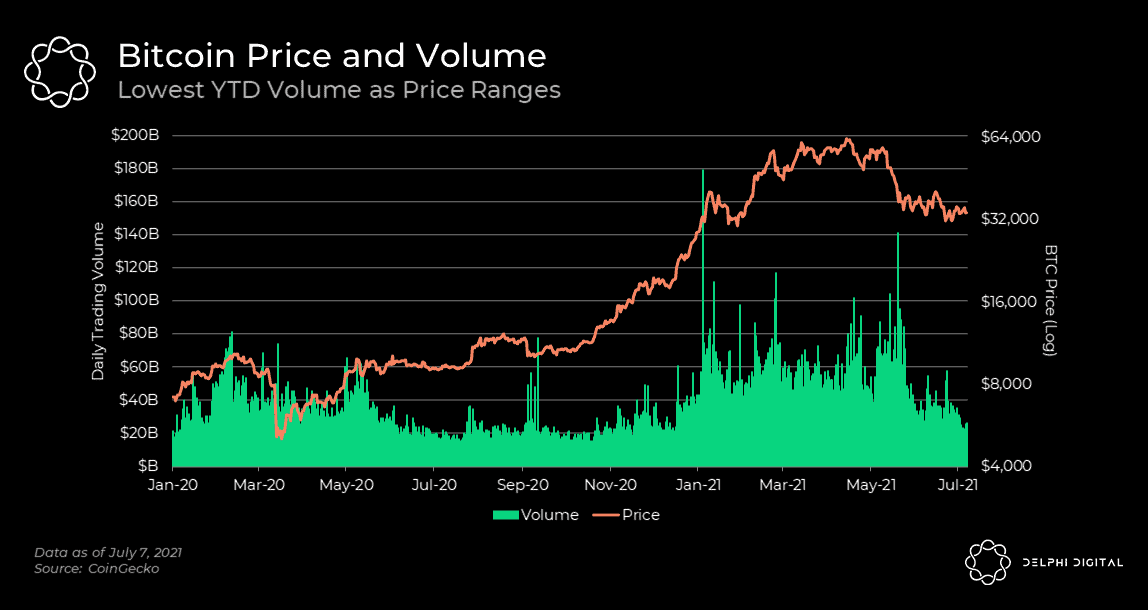 42.6% of Option OI Wiped Out on June Expiry
At the end of every month, when options expire, open interest reduces by a significant amount. Not every option holder rolls their position over to the next month's contract, so this is very much normal.
 In the chart below, you can see the OI wipe out in a grey circle along with the percentage that OI decreased post-expiry. When price was trending up, we saw open interest recover fairly fast after expiration — even if the open interest wiped out was a significant percentage.
June's expiry was an important event, as it marked the end of Q2. It was also the largest OI wipe out in percentage terms in 2021, but this in part influenced by the base effect.
With volume hitting YTD lows and the BTC still looking indecisive, we could see the option market further deleverage (by wiping out more OI) over the next couple of months. Unless, of course, we get the magic uptrend we're all hoping for.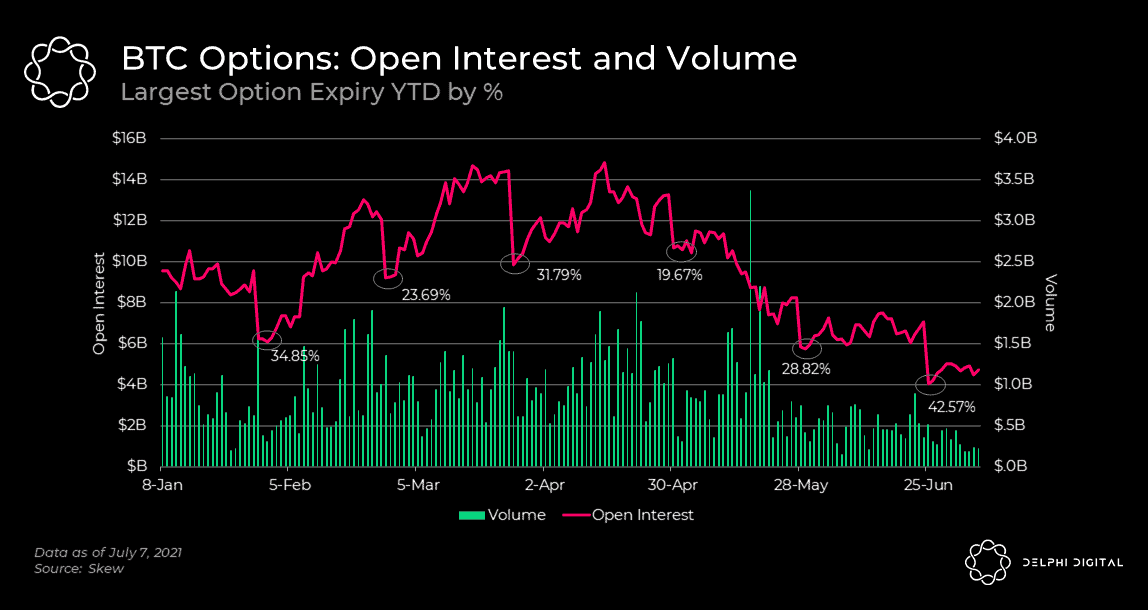 The Play-to-Earn Mania Turns Into Disbelief
Delphi's Axie coverage over the past week has been off the charts, but that's only because Axie's rapid growth is forcing us to keep our eyes glued to the ecosystem.
In today's episode of "What Axie Did," AXS broke it's all-time high and entered full blown price discovery. But this hasn't stopped shorts from piling up, as you can see from the chart below. Fun fact: in the time between the making of the below chart and its publishing, AXS's funding rate has gone further negative. AXS funding currently sits at -0.75% per 8 hours (820% APR).
Capitalizing on the play-to-earn mania, The Sandbox's (another P2E game) token, SAND, is up 30% for the day — and shorters are piling in here as well.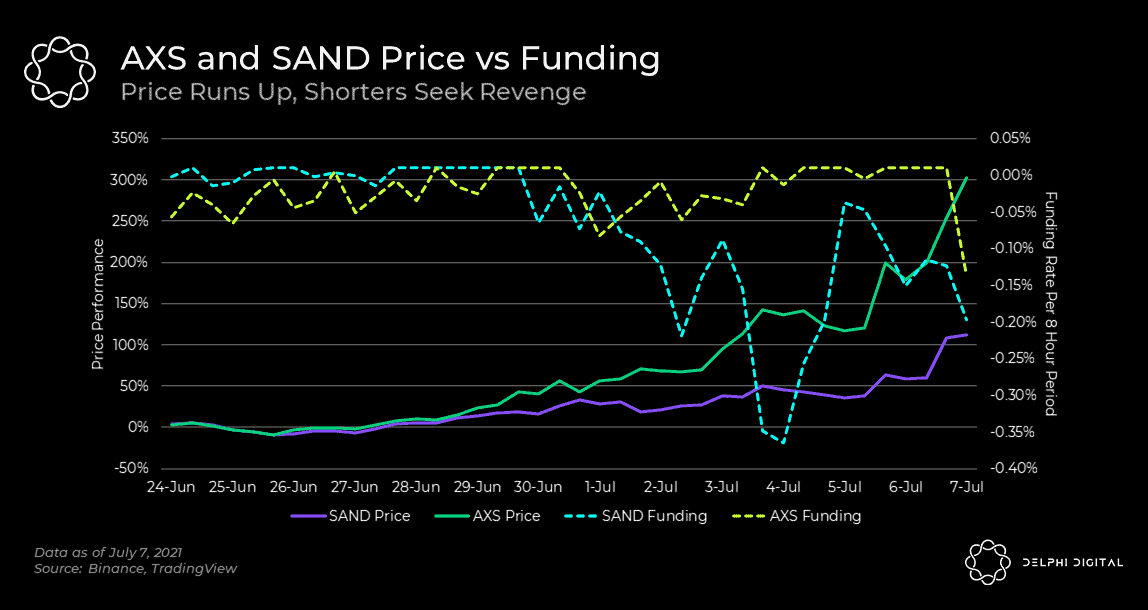 Polygon's Correlation to Ethereum Gas

Polygon surged into the limelight a few months ago as Ethereum gas costs hit unsustainable levels. While the blockchain enjoyed a spirited up tick in usage, the past few weeks have been rather dim. After peaking at 9 million transactions per day in mid June, Polygon is now averaging a little over half that amount.
From the chart below, it's quite obvious that Polygon capitalized on the high cost of using Ethereum. Polygon was a great way for retail users who were priced out of Ethereum to move their funds around and interact with dApps.
With Ethereum gas prices now back to pre-DeFi summer levels, users may be migrating back to mainnet — especially with Arbitrum's layer two solution set to launch this month.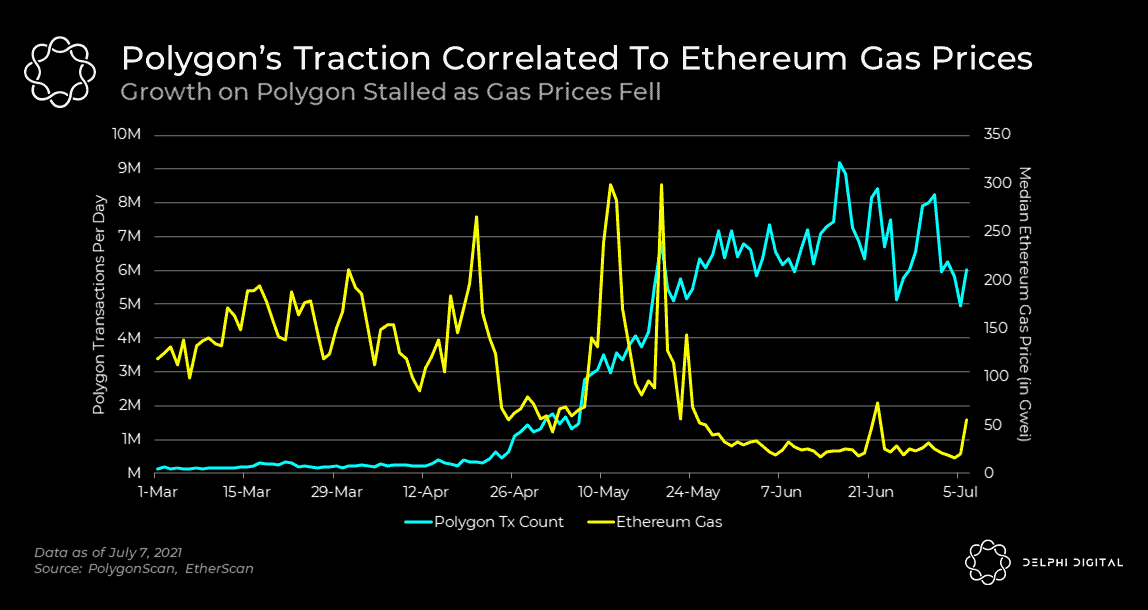 Notable Tweets
Head of Delphi Labs, José Macedo, interviewed Terra co-founder Do Kwon for Real Vision.
My @RealVision interview with @d0h0k1 is now up! We cover the stablecoin thesis from first principles, including why decentralisation matters and what makes @terra_money's design unique

Watch for free here: https://t.co/QmiIf0qwUE

— José Maria Macedo (@ZeMariaMacedo) July 7, 2021
Loomdart and CL of eGirl Capital discuss crypto market structure and narratives.
The @loomdart + @CL207 ep just dropped…

•Hypertethermarginalization
•Grayscale Bitcoin shares unlocking
•Stonks up vs BTC flat
•ETH + Defi cycles
•NFT thesis

A deep dive into the current crypto market environment & major forces at play. Enjoy! https://t.co/7XGvd6sPEA

— Luke Martin (@VentureCoinist) July 7, 2021

A deeper look into China's recent crypto stance.
Crypto in China: A once-booming industry now allows no flexibility by Sally Wang (@sinoglobalcap) and Jonathan Cheesman (@jon_ftx) https://t.co/66fjwTYp37

— FTX – Built By Traders, For Traders (@FTX_Official) July 7, 2021