To Infinity and Beyond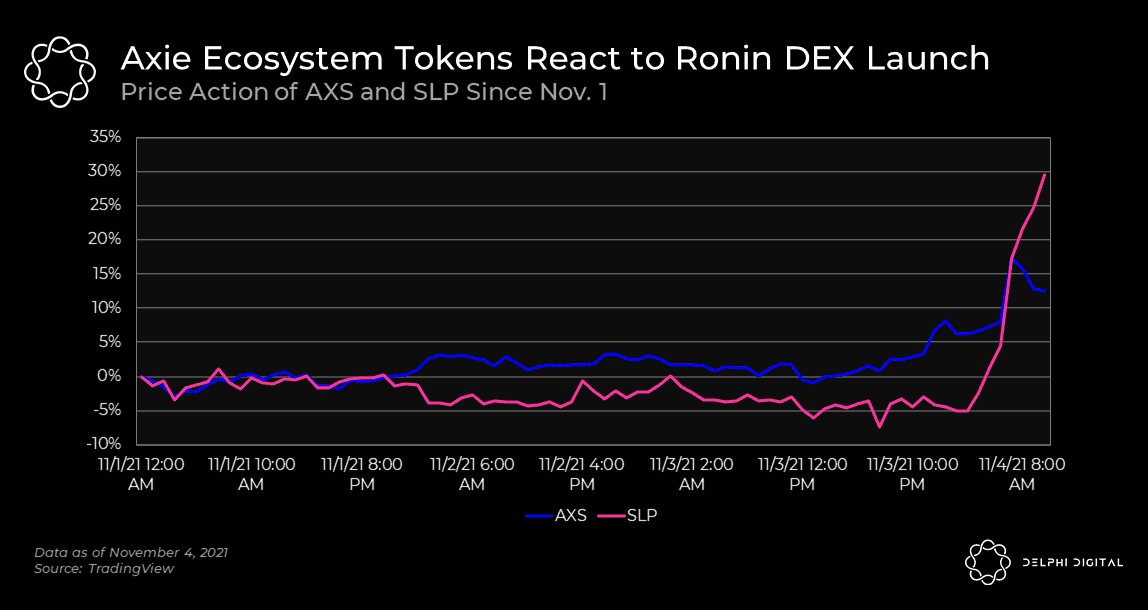 AXS and SLP are having a great day on the back of Axie Infinity's latest announcement: a native DEX (Katana) for its Ronin sidechain. The DEX will be bootstrapped with AXS/ETH and SLP/ETH pairs, offering token rewards to liquidity providers. The kicker is token rewards come in the form of a new token — RON, a governance token for the Ronin sidechain.
Between July and September, SLP's price fell by over 85% due to a supply overhang, as mentioned in an earlier Delphi Daily. The ability to earn a yield on SLP by providing liquidity on Katana could bring some much needed respite for SLP.
Wen DeFi Season?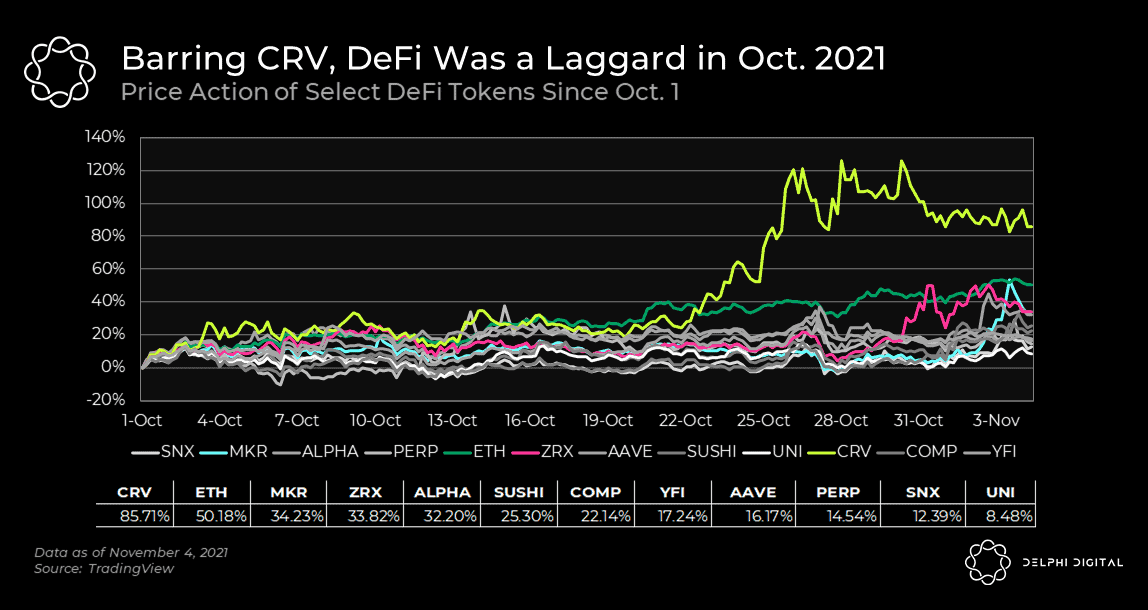 With the exception of CRV, Ethereum DeFi tokens have under-performed ETH over the last month. ZRX and MKR are the closest to matching ETH's performance, but they still aren't quite as strong.
DeFi tokens have been out of favor for what feels like an eternity now. Price has been consolidating for the better part of this year, and it's only a matter of time before things get volatile again.
DEX Volume Quietly Shoots Back Up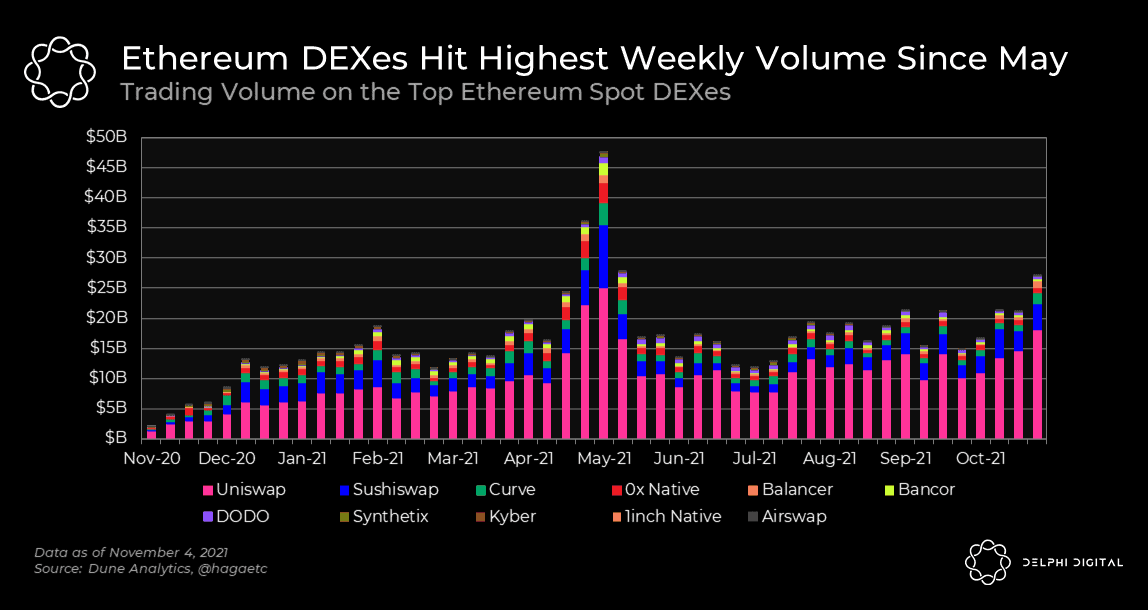 Their tokens may not see it yet, but DEX usage is beginning to trend higher. Last week, the top Ethereum spot DEXes cumulatively recorded their highest volume week since the chaos of May. Excluding the month of May, this was the highest volume week for spot DEXes.
Between v2 and v3, Uniswap continues to dominate the DEX landscape. Curve's market share increased by a fair amount in recent weeks, and that could be a consistent theme over the next few months. Curve v2 will see the DEX evolve from a pegged-asset AMM to a general purpose one, and it could prove to be a worthy challenger of Uniswap v3.
Trouble in DeFi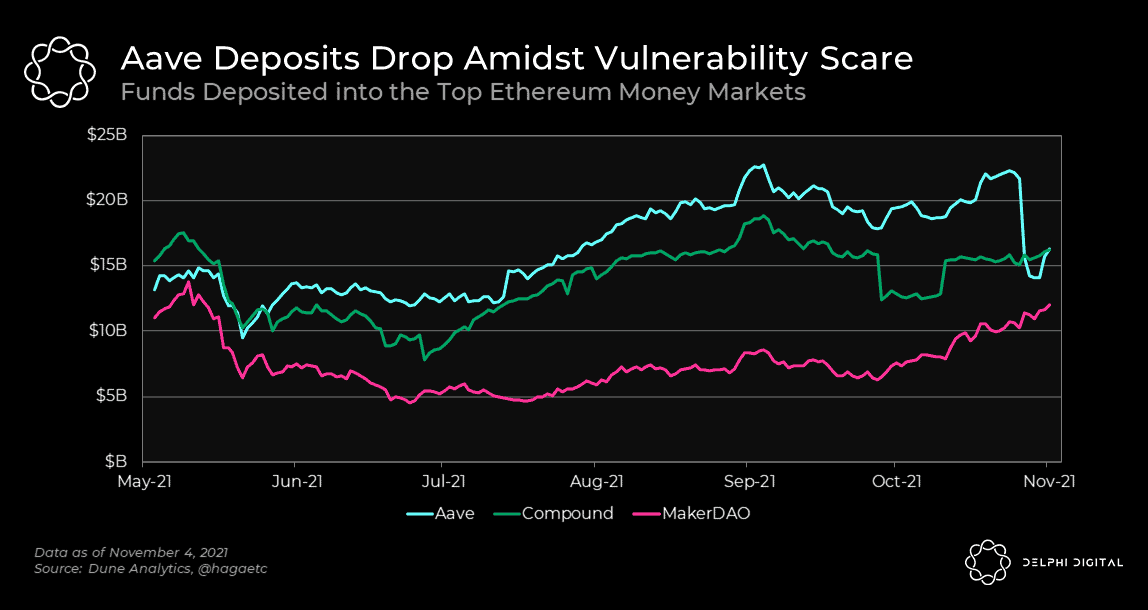 After the CREAM exploit, notable DeFi developers warned that Aave may be vulnerable to a similar situation. Tensions flared, and lenders started to pull idle liquidity from Aave. This sequence of events caused a quick 25% dip in Aave's liquidity. For a brief period, borrowing rates on Aave were far higher than Compound and Maker.
Aave governance voted through a proposal to mitigate this risk, bringing rates closer to the market average. And despite this, Aave still has nearly $7B in outstanding loans and over $16B of liquidity across several pools. DeFi money markets grew steadily through the gloom in the middle of this year. With this scare now behind Aave, the path of least resistance is back up.
Notable Tweets
Grayscale spot ETF soon?
Grayscale Bitcoin ETF 19b-4 filing "noticed" by SEC, starting clock for the conversion of $GBTC to an ETF.

First possible date for approval (barring SEC extensions) is Dec 24.

SEC notice:https://t.co/KXuz2WmfBJ

19b-4:https://t.co/gcMxX6ekwf@Sonnenshein @bitcoinetf $BTC pic.twitter.com/344kkhkf75

— ETF Hearsay by Henry Jim (@EtfHearsay) November 3, 2021
Reddit is scaling with its own L2 on Ethereum
I am joining Reddit's crypto team. ???
What is @Reddit doing in crypto?

3 words
Decentralise. Social. Media.

And working alongside some of the smartest senior and staff engineers is a dream come true for me!

— Rahul ?? (@iamRahul20x) November 3, 2021
Travala now accepts UST
.@terra_money fans, IT'S THE MOMENT YOU HAVE BEEN WAITING FOR?$UST is now LIVE on https://t.co/CL8FxBfhms and can be used to book +3M travel products✈️?

To celebrate, enter to WIN $900 in Gift Cards
▪️Follow @travalacom & @terra_money
▪️Comment where you would travel to?
⬇️ pic.twitter.com/CStOuuKFsH

— Travala.com (@travalacom) November 3, 2021