Market Update
BTC and ETH are heading back into the range low as sellers chose violence in every session (Asia, Europe, and NA) today. Another move to the range lows is far from ideal, and increases the probability of another leg lower (which we analyzed here). Crypto sweethearts AXS and SAND had another monster day, but have retraced a decent chunk of their moves since.
Note: In Tuesday's edition (July 13) we incorrectly charted the performance of passive Uniswap v3 LP vaults. You can find the corrected chart at the bottom of today's post.
AXS Leaves Shorts in the SAND
AXS has been the star of the crypto market for just over 2 weeks now. The Axie story has pushed the entire category of NFT gaming tokens forward. FLOW, SAND, CHZ, and ENJ — all gaming tokens — are up double digits this week.
Despite the hype, shorts have been piling up on SAND and AXS perps across centralized exchanges. And while those who added at today's high have probably performed exceptionally, the coins' funding rates on Binance versus their indexed price performance in July paints a vivid picture of traders in disbelief trying to "short the absolute pico top."
If you need a little extra context, negative funding rates means shorts are paying longs a floating funding rate. At -0.1% and -0.2% per 8 hours for SAND and AXS respectively, shorts are paying 110% a year to short SAND and 220% a year to short AXS
In defence of the shorts, AXS has run up incredibly fast with basically no sizeable dip between $4 and $29. From a technical perspective, it seems like an equally violent dip is inevitable. In the next chart, you'll see why technicals don't necessarily tell you the full story.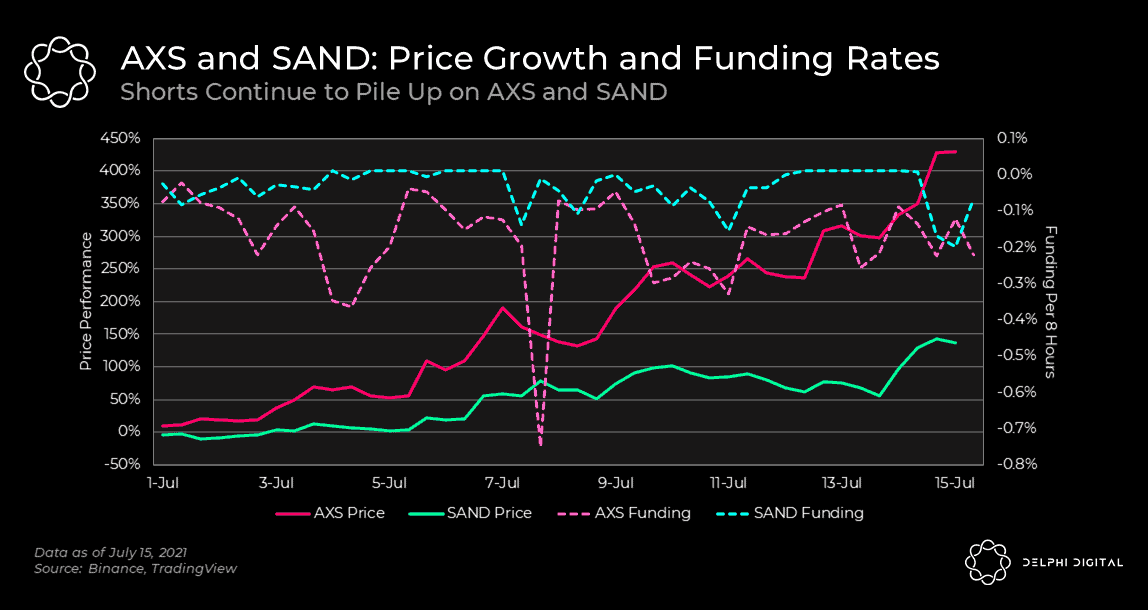 AXS's Run Up Backed by Actual Growth
Ethereum is the most popular smart contract network by various metrics: usage, trading volume, developer mind share, etc. And for a brief few hours today, Axie Infinity's 7 day revenues eclipsed the leading smart contract chain's.
Axie has since fallen to the second spot, but this is still a commendable feat as it stands ahead of DeFi majors like Uniswap (which, in all fairness, generated far more revenue at its peak).
So while the technicals may look ripe for a short, the actual numbers backing AXS' valuation have grown exponentially over the last 2 months. This isn't to say AXS won't or can't fall from here — but watching the trend in fundamental data (and whether it continues to grow or contracts) is probably more important as it directly drives the coin's narrative.
For the AXS bulls, staking is set to be launched in Q3 this year. So if the numbers backing AXS grow but price falls from here, I would imagine the market would close that gap pretty quickly once staking is live and these massive cash flows translate to income for stakers.
Note: The Delphi research team put out yet another update on Axie's growth, which you can read here if you're an institutional tier subscriber or higher.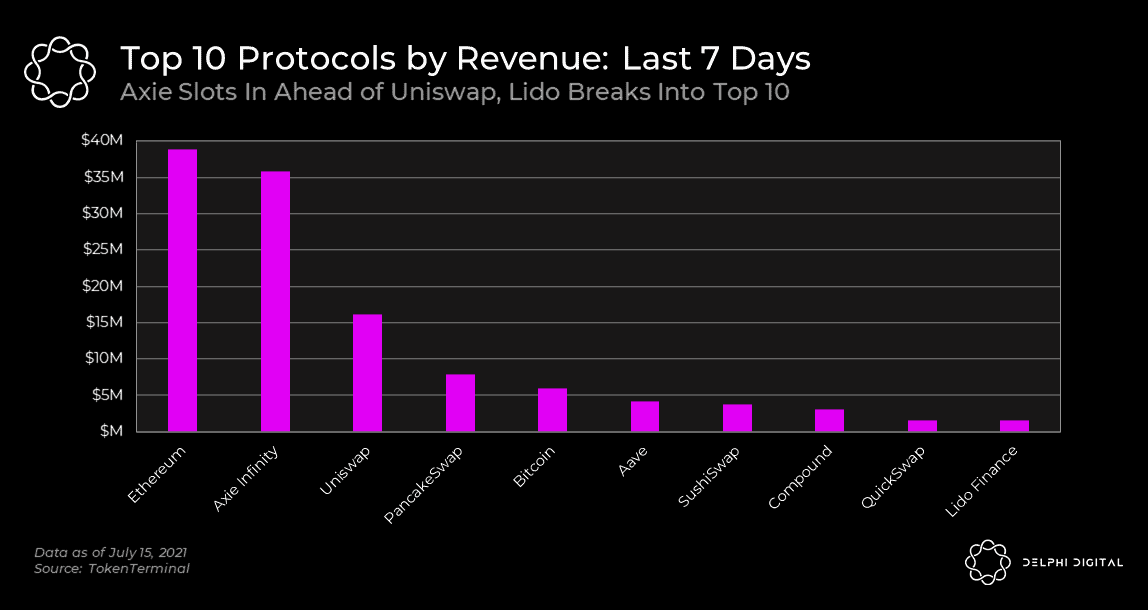 Gas Prices Rise and Fall With ETH
Moving away from Axie, it seems like sentiment on ETH directly influences the price of gas. While not too surprising, given the vast majority of DeFi usage is powered by speculation, it's interesting that gas doesn't rise much as ETH falls (and people sell), but it does when ETH price rises. Intuitively, you would think that demand for block space would rise as people buy or sell ETH (both of which require traders to send a transaction). But this is not the case.
Just to make it clear, the chart below compares gas costs in ETH to ETH's price in USD. Obviously, transaction costs in USD fall when ETH's price falls in USD. But given gas is charted against ETH, this means transactions are getting much, much cheaper as ETH's price in USD falls (ETH price against USD declines > gas required in ETH trends lower > the transaction cost in USD reduces by a fairly large amount).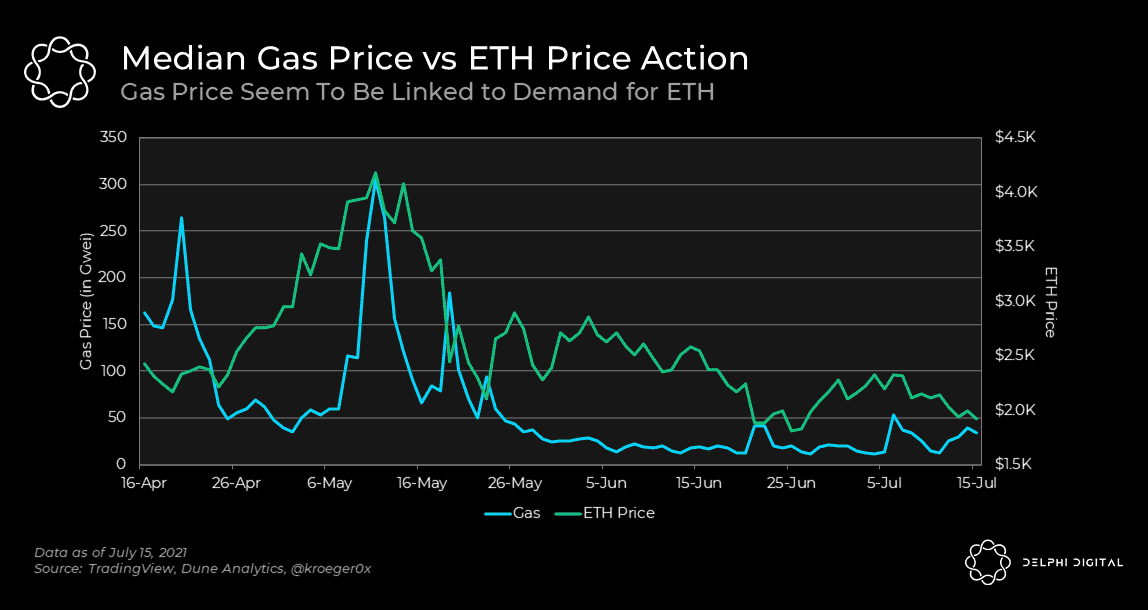 Uniswap v3 LP Vaults: Chart Correction
Visor's performance is higher than the previous chart stated; ETH HODL's performance is lower than previously stated; Charm's and Uni v2's performance are similar, as noted before, but are lower compared to the previous chart.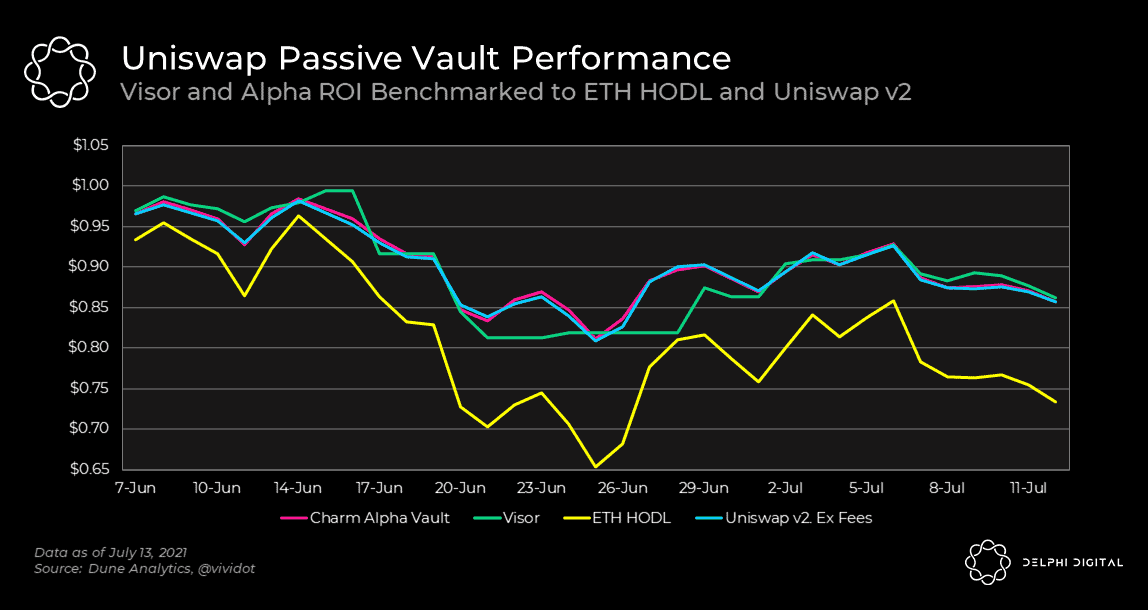 Notable Tweets
Tokemak announces token details; launches public Discord server.
The Rise of the #Tokemechs begins now. Discord is live, link in article. Get your flight suits on, Pilots. $TOKE https://t.co/9z3BjAJ99D

— TOKEMAK (@TokenReactor) July 15, 2021
DeFi is eating CeFi.
% of total open interest (all strikes) for @ribbonfinance vs Deribit

Ribbon's ETH open interest is 38.3% of Deribit's total ETH open interest pic.twitter.com/QHYKoRso2B

— Ken Chan (@kenchangh) July 14, 2021
Delphi's Jonathan Erlich breaks down the staking market and its potential.
Staking already is and will continue to become an increasingly important market within crypto (h/t @natluu).

Two protocols that stand to benefit considerably from this trend are @LidoFinance and @anchor_protocol.

Let's explore ?https://t.co/mmO85MlzwD

— Jonathan E. (@JonathanErlichL) July 14, 2021