BAYC Flipped CryptoPunks, Briefly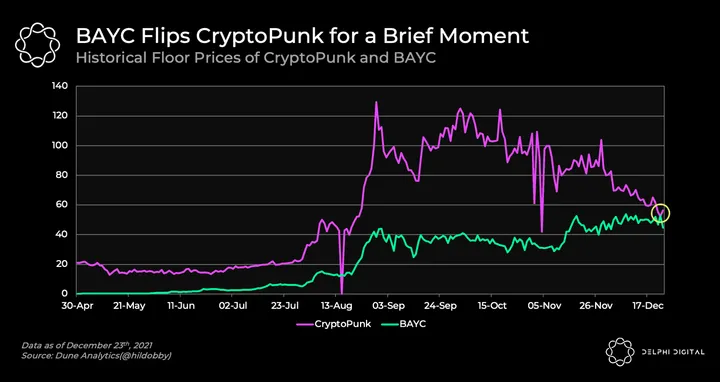 The flippening has begun, at least by some measures. The floor price for BAYC flipped CryptoPunks last night, though only for a brief moment before CryptoPunks prices rebounded a bit.
This is not unexpected as BAYC has gained much more popularity and attention recently, in part driven by celebrity purchases and key partnerships. CryptoPunks, on the other hand, haven't seen much hype build since their incredible run-up earlier this year.
NFT Overtook Crypto in Worldwide Interest

"NFT" searches recently crossed "Crypto" according to worldwide Google search trends. NFTs continue to garner a lot of attention, especially as the broader crypto market has struggled in recent weeks.
NFTs have been gaining continuous traction from celebrities to prominent sports brands like Nike acquiring RTFKT, adidas Originals partnering with Punk Comics, BAYC and gmoney, and Under Armour partnering with NBA Star Steph Curry on his 2974 NFT collection.
Derivative DEXes Slowdown on Shaky Markets

Volume on derivative DEXes has cooled off as market conditions remain shaky.
dYdX maintains a strong lead against its competitors as it makes up the bulk of all derivative DEX volume. Through its trading incentives, it managed to grow its daily volume up to a high of $9.3B, while all its competitors remained rather stale. Being built on StarkEx also gave dYdX an edge over its competitors with cheap gas and trading fees, more performant oracles, and instant trade settlements. However, as dYdX rewards reduce, it will be worth watching how volume holds up.
As MCDEX volume dwindles on both BSC and Arbitrum, GMX and Perpetual Protocol seem to be the only two DEXes doing decent volume (~$80m for PERP and ~$74m for GMX). If you're interested to learn more about GMX, check out our Delphi Pro Report on it.
Euros, The Next Currency for Stablecoins?

USD has been the main pricing currency for crypto assets, yet we're starting to see increased demand for alternative currency options. Euro stablecoins recently crossed the 450m supply mark, led mostly by the launch of Angle Protocol.
Angle protocol's agEUR is the equivalent version of Maker's DAI, requiring over-collateralization to mint a EUR stablecoin. However, there are concerns about its collateralization assets as they consist of other USD stablecoins, namely USDC, DAI, FEI, and FRAX, exposing it to similar regulatory risks if policymakers set their sights on popular stablecoin issuers. Having FEI and DAI (also over-collateralized) as part of its collateral makeup is also not the most capital efficient.
Notable Tweets
$UST to List on Huobi Global
VC Secrets of Web3
How to Get Investor Attention