Market Update
After closing yesterday 3% up after a wick below the current range low, BTC is currently up another 4.9% at the time of writing. Though BTC is leading the market, DOGE and SOL are the biggest winners of the last 24 hours, up 39% and 35% respectively.
Prepare For Volatility?
This Friday (June 25) marks the expiration of quarterly BTC and ETH options and futures. These events are typically referred to as a "triple witching." However, since crypto doesn't have index futures/options, it's not the most accurate term.
Witching events tend to be a highly volatile as traders square off their positions close to expiry (especially the final hour before expiry), so brace yourselves for the possibility of volatility this week.
Looking at the distribution of options across strike prices, there are tons of out-of-the-money calls set to expire worthless and puts are concentrated between $28,000 and $40,000.
Almost 3,000 BTC worth of puts currently sit at the $36,000 strike price, so we may see that level defended if BTC continues to push higher over the next 2 days.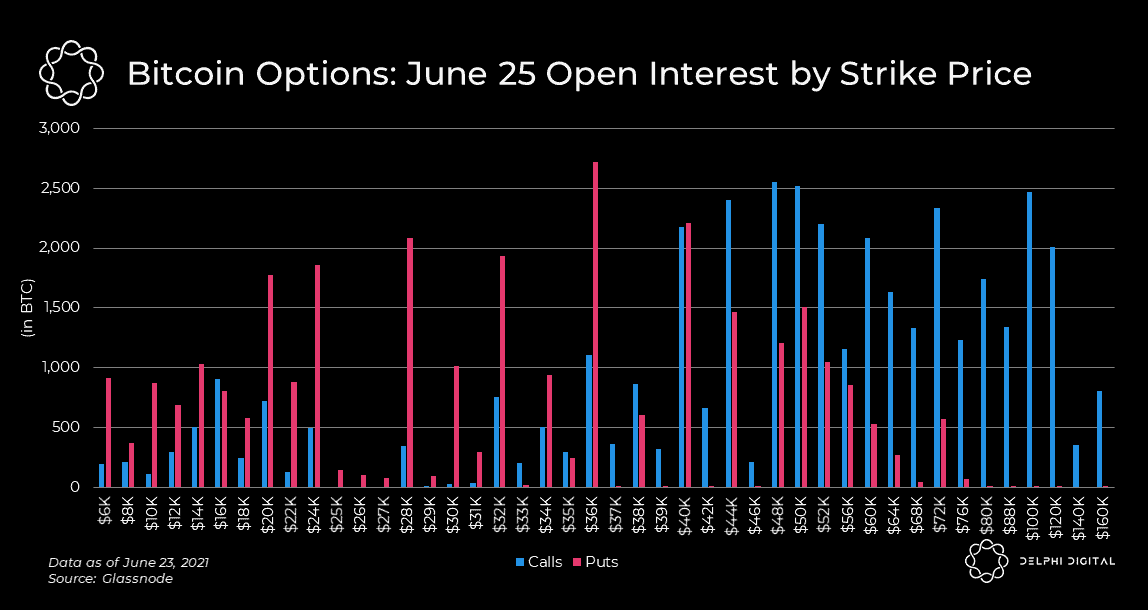 Traders Are Moving Back Into Futures
Futures volume on BTC has inched up to over $100 billion per day after weeks of fairly low trading volumes. While the spike isn't extraordinary by any means, it's a sign of increasing interest to take a position in BTC.
In the coming days, if BTC attempts to stage a relief rally, seeing futures open interest and volume rising in tandem would be a strong sign that the market is bullish. Keeping an eye on derivatives data is the key to unraveling market structure and sentiment.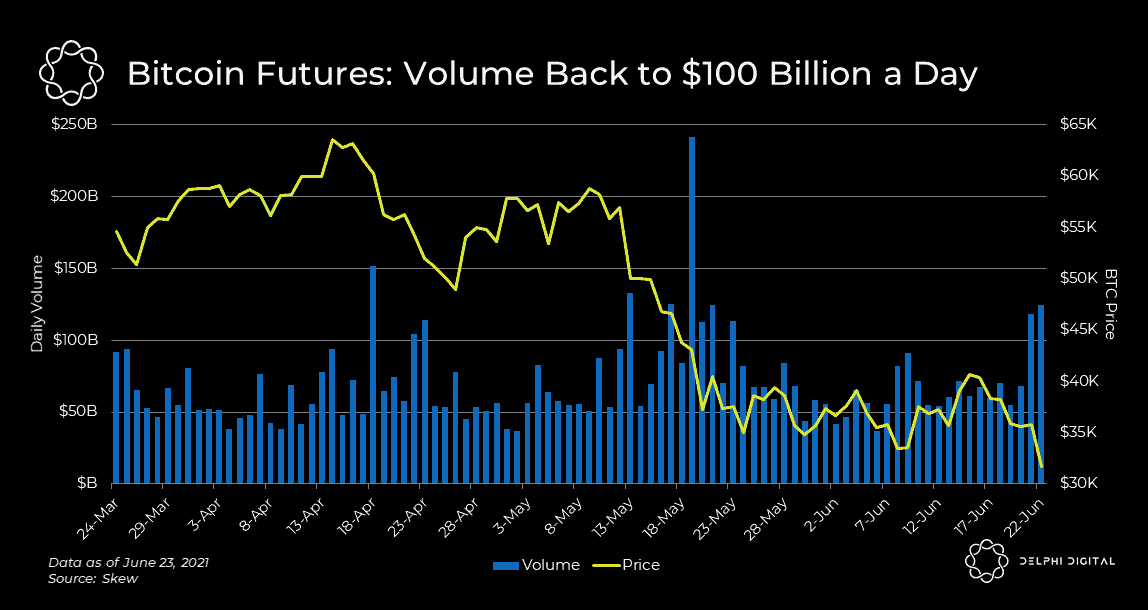 Funding Turns Negative Again
Funding has been hovering between negative territory and zero since BTC's price broke down. Increasing volume, as noted above, accompanied by yet another drop in funding implies fresh shorts in the perp market.
Consistently negative funding rates, however, have historically been signs of sentiment bottoming out. This is amplified by yesterday's price action, where BTC briefly broke below its current range low but quickly shot back into said range.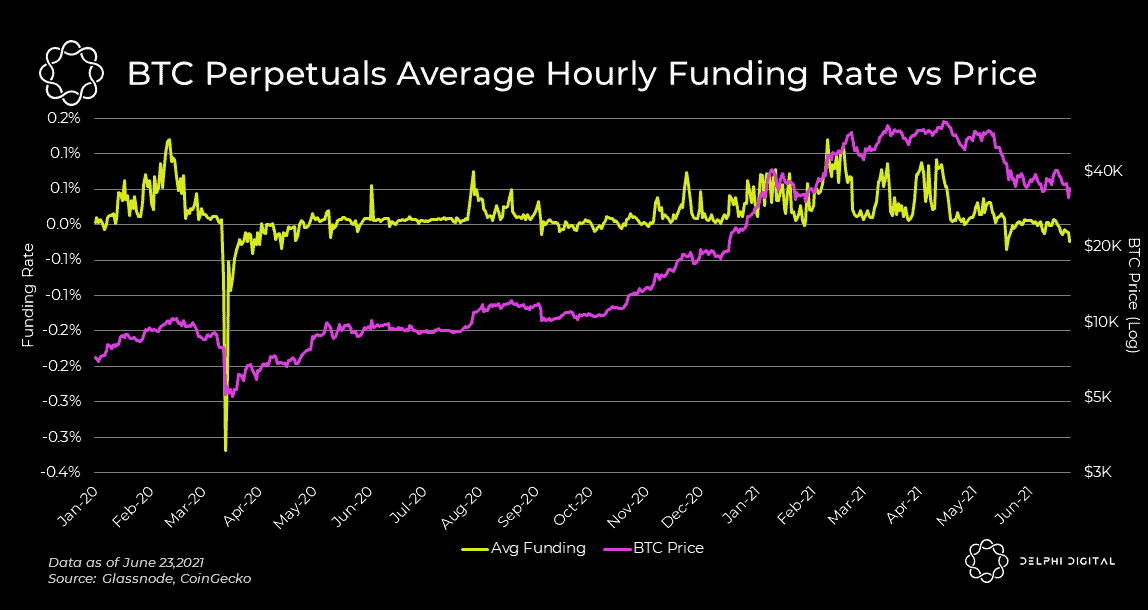 CryptoPunk Diamond Hands
In other news, CryptoPunks have a seen a sharp decline in both prices and volume. From its peak earlier this year, the average transaction price for a Punk has reduced from over 50 ETH to just over 20 ETH now. Volume took a bigger hit, falling from approximately 25,000 ETH of weekly volume 1,500 ETH last week.
On the bright side, price hasn't fallen quite as steeply as volume, which implies a lot of the current Punk owners aren't sellers at this level. Despite the drawdown, the average sale price for a Punk is still up 2x from the beginning of this year and over 20x since 2020.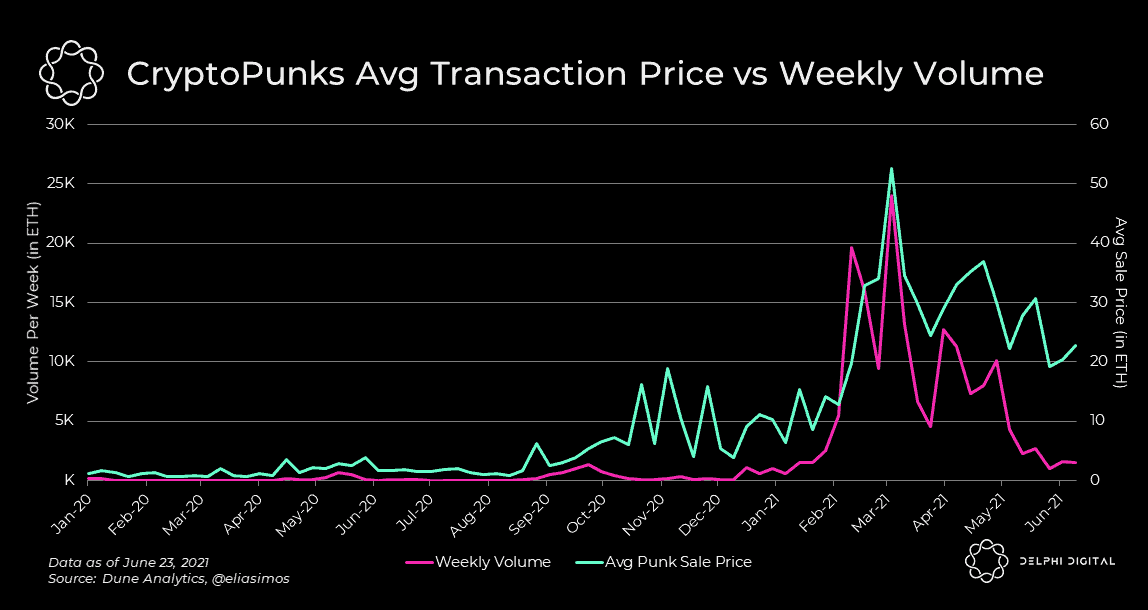 Notable Tweets
Open interest on Binance is soaring.
hint one

we're seeing unprecedent pace of open interest growth on Binance, currently at 57,000 BTC it is at an all time high https://t.co/OuZX7YbukO pic.twitter.com/nSe7tq3KdX

— CL (@CL207) June 23, 2021
Yield Guild announces an IDO on Sushiswap.
ANNOUNCING THE YGG TOKEN SALE ?️⚔️?

We are excited to announce the YGG token sale in partnership with @SushiSwap Miso IDO launchpad on July 27, 2021! https://t.co/SaIgvyRO1n pic.twitter.com/uCrDoUBnOk

— Yield Guild Games (@YieldGuild) June 23, 2021
Making sense of yesterday's option flows.
1) As BTC <30k, fast money did what fast money does – focussed on large Jun25 expiry – panicked on shorts, closed risk, took profits.

But the real story was generated by Fund Call buying near spot support, Jul 32-40k, Aug 45-50k, Sep50-56k, in addition to large delta1 purchases. pic.twitter.com/wMe6VdGAdk

— Deribit Insights (@DeribitInsights) June 23, 2021