Market Update
BTC opened fairly strong as the Asia session began, but the London session wiped out those gains, and the weekend's, in a few hours. Crypto assets like SNX, AXS, and LUNA (amongst others) enjoyed a strong weekend. It looks like capital flows into crypto are beginning to pick up again, but they're still not nearly as aggressive as the bulls would like.
The Curious Case of Bitcoin Futures
BTC seems to be stuck in an everlasting range, with no trend in sight. But over the past week, we've seen some interesting data from the futures market.
Annualized basis on Deribit's one month BTC futures turned negative last week, but they quickly shot back up over 7% as traders aped into short-dated contracts.
While all this was happening, basis on Deribit's three month BTC futures — which never turned negative — sat flat between 3-5%. For a few hours, the basis on one month futures exceeded that of the three month futures.
The further away a contract is from expiry, the more expensive it's likely to be. That's why the one month flippening the three month is a notable situation. The underlying cause is likely speculators banking on a bounce from here, and doing so by buying near dated futures contracts.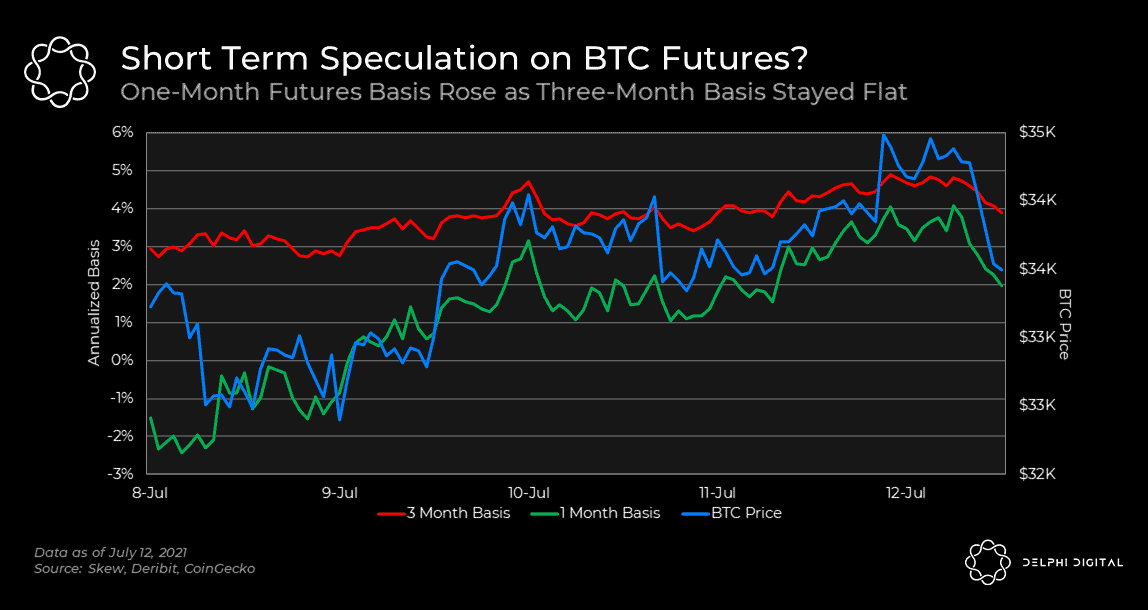 DeFi Finally Outperforms the Chaff
For the last major part of this rally (Jan. 2021 – May. 2021), FTX's SHIT PERP (perpetual contract for a basket of altcoins) outperformed the DEFI PERP by a wide margin. Considering the final leg was powered by dog coins of every imaginable breed, this isn't all too surprising.
However, over the last few weeks, the DEFI PERP is back in business. It seems the capital allocators that remained and continued making moves in crypto are pushing their funds towards DeFi over "shitcoins."
Keep in mind, this is not a sign of a structural shift — at least yet. Capital inflows to crypto as a whole are still muted compared to a few months ago, so this could very well just be reflexive price action kicking in i.e. DeFi token prices fell harder in May, and now they're bouncing harder). Hard to believe DeFi may be more volatile than an index of "shitcoins," but here we are.
Note: Chart below normalized since May 23rd 2021.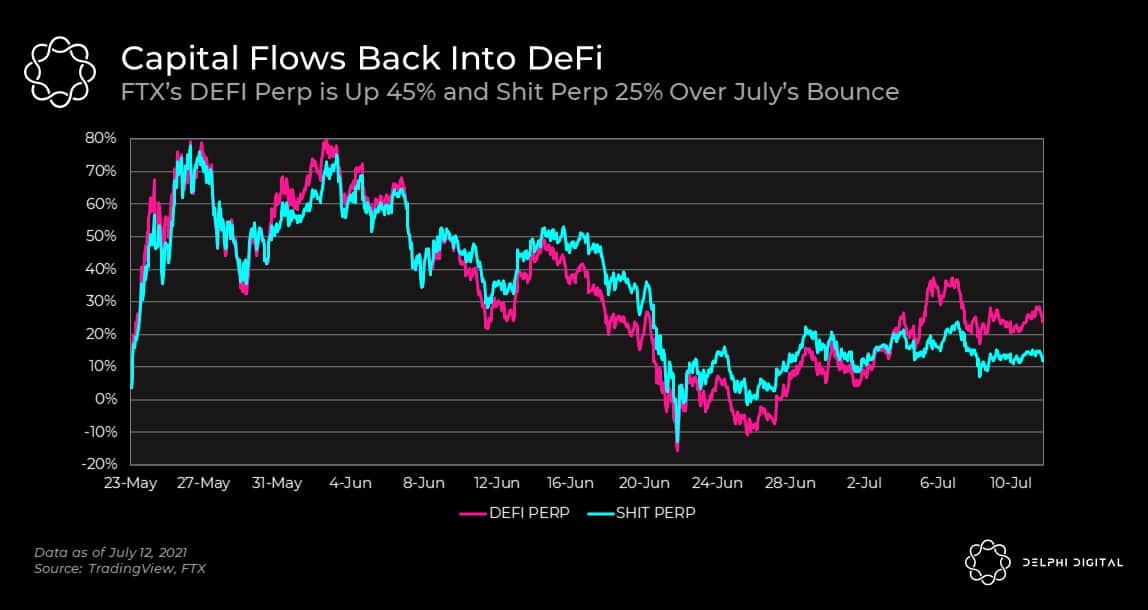 Axie Can't Stop, Won't Stop
The Axie coverage just won't stop, but with good reason: Axie Infinity has amassed close to 500,000 daily active users. According to ActivePlayer, this is very close to the peak players per day for World of Warcraft.
Marketplace volume was $300 million over the past week. For context, that's more volume than Synthetix and Bancor had last week per Dune Analytics. And Axie's core product isn't even its marketplace.
Long story short, Axie is putting up numbers most DeFi protocols would kill for. But whether this rapid pace of growth is sustainable can keep up over the coming weeks and months remains to be seen.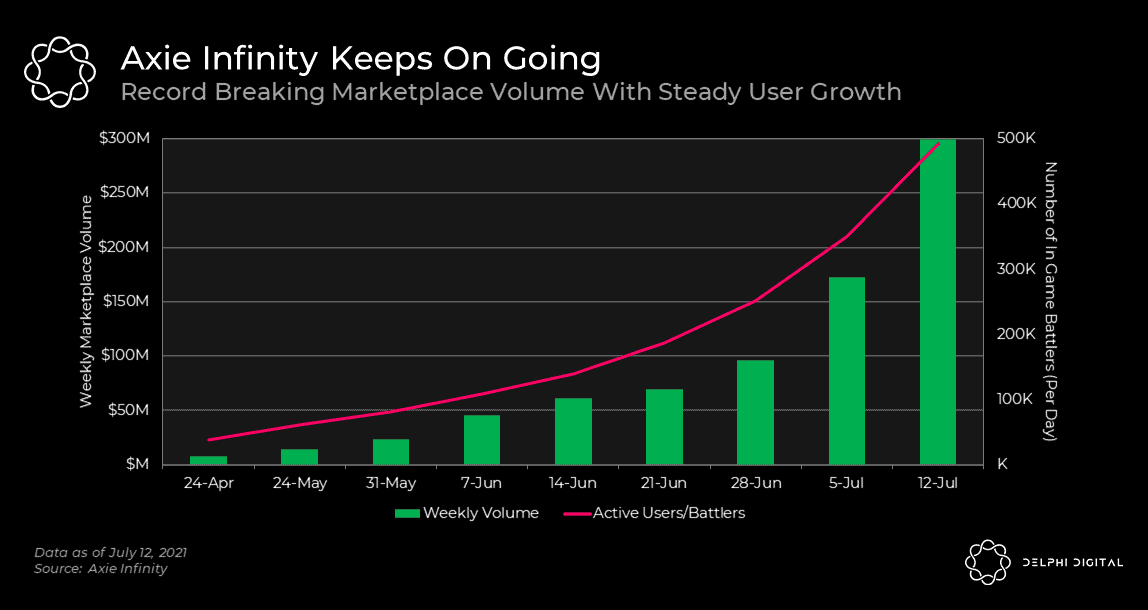 Are Meebits Cool Again?

About three days ago, someone spent 1,000 ETH (approx. $2.1 million) on a Meebit. Beyond that, since the end of June, the average sale price of a Meebit has more than 2x-ed.
While the 1,000 ETH Meebit buyer did play a significant role in pushing the average price up, the bounce off 2 ETH started well before this purchase happened.
For those who need a little bit more context, Meebits are another digital avatar project designed and developed by Larva Labs — the creators of CryptoPunks.
In early May, Meebits were exploited as the meta data for each Meebit was leaked on IPFS. The contract was frozen, and interest in the project declined, but this could be the spark the project's community was waiting for.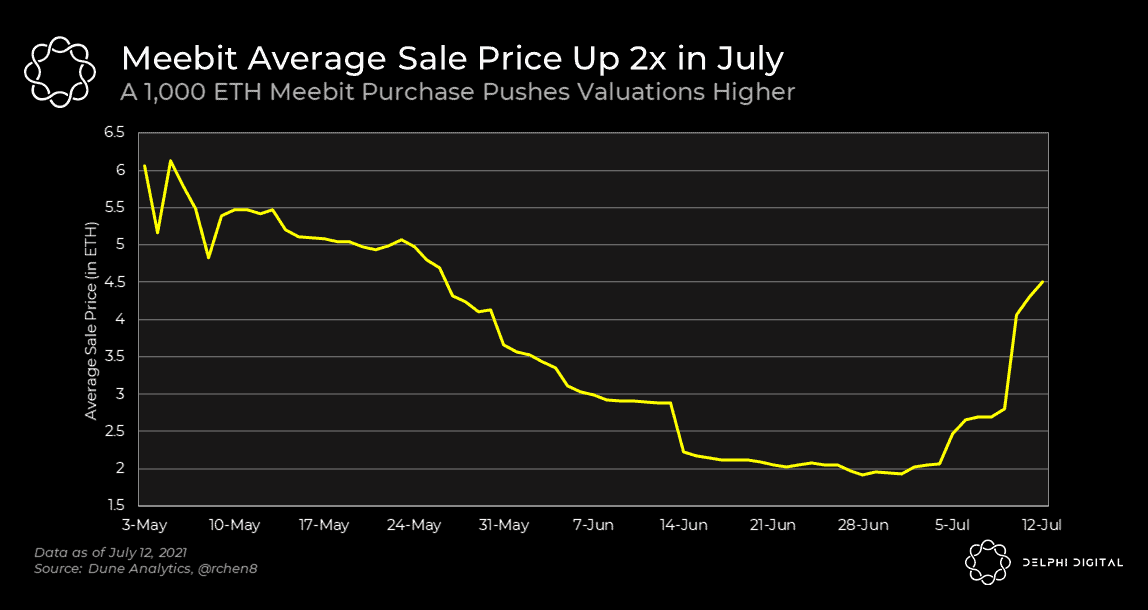 Notable Tweets
Announcing Astroport: a liquidity layer for Terra, incubated by Delphi Labs and IDEO.
Announcing Astroport (@astroport_fi): The world-class AMM that Terra deserves.

Incubated by @delphi_digital and @IDEOVC, we're collaborating with @terra_money and @d0h0k1 to ensure ultra deep liquidity for the whole ecosystem.https://t.co/fKIoIHc2tz$LUNA $ASTRO

Read More ? pic.twitter.com/y20CFbH5de

— 0xTeF1 ? (@0xdef1) July 12, 2021
Some advanced reading on MEV and consensus layers.
Got a bit tired of the MEV handwringing, so took this post out of the drafts folder. I break down MEV, current solution landscape, and where I see things going ? https://t.co/biB0s7YmsN

— Tom Schmidt (@tomhschmidt) July 12, 2021
Matthew Ball eloquently assembles a nine part essay on the Metaverse and its components.
[NEW] The final three parts of THE METAVERSE PRIMER
—
Part 7: Payments, Payment Rails, and Blockchain…
Part 8: Content, Services, and Asset Businesses…
Part 9: Evolving User and Business Behaviors…
… and the Metaversehttps://t.co/wxQIAUHrDs

— Matthew Ball (@ballmatthew) July 12, 2021