Chart of The Day: Bitcoin Put-Call Ratio Hits 12-month High 

The put/call ratio for Bitcoin open interest hit a 12-month high of 0.72 yesterday, indicating bearish sentiment among investors.
Last April, the put/call ratio traded as high as 0.96 before Bitcoin's price dropped over 50% in May 2021.
The put/call ratio measures the amount of put buying relative to calls. A high put/call ratio indicates that investors are speculating whether bitcoin will continue to sell off, or it could mean investors are hedging their portfolios against a downward move.
For more, Delphi members can see our latest Market Insights piece here.
---
[Excerpt from a Delphi Insights Report]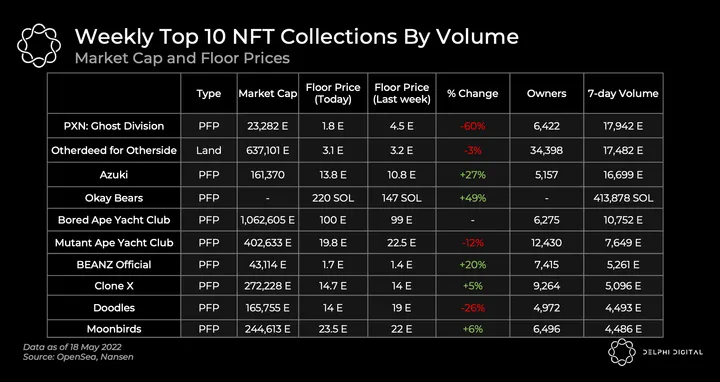 Despite the lower volumes on OpenSea and crypto volatility in recent weeks, the floor prices of most major collections have maintained relatively well (in ETH terms). For example, Bored Apes are still at a 100E floor price. This is generally a healthy sign, indicating that owners are not panic selling. Even Azuki prices have recovered somewhat from the news last week that its founder 'rugged' 3 previous NFT projects.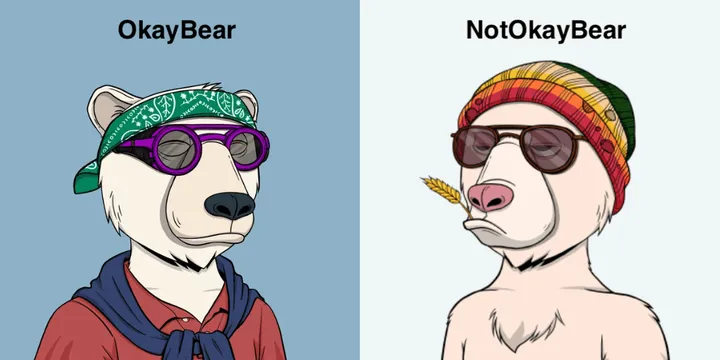 The big winner for the week is the Okay Bears on Solana, a PFP collection which has seen huge trading volumes rivalling some of the top collections on Ethereum. Interestingly, this week we saw several derivatives of top Solana NFT collections being minted on Ethereum. The most prominent of these was NotOkayBears (similar to OkayBears but facing left instead) but also include others such as Ethereum Monkey Business, and NotDeGods.
These collections experienced a short period of high-volume trading but were delisted by OpenSea within 1 – 2 days. A strong word of caution on derivatives — be aware that they are often games of 'hot potato.' OpenSea recently announced that it will be taking more decisive steps against copyminting and has a computer-vision tool to quickly scan for "flips, rotations and other permutations."
Weekly Highlight — Solana NFT Summer
We first covered Solana NFTs on our weekly Insights in early March. Despite criticisms by some NFT folks regarding low-effort copypasta projects, there has been an accelerating interest in Solana NFTs, particularly in the last few weeks.
One trigger has been the rise of OkayBears, a PFP project that launched earlier this month. There have been huge volumes traded on the collection, and it is now sitting at over 100X from mint price. Naturally, it has drawn the attention of traders in the Ethereum NFT community, who are salivating at the opportunity for such gains. Another trigger is STEPN, a move-to-earn game on Solana with tens of thousands of active users. STEPN has introduced many people to the Solana ecosystem and taught them how to fund their wallets with $SOL; some players likely have moved beyond STEPN to trade other Solana NFTs. Note: Delphi recently released a deep-dive report on STEPN available for Pro Members.
This week, we take a look at a couple of useful tools that can help traders and collectors get started in Solana NFTs. Please note that other tools have similar feature sets besides those that I have mentioned here so you always have options.
For checking rarities: Moonrank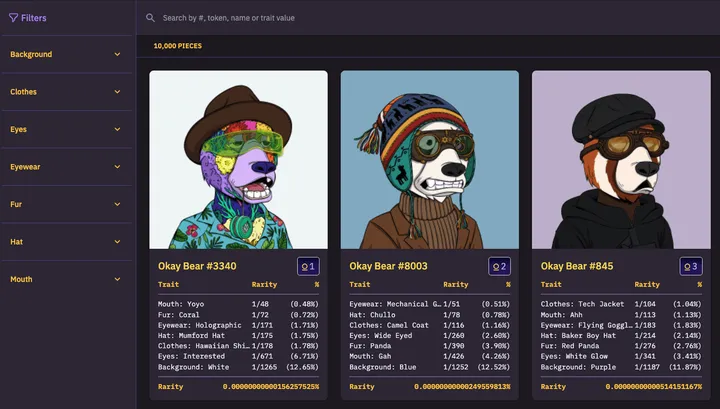 Moonrank is the Solana counterpart to Rarity Tools or Rarity Sniper on Ethereum. It is a free data tool that indexes and ranks new mints on Solana in real-time. It ranks collections based purely on statistical rarities, which sometimes differ from the rankings designed by the creators. These ranks also do not take into account aesthetics or utility. However, they can provide a helpful guide to the relative value of your NFTs within a collection. Several marketplaces like Magic Eden & Solanart have incorporated Moonrank rankings directly into their marketplace listings.
For tracking trending collections: Solsniper
Solsniper is the Solana counterpart to icy.tools on Ethereum. It is a free tool that shows which collections are trending based on the volume traded on 1 day / 1 hour / 10 minutes timeframes. This allows you to quickly identify collections with significant trading volumes.
I typically use a 1-hour timeframe that best allows me to see which collections are doing well. I also use it to identify new project launches (since new projects typically see a big spike in volumes at launch). You can also create your own watchlists for collections you own or are interested in.
Another useful feature is the "Live" function, which lets you "watch the tape," letting you see which NFTs are being traded in real-time. You can also quickly scan and find collections that are attracting interest.
For sniping NFTs and price charts: NFTsoloist
NFTSoloist is the Solana equivalent to NFTNerds on Ethereum. It allows you to monitor listings and trades in real-time, often faster than using Magic Eden directly. Most importantly, you can make purchases directly using the interface, without having to go onto Magic Eden. It also integrates rarity rankings, which lets you quickly see when a rare item is listed close to the floor price.
Another useful feature is the trading price chart, which shows in granular detail (individual trades) how a particular collection is trading over time, making it easier to identify trends within a collection.
NFTSoloist is not free and costs 1.5 SOL for 1 month (~$85) or 7 SOL for 6 months of usage. Alternatively, a genesis pass can be purchased, providing lifetime access (~40 SOL on Magic Eden currently).
For more, Delphi members can see the full NFT Insights here.
Notable Tweets
Terra Post-Mortem
Terra 2.0 Tokenomics
Notes on Stablecoin Panel @ Permissionless