Bitcoin Rundown: Market Indecision, Legacy Correlations, And a Lightning Boost
JUL 14, 2021 • 4 Min Read
Disclosure: Members of our team may own positions in assets mentioned in this report. This statement is intended to disclose any conflict of interest and should not be misconstrued as a recommendation to purchase any token. This content is for informational purposes only and you should not make decisions based solely on it. This is not investment advice.
Market Update
Crypto assets did not take well to yesterday's inflation data. After a trip towards the range low, BTC and ETH are finally finding a semblance of strength. Other crypto assets have continued to take a beating into today's session.
Bitcoin's Legacy Correlations
Bitcoin is often touted as an uncorrelated asset relative to conventional asset classes like equities, bonds, etc. Over the long-term, this holds true, but in the short-to-medium term, correlations tend to fluctuate depending on market conditions and general risk appetite.
Despite its "digital gold" narrative, the correlation between BTC and physical gold also tends to ebb and flow. Over the last year, we've seen the correlation between the two slide, which naturally prompted some market pundits to question the validity of said narrative.
Putting short-term correlations aside, our long-term thesis of broad-based fiat currency debasement will serve as a long-term tailwind for all three (BTC, gold, and equities), but the relative performance of each will differ. As we've harped on in the past, starting points matter, which is why we believe BTC is set up to be one of the best performing assets over the coming 5-10 years.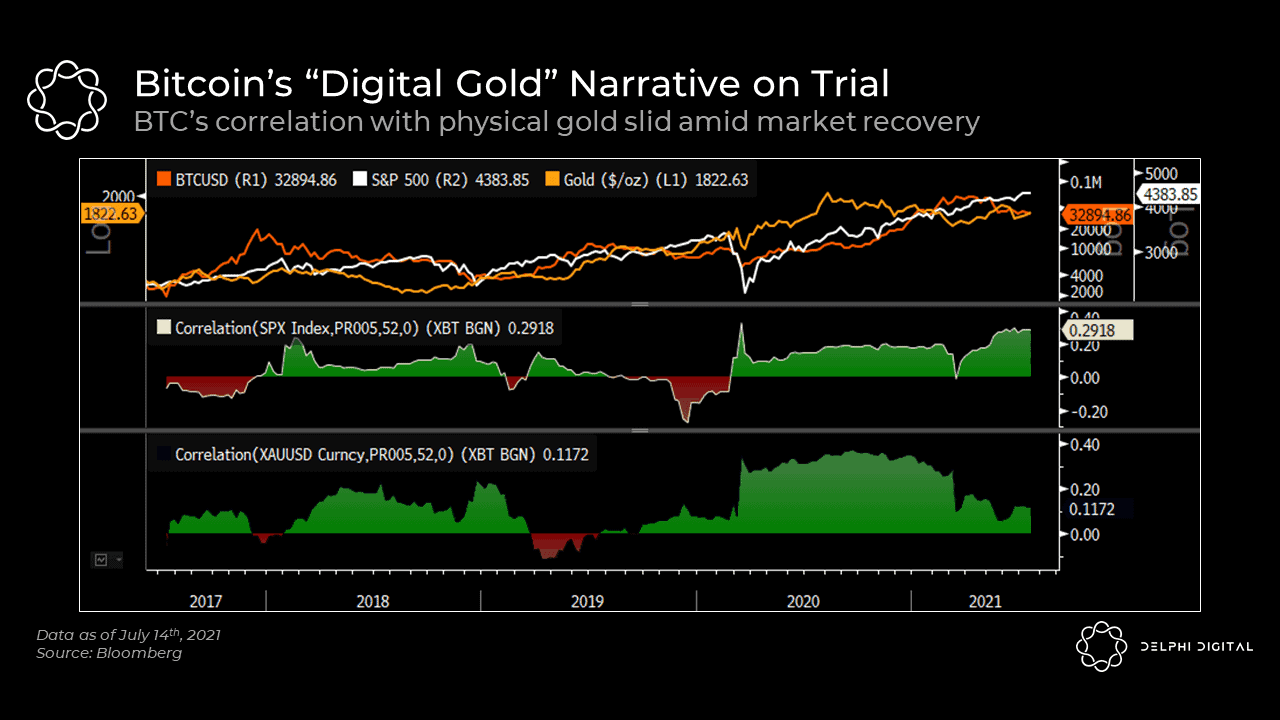 Interestingly, BTC has traded more in line with the relative performance of small-cap equities than large-cap peers; the chart below shows BTC versus the ratio of the Russell 2000 and the S&P 500.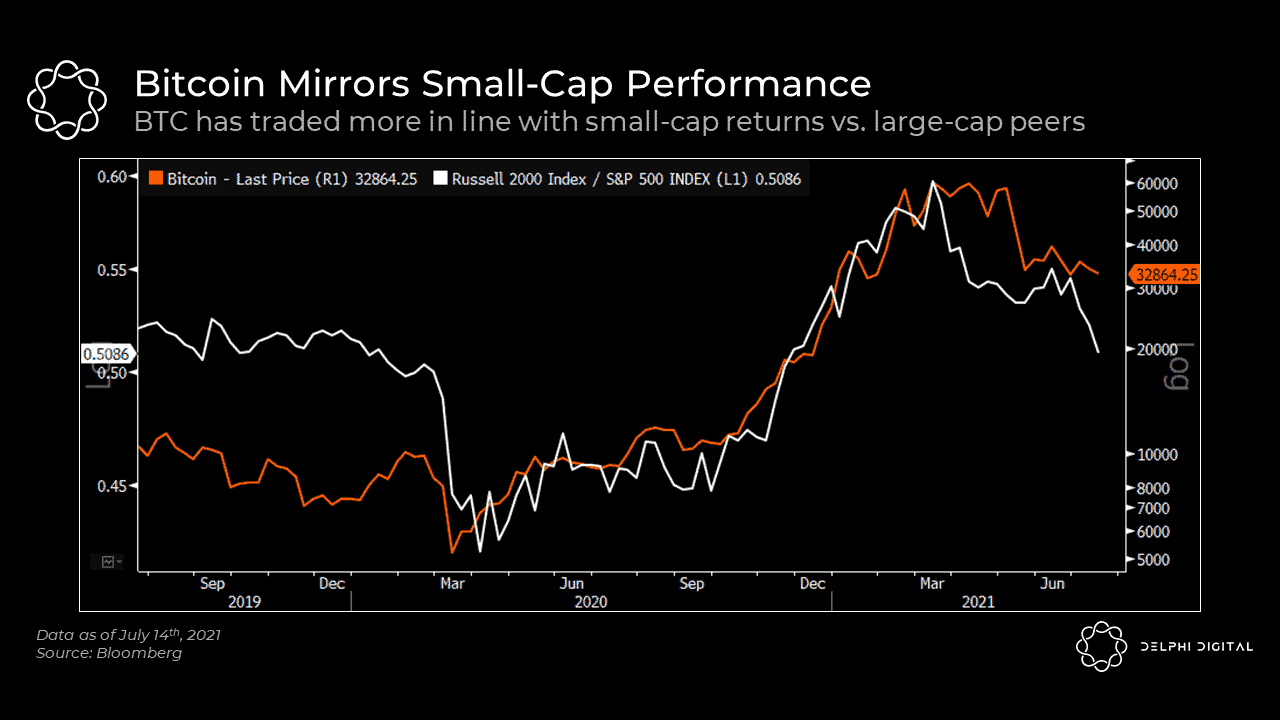 Trading Volume Falls Off a Cliff
Exchange volumes saw a monstrous increase during the first half of 2021. But as the market tanked, exchange's have lost over 50% of their monthly business.Futures
BTC's unrelenting price range has left most investors undecided if they should re-allocate soon or wait the range out. With a large amount of capital sitting on the sidelines, it's no surprise that exchange volumes have taken this bad a beating.
It's also worth noting Binance's dominance over the spot exchange game. Amongst the top 3 exchanges by CoinGecko's trust score — Binance, Coinbase, and FTX — Binance has averaged 85% market share over the last 3 months. FTX has clawed away some of Coinbase's market share, but not a very significant amount.
Note: CoinGecko's trust score is calculated based on liquidity, API liveliness, and the scale of its operations.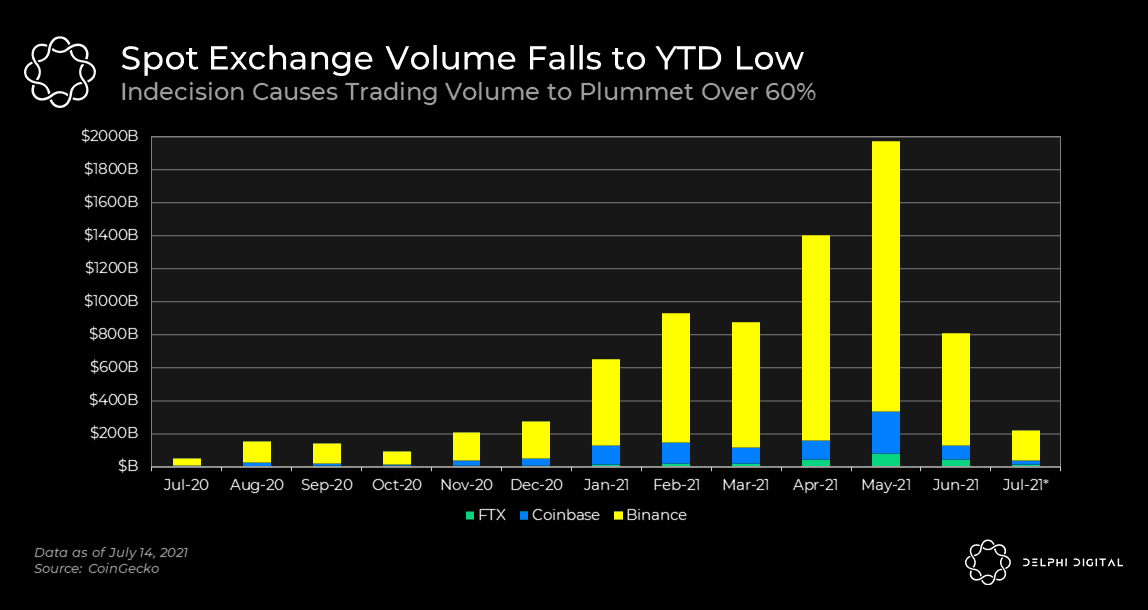 Yet Another Sign of Market Indecision
It isn't just the spot market that's undecided on BTC's trend– futures and perps are in the same situation.
Open interest has moved pretty closely with the micro trends within BTC's current range, which tells us that traders don't have a strong directional bias yet.
Usually, open interest moves with the trend, signalling a continuation; or it moves against price's trend to warn of an impending reversal.
OI just tracking price likely implies that traders don't want to bet against the market — and against this range — and they'll follow the trend depending on which direction a breakout occurs. However, there is a slight long bias given price is down over 50% from the macro top, and OI has fallen a commensurate amount (indicating no inherent bearish bias).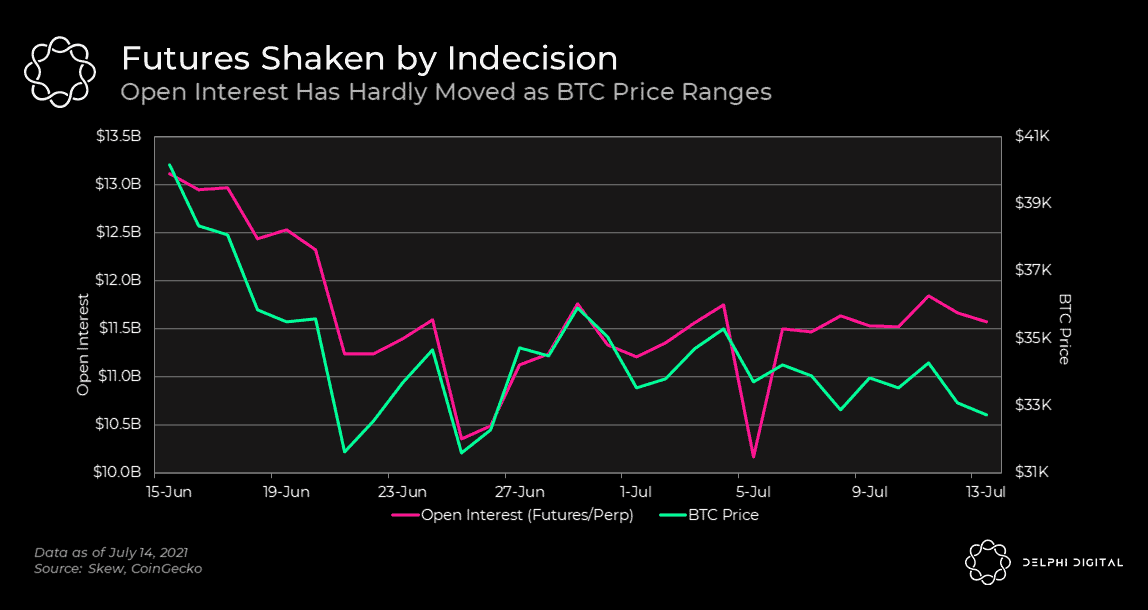 Lightning Network Capacity Up 2x in 2021

The Lightning Network opened the year around 1,000 BTC of capacity, and has grown to 1,800 BTC in the last 7 months. The USD value of BTC in Lightning is up 3x over the same period thanks to a historical Q1 from BTC.
LN Strike, a private payments service built on the Lightning Network, opened up to country of El Salvador earlier this year. It remains to be seen how much of this recent growth is driven Strike and El Salvador, but it's great to finally see Lightning catch on nonetheless.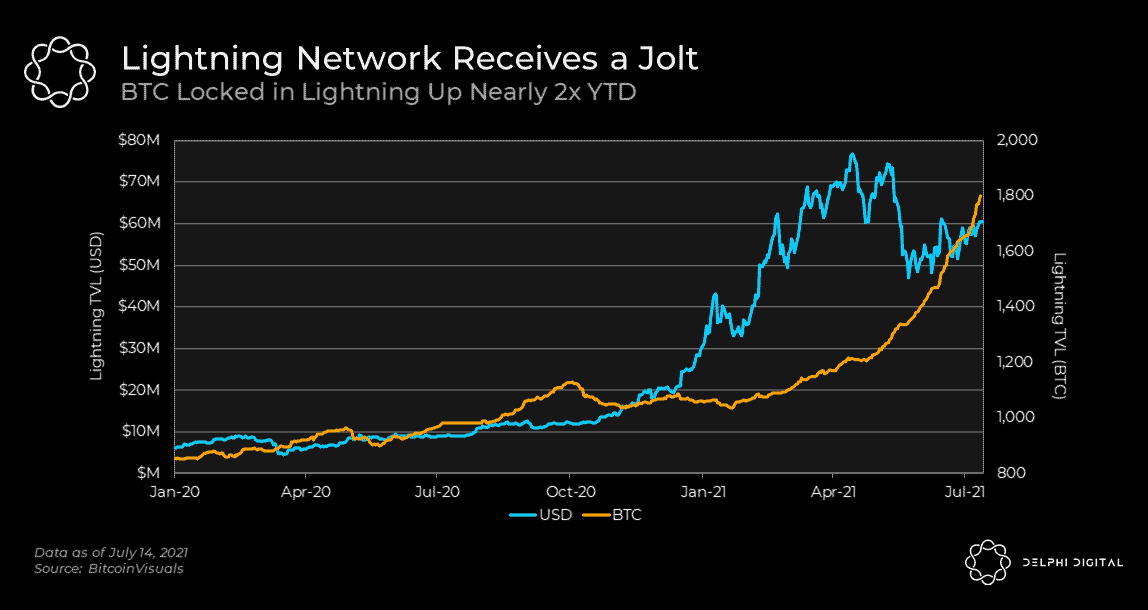 Notable Tweets
Crypto is fast-paced and multidisciplinary.
Crypto offers a crash course in finance, economics, psychology, game theory, political science and a few other disciplines in a few weeks ?

— SantΞago R Santos ?? (@santiagoroel) July 14, 2021
Uniswap v3 launched on Optimism; open to the public.
1/

? We are thrilled to announce the Alpha launch of Uniswap v3 on Optimistic Ethereum (OΞ) mainnet in partnership w/ @OptimismPBC!

? This is a critical step in scaling DeFi applications and delivering user experience that rivals traditional web apps.https://t.co/Of3QmubFth

— Uniswap Labs ? (@Uniswap) July 13, 2021
ShapeShift open-sources platform, dissolves corporate structure to pursue decentralization.
Happy Bastille Day@ShapeShift_io https://t.co/HxrqtUDcL8

— Erik Voorhees (@ErikVoorhees) July 14, 2021