🌅 Welcome!
The Merge is projected to be less than 48 hours away. We hope everything goes as smooth as Vitalik's musical talents.
Hash rates are diverging, we have the very first crypto insider trading case, Fidelity may offer Bitcoin trading and our Research team zooms in on how traders and protocols are bracing for the Merge.
This is the Delphi Daily. Let's dive in.
---
🚨 In Case You Missed It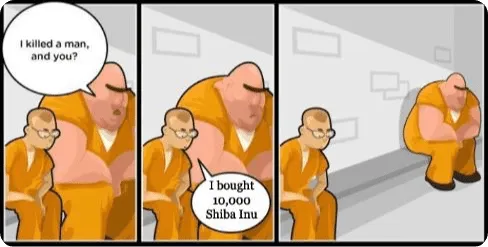 ---
📊 BTC Hash Rate Hits All-Time High While ETH Hash Rate Plummets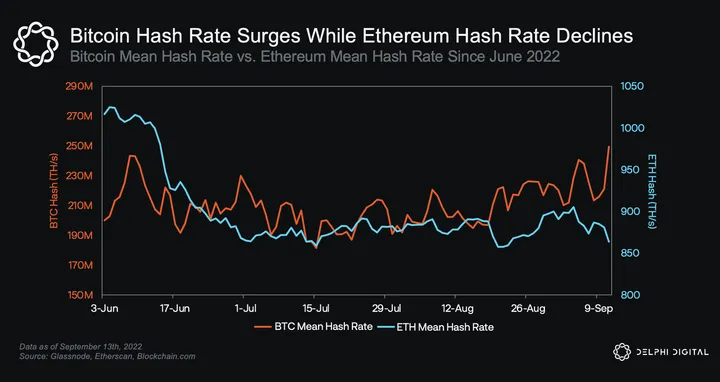 Yesterday, Bitcoin network's hash rate reached a new all-time high of 232m TH/s, just as Ethereum's hash rate declined to 859 TH/s. Bitcoin's hash rate previously recorded an all-time high on June 12th.
Hash rates represent a network's processing power. The greater the hash rate, the greater the computational power securing the network. A rise in this metric indicates that more miners are coming online or that existing miners are deploying more machines to process transactions.
Typically, an increasing hash rate indicates that it is profitable to mine the network. However, we see a different story playing out with Bitcoin when we consider the declining hash rates for Ethereum.
The Ethereum Foundation officially announced the Merge on August 24th, signifying that the highly anticipated transition to proof-of-stake is finally underway. After the Merge, Ethereum miners will no longer receive any block rewards, effectively reducing revenue to zero.
As indicated in the chart above, we have seen an inverse correlation in hash rates between Bitcoin and Ethereum since August.
Currently, the switch to proof-of-stake is scheduled to occur when we reach Terminal Total Difficulty (TTD) of

58750000000000000000000.

This is expected to happen 2 days from now on September 15th. You can track the TTD and remaining time until the Merge here.
For more on post-Merge Ethereum, you can read our unlocked Delphi Pro report here.
---
⚡ Monthly Chartbook – The End of The Summer Doldrums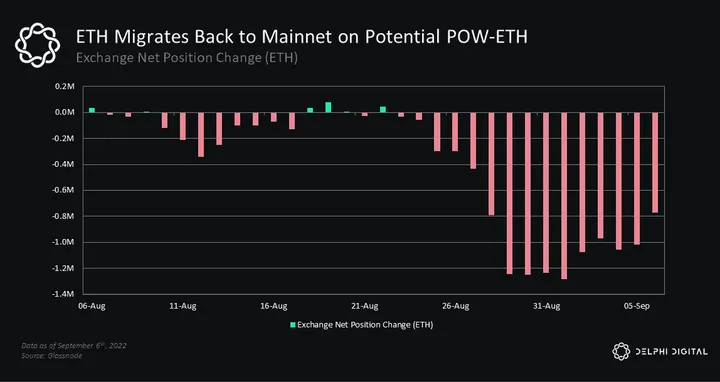 As we move closer to the Merge, ETH holders have started moving ETH back to on-chain wallets in the hopes of qualifying for the ETH-PoW fork. This has led to centralized exchanges experiencing an increase in ETH withdrawals, which is expected to continue until the Merge is completed.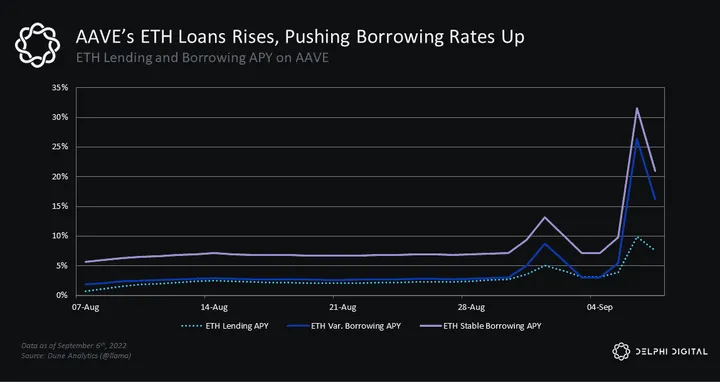 AAVE experienced a surge in demand to borrow ETH as opportunistic users take out loans for ETH with the expectations of an ETH-PoW fork. Users executing this trade hope to profit by selling the ETH-PoW tokens to cover the interest paid for borrowing ETH.
AAVE also passed a proposal to freeze ETH borrowings and increase its variable borrowing rate at 100% utilization from 103% to 1000%. This will help mitigate potential negative interest rates on stETH/ETH recursive positions and cause risks of liquidations.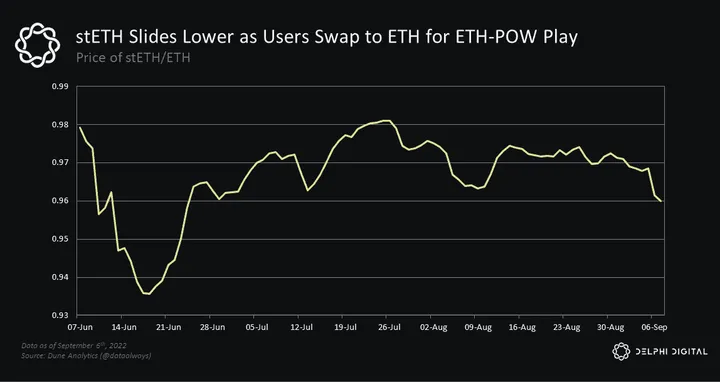 stETH experienced selling pressure as holders swap back to ETH. This was exacerbated by 3AC removing liquidity from the stETH/ETH pool on Curve, causing higher slippage and smaller pool size.
LPs might remove liquidity closer to the merge to mitigate risks of further sell-off and capitalize on the ETH portion of the LP token.
For more charts, Delphi members can read our Delphi Pro report here.
---
🐣 Notable Tweets
Prepare for the Merge with Delphi Research
Overview of Cosmos Ecosystem Projects