Introduction
Since Beeple's record-breaking auction, NFTs have grown synonymous with 2D visual art. Often called "JPEGs" informally, the most valuable NFT brands are overwhelmingly static images. Audio and video NFTs, by contrast, are a rounding error in terms of sales.
But will JPEGs always rule the NFT market? It seems unlikely, especially considering today's digital media landscape.
For one, far more people love music than fine art. The music industry generates $57B in revenue from billions of people, with over half a billion users on paid streaming services. Fine art appears to be comparable in size at $50B in global revenue. But that's largely supported by just 10,000 estimated art collectors who regularly buy substantially-priced works. In terms of mindshare, the difference is staggering.
Of course, it's not clear the NFT future will resemble today's media landscape. But several factors—including collector culture, early adoption, and recent sales figures—suggest music NFTs, in particular, are worth watching closely. In this report, we dive into why they're well-positioned from a collector's perspective, as well the nascent trends we're seeing.
Video overview
Delphi's music NFT thesis
NFTs took the visual arts by storm for a reason: the art scene isn't as burdened by copyright law and industry gatekeepers.
Music, on the other hand, has more hoops to jump through. Any playback of a song is technically copyright-enforceable, which complicates the display of NFTs. The supply chain of music is also more challenging. Where visual artists are accustomed to selling direct-to-consumer, third parties like streaming platforms often sit between musician and fan. Lastly, the music business is infamous for picking legal battles before simply embracing technology.
These are serious shortcomings. But there's an even stronger cohort of founders, builders, and investors that are undeterred in their mission to realign incentives. As more people get onboarded to crypto and web3, we believe there's a growing opportunity for artists to spark careers and sustain them on their own terms. This isn't just about circumventing record labels. We're talking about entirely new revenue streams and engagement models that allow artists to build more successful and sustainable careers.
In particular, there are a few areas where Delphi is most interested:
Superfan engagement & rewards: Fans and fan clubs will become even more integral to an artist's journey. Web3 tools here will help fans earn both status and rewards for showing their support.
Social graphs: Every artist can now build their own fan social graph, verifiable through on-chain actions like participating in an NFT drop or claiming a POAP NFT for attending their latest show.
Circular artist-fan relationships: NFTs and tools that move the relationship between a fan and artist from one of consumption to one of collaboration. We expect to see more artists experiment with token communities and DAOs to create more intimate connections, but also to crowdsource financing and marketing.
Curation & discoverability: Platforms and protocols can incentivize better models for curation and discoverability. This will enable fans to build a reputation as tastemakers while elevating up-and-coming artists without industry gatekeepers.
Composability & standardization: Even with ERC-721, standards for NFTs are lacking, especially for multimedia. Right now, there's experimentation around smart contract frameworks that could revolutionize how art gets made.
Our team at Delphi is currently in talks with established artists and up-and-coming musicians looking to explore web3. If you are building something here that you think our team can help with, please don't hesitate to reach out to [email protected]
It's going to take a lot of dedicated teams and collaboration to make these ambitious goals a reality, so below we've open-sourced our thinking and investment thesis for the sector.
Why music, why now
Crypto wallets have exploded—recently surpassing 30M MetaMask MAUs, from just 5M in April 2021—and tastes in digital art are likely to broaden. The persona of the typical NFT buyer is evolving rapidly, and music NFTs undeniably speak to a wider audience.
Beyond just theoretical appeal, the music industry is jumping at the opportunity. Major labels like Universal Music Group are experimenting with NFT-centric virtual bands with Bored Apes. Meanwhile, artists like Grimes and 3LAU have sold NFTs for $1M+, unlocking a whole new revenue stream.
Music also has a unique history and ownership culture that could unlock asymmetric value, especially compared to other mediums. Among artists, musicians arguably create the most cultural impact relative to what they capture. Take Kanye West, whose name alone added billions in market cap for partners like The GAP and Nike. Virtually no one in the fine art world can claim that sort of influence. The late Virgil Abloh, a longtime collaborator with West, saw this misalignment and was planning an NFT-centric DAO before tragically passing.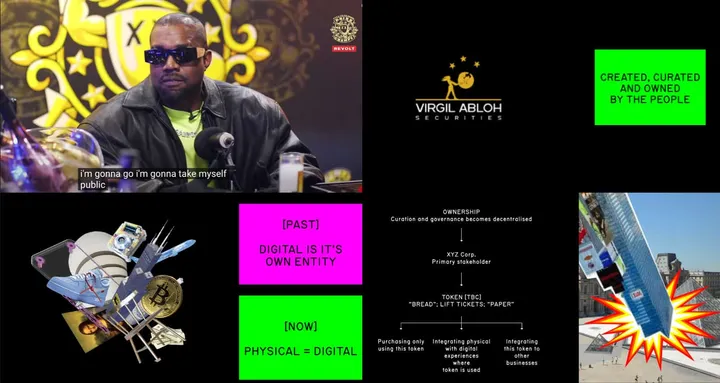 Industry dynamics make music particularly ripe for web3 disruption. For the majority of artists, Spotify is a tool to get discovered, not paid. The top 10% of artists generate 99.4% of the streams on Spotify. Streaming platforms are now pushing for even lower artist payouts. NFTs offer a lifeline for more artists to earn a living from their work, which could accelerate their adoption.
Lastly, music has a natural strength for creating tight-knit communities. Marquee NFT brands like Bored Ape Yacht Club (BAYC) have surged in large part because of their community. For many, holding a BAYC is less about image aesthetics or flexing the avatar on Twitter. Instead, value comes from access to an exclusive brand, IRL events, and the growing mindshare. Musicians have some of the most rabid fanbases in the world, as evidenced by the 40M-strong fan club for K-pop band BTS. Properly rolled out, music NFT collections could see similar appreciation.
Models for the next .WAV
Audio NFTs—in the form of MP3 and WAV files—are a relatively tiny niche compared to JPEGs, where the daily volume on Opensea often tops $100M. However, music-only NFT platforms are proving the concept could be financially viable.
Right now, various platforms are experimenting on what will matter to collectors. Royal and Decent envision NFTs tied to royalty revenues. If it works, this model could be a potent combination. Not only would the NFT have collector's item appeal, but early fans would have an ownership stake in the streaming performance of the song (as opposed to the upside from flipping a single 1-of-1). Sound is attempting a 1-of-many model where songs are owned by a group and have perks like a publicly-visible comment. These platforms are VC-backed and helmed by music industry insiders, giving them high potential.
However, Catalog's 1-of-1 model truly kickstarted interest in the niche. Catalog resembles the familiar SoundCloud library but allows the songs to be sold and auctioned as NFTs. Currently, Catalog is in invite-only beta and has mostly catered to up-and-coming artists with a crypto-native flair. But established names like Boyz Noize, Vic Mensa, and Mick Jenkins have sold work on the platform, which began sales in March 2021.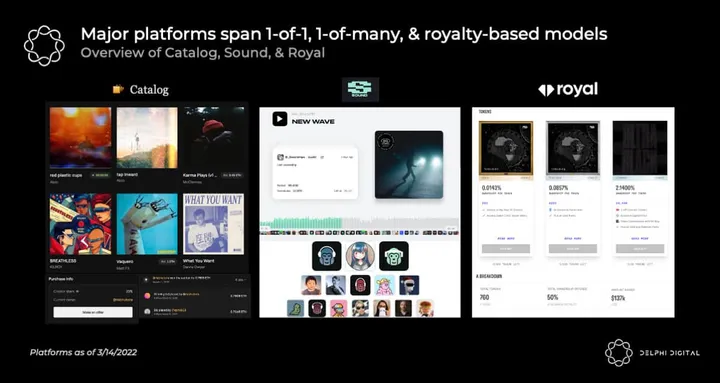 Catalog's 1-of-1 model may have already hit an inflection point. In October 2021, Catalog's volume surged up to $600k, a 13X jump month-over-month that helped push its cumulative sales past $1M. Even in the choppy markets of early 2022, volume on the platform has held up.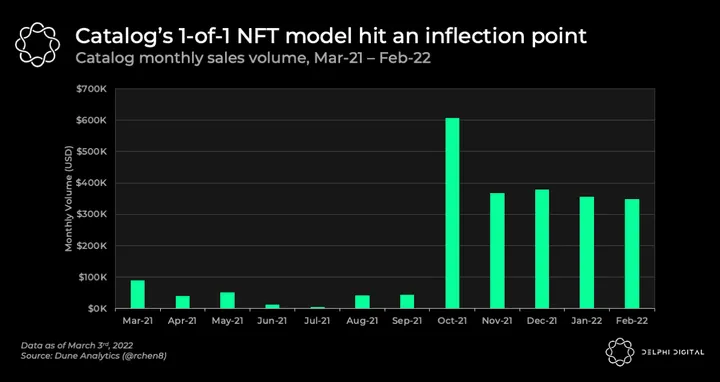 In December 2021, Sound launched its 1-of-many NFT platform, which has already become an exciting marketplace. Sound enables artists to host a listening party for a new song that ends with a limited edition NFT mint. Fans can support their favorite artists, inscribe a public comment on the song, and engage with the artist & other fans. Sound has onboarded 66 artists for 84 total song releases, generating 432 ETH raised in primary sales ($1,197,587) and 855 ETH traded in secondary volume ($2,369,882). Since artists receive a cut from secondary sales, there's been 518 ETH in proceeds paid directly to artists ($1,434,586), an impressive figure for launching just four months ago.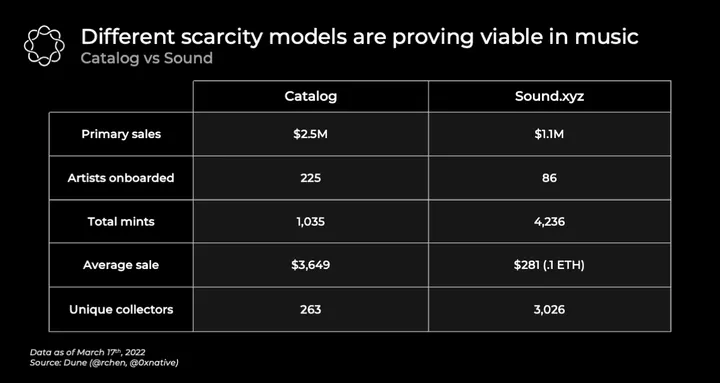 Other audio primitives like Async Art and Arpeggi are enabling music NFTs to be broken down to the stem level. (A stem is an individual sub-tracks such as a drum pattern or bass line.) While perhaps a niche appeal, they have the potential to become collectors' items.
AsyncArt NFTs have many different owners, effectively making each piece a constantly-evolving composition. The "master track" can be divided up into nine stem NFTs, and each stem NFT has up to nine variants within. Owners of the stem NFT can dictate which variant—say, horns at setting 3—is active in the master composition. Similarly, Arpeggi has a complete music digital audio workstation (DAW) for minting NFTs and boasts having the stem qualities 100% on-chain. Another experimental project, Derive, allows multiple artists to compile audio tracks into a seven-track on-chain music compilation.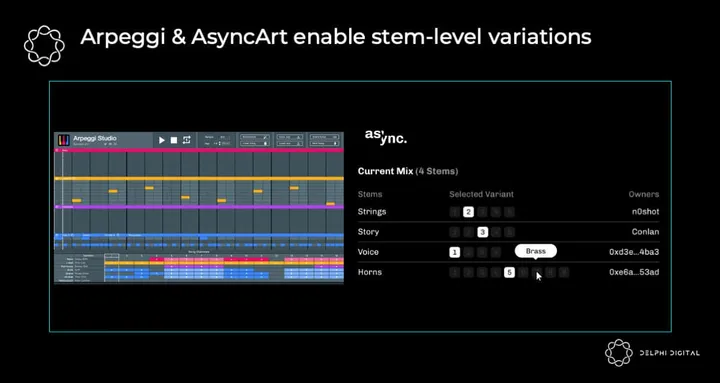 Breaking the song into discrete units on-chain could become a powerful lever for adoption. In visual art NFTs, collections like Art Blocks and Gen Art have caught on in part because collectors pore over the rarities and on-chain metadata. Early generative audio NFTs from Deafbeef and Euler Beats caught on for similar reasons. On-chain properties could grow increasingly important as music NFTs expand.
On-chain stems also have the potential to create new revenue sources for artists and producers if they're able to be remixed and reused easily. Companies like Splice have demonstrated royalty-free samples are a large opportunity, and the technological successor may be CC-0 licensed music NFTs. Although far from today's reality, payment activity for streaming and royalty could move on-chain over the coming decade.
In terms of collector strategy, there's not yet a clear playbook. No true "index play" exists for a bet on wider growth, but VC-backed platforms like Catalog, Royal, and Sound have some potential for retroactive airdrops. Landgrabbing on these platforms and acquiring artists' genesis drops could be an asymmetric bet if music NFTs catch on. (If an airdrop happens later, all the better for your cost basis.) Similarly, it's not yet clear which artists or collections could become historically significant. It stands to reason that a genesis drop from a web3 artist with the potential for stardom is a better bet than, say, a Tory Lanez 1-of-many. But as more credible musicians embrace web3, this may hold less true.
One source for alpha could be the many investment clubs springing up. Taking after the Pleasr model, groups like Noise DAO, which has 1750 ETH pooled, and Morii Music have been quietly acquiring music NFTs. So far, their strategy seems to be simply collecting artists they like and believe could become blue-chip names. Getting active in these communities could help to formulate a thesis.
Whether participating in these clubs or simply monitoring acquisitions from the outside, signal and the surrounding collector base profile play a big role in pricing. As the saying goes, "collect what you love" since liquidity profiles for NFTs are a double-edged sword.
Early music NFT trends
Music NFTs are enabling a new wave of independent artists to circumvent music industry middlemen. A prime example is Daniel Allan, who was able to crowdfund the costs of making an EP with only a few hundred Twitter followers. Allan raised 50 ETH ($140k at the time), more than doubling the fundraising goal on Mirror. Supporters of Allan's Overstimulated EP got 50% of the future master royalties, which effectively decentralized the typical label advance.
Stories like Allan's are increasingly common. According to a Delphi analysis, the median artist on Catalog has 16k monthly Spotify streams and 3300 followers on Twitter, which indicates the bulk of web3 musicians are currently indie or unsigned.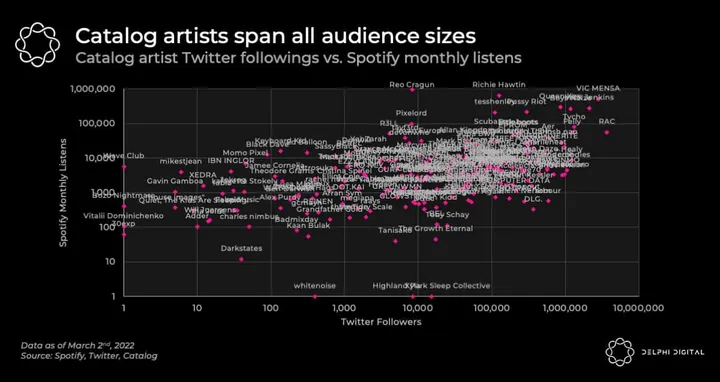 Surprisingly, artist popularity on Spotify has not correlated strongly with sales on Catalog. Sales have tended to clump around ~1 ETH, without a ton of variation based on Spotify monthly streams. This suggests that early collectors are willing to support less established artists and are putting a premium on the "firstness" of early-adopter musicians.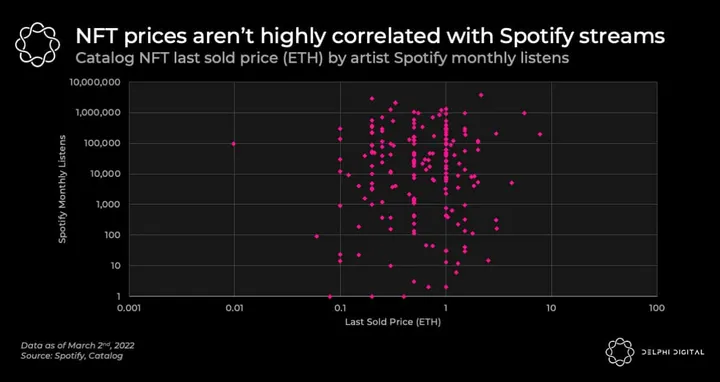 Artist case studies
How are up-and-coming artists leveraging NFTs?
A notable indie case study is Haleek Maul, a Barbados-raised rapper who sold 9 works on Catalog for a combined 133.6 ETH ($299k at the time of writing). Maul has sold the top 8 highest-priced pieces on Catalog, mostly ranging from 10 ETH to 25 ETH. The sales from Maul's INNER EP (56 ETH, or $256k at the time) would translate to 58.7M Spotify streams. Interestingly, Maul's following on Spotify and Twitter were relatively modest (about 4k monthly streams and 8k Twitter followers), but the artist has leaned hard into web3. Doomsday, a VC-backed production company that crowdfunds music videos via NFTs, has been working closely with Maul with the goal of winning a video Grammy.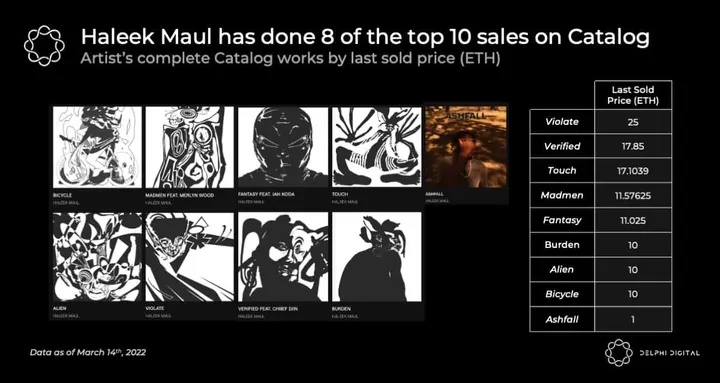 Indie artists arguably stand to gain the most from NFTs, they'll be the ones to watch as the artist playbook develops. There's also plenty to be learned from top-tier artists who have released music NFT collections. The NFT drop from Disclosure remains a boundary-pushing case study of what's possible. We're biased here since our Delphi colleagues personally bought this NFT. But several things went right with the sale. First, the art had the iconic Disclosure Face image that appears on all album covers. And it came with the unique selling point: ownership grants 4 free tickets to all Disclosure concerts worldwide.
Against the odds, the NFT purchase led to a real-life friendship between Delphi and Disclosure. After we bought the NFT, Guy Lawrence, one-half of the duo, appeared on The Delphi Podcast. Later on, that led to an in-person meetup, where we floated the idea of Guy DJing our house party. To our complete surprise, he said, "absolutely." (For more on that story, read here.)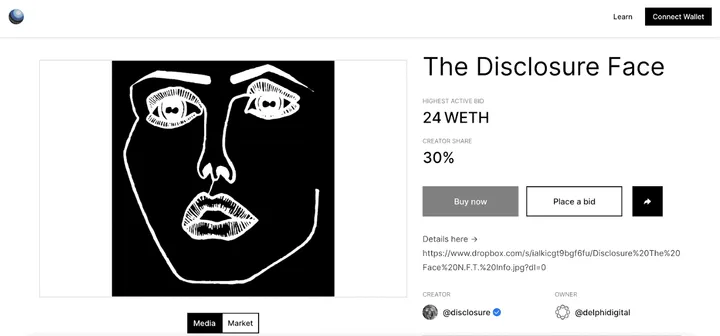 While undoubtedly a special case, it's evident NFTs can help broker special artist-fan relationships.
Another playbook to follow is Avenged Sevenfold's Deathbats Club (DBC), an NFT-centric fan community. Certain traits in the band's NFT artwork dictate the access fans get at concert meet-and-greets. This model can easily be replicated by established artists, although it takes some serious commitment and follow-through to deliver on the IRL experiences. The downside reputation risk of overpromising and underdelivering for your superfan community is real, so the decision to pursue a similar model should not be taken lightly.
The DBC collection has already generated over 280 ETH in trading volume. Artists who take the time to do this right and really lean into the most exciting aspects of web3 will be in the best position to see their fan clubs take on a life of their own.
Not all major drops have gone without a hitch. The Kings of Leon generated significant sales for their NFTs, but the process was met with a mixed reception, as mainnet gas fees cost more than the NFTs people were trying to claim. The band also auctioned off a small handful of unique NFTs that gave holders four front-row tickets to any KOL show (with some other perks you can read about in the description). There isn't much trading activity, but people paid 300+ ETH for them at the time. Gas fees also soured the Tory Lanez drop, which sold 1M NFTs for $1 each.
Advice for the first music NFT drop
Artists entering this space must take note that this is a decade-long game, not a few-month fad. Unfortunately, there were artists who used the NFT hype cycle last year to come in and dump on their fans. If you look at a platform like Nifty Gateway, some of the biggest names in music did drops and then never did anything to engage with their NFT holders. You can see a clear trend within their secondary market sales. (Hint: they're down.)
Planning is key. When asked for a comment, Haleek Maul gave this advice for artists doing their first NFT drop:
"First drop is important for setting the scene for your world. I guess the best advice is to plan all the way to the end as best as you can. Identify the story you want to tell and make sure you deliver it to your audience in the best way possible. I think that's ideally where the value comes from, focusing on a core idea and building from there."

-Haleek Maul
Legal implications are also worth investigating beforehand. Indie and unsigned artists have flocked here because there's far less legal complexity. As Disclosure explained on our podcast, digital goods are increasingly captured by major label record contracts:
"If you're an indie artist right now, and you've got major labels trying to sign you, I would consider that carefully. Or at least consider the part of the contract that is about NFTs… or if there isn't a part in the contract about NFTs, make sure there is."

-Disclosure (Guy Lawrence)
Finally, it's advisable to consider what superfans want most. Harris Cole, a lofi beats artist who has sold 16 pieces on Catalog, offered this advice:
"My best advice for artists doing their first drop would be to identify a part of their catalog that they can leverage based on pre-existing public sentiment. For me, that meant including rare cassettes from my debut album "pause." The cassettes sold out a long time ago and there were only a few of them made, so those who have been listening to my music since its release likely have some interest in getting a cassette."

-Harris Cole
Delphi Digital is often crypto-pilling artists as well as big brands on their first NFT drops. A few evergreen points we'd add:
Make sure your drop is well thought out so you can make a big splash with it. You only get to drop your first NFT once.
It's important to make sure your NFT has a story that goes along with it. Make sure your NFT goes with your brand.
If possible, include something extra: whether it's access to shows, a Discord channel, or even physical exclusive merch/vinyls. However, the main focus should ultimately be on the NFT itself, and not necessarily the additional perks.
Right now we are seeing many NFT releases that are solely aimed at capturing immediate value. Think long-term.
Getting signed
While experimental, label DAOs are promising new institutions for talent development. Dreams Never Die, Good Karma Records, and HiFi Labs are incubating artists and music businesspeople using the latest web3 tools and community-building strategies.
Creator-led DAOs are beginning to have a tangible impact for artists on the cutting edge. The artist guild Songcamp banded together to create a music NFT adventure game. SongCamp's musicians and artists crowdfunded 40 ETH to create an NFT portal called Elektra that requires an NFT ticket to enter. Songcamp also funds experimental cohorts for artists to collaborate, create art, and build web3 products such as BPM, a music bot for Discord.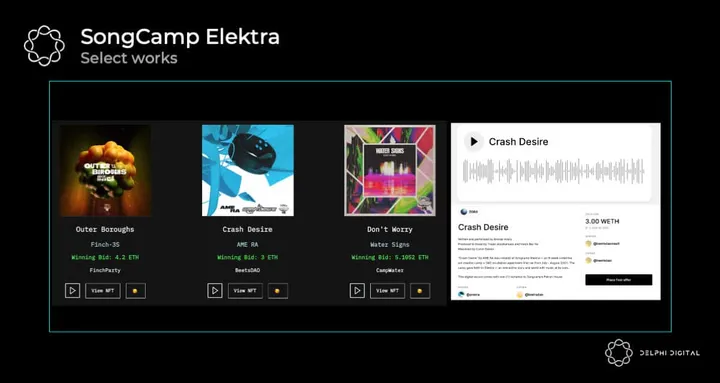 Similarly, MusicFund is the NFT community for music discovery, funding, and curation. Friends With Benefits (FWB) has proven to be a powerful artist community. The popular DAO started a fellowship and benefactor program to support creatives, and grants are run by Pat Lok, an electronic musician whose work has sold on Catalog and Sound.
Elsewhere in the music stack, Audius, ModaDAO, and Metaplex are attempting to bring crypto incentives to music streaming, licensing, and merchandising. It's no Spotify yet, but Audius currently boasts 6M+ unique users per month.
Bull case: NFTs enable an artist-controlled master
What, exactly, is the big unlock of music NFTs? At first glance, it's just another tool in the artist toolbox to create collectibles, souvenirs, and merch, with the added flexibility of being software.
A subtle but significant difference, as Matthew Chaim pointed out, is NFTs give artists control over the canon. Chaim's thesis is that NFTs embrace three form factors simultaneously: canon, collectibles, and copies.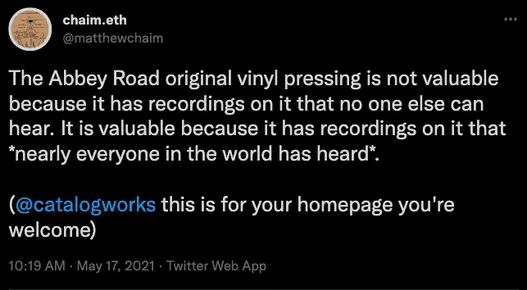 In this case, the canon is the representation of record, or the internet's source file. It's also a collectible, like any other limited edition piece of merch. Crucially, the canon and collectible properties hold up even as millions stream an exact copy on Spotify. In fact, the NFT gets more valuable as more people listen to the copy. (This is the common retort to the "right-click + save" problem.) But in contrast to fine art, where only Mona Lisa-level pieces are widely seen, music gets copied endlessly.
Owning the "internet source file" of a song may seem trivial—it isn't legally recognized and has no guarantees. But it doesn't matter if enough collectors believe in the NFT as the canonical representation. Once a critical mass deems it valuable, as Jesse Walden points out, a 1-of-1 NFT could even "flippen" the copyright and accrue more market value.
Looking Forward: How NFTs Can Change Music
Tech has lowered the costs of recording, marketing, and distributing music, which has started to tip the scale in artists' favor. But true artist wealth remains elusive in the streaming era.
There's an industry joke that music labels employ more lawyers than marketers. For labels, the name of the game is extracting maximum value from copyrights. As we argue, NFTs offer a copyright-like representation, but without all the legal red tape. With NFTs, artists don't have to wonder when the check will come in the mail. Instead, value is settled instantly every time it changes hands. And platforms like Catalog are starting to prove the concept can work at scale.
Going forward, one area to watch is incentive mechanisms. One example here is Catalog's slice feature, which was first implemented on Zora. With splits, a bidder can create a sweetener for the current NFT owner and offer a slice of the subsequent sale. This is powerful because a well-known collector or investment club will be more likely to take a chance on an artist, especially if their curation power could be captured later economically.
Meanwhile, Sound recently leveraged a different type of split when they partnered with indie label Soulection to host a special episode of their popular radio show. Founder and legendary curator Joe Kay played a 62-minute mix where he played unreleased songs from some of his label's artists as well as friends. After Sound's listening party, 333 NFTs of the mix were offered for collectors at 0.1 ETH each. The special kicker was that regardless of how much money was raised, every sale would automatically be split up and distributed to the artists whose songs were played during the mix. Using tech from 0xSplits, 20% went to Soulection+, 5% to Joe for curating, 5% to the project's designer, and the rest was split among the artists in agreed-upon terms. The whole collection sold out almost immediately, raising 33.3 ETH (~$90K) for the artists involved.
But that's just the beginning for clever incentives that could be implemented. It's not hard to picture NFTs that handsomely reward Day 1 fans into perpetuity. Limited-edition music, VIP experiences, access to chat rooms, or status indicators like community tokens can all be incorporated on-chain. It's just a matter of setting up the rules in a way that catches on.
As the NFT scene develops, digital media is bound to change drastically. NFTs will be collateralized, they will earn royalties, they will act as licenses, they will represent early artist discovery, and they will take on new shapes. Right now, only a few household name musicians have started to experiment. But as more blue-chip artists start to sell music NFTs, it could quickly become a land-grab moment.
Conclusion
If nothing else, 2021's NFT mania proved crypto rails are a superior way to monetize digital media. It's early, and it may take years for the technology to truly disrupt music industry incumbents. But there is an air of inevitability.
Artists won't stand for the current paradigm much longer, and the movement has already begun to find momentum. For all their potential, music NFTs are not guaranteed to usher in a new artist middle class. But the results are promising for artists leaning into web3 community, crowdfunding, and distribution. (Daniel Allan, for example, said he now makes 85% of his living on NFTs.) Plus, as the data shows, having a massive following isn't a prerequisite for selling well.
As our friend Guy from Disclosure told us, "It's a game-changing moment across the board: for streams, for sales, for merch. If you incorporate this tech in there, I think the music industry is going to have to adapt quickly."