Market Update
China continues to pile up FUD by re-iterating that banks should not engage in business with Crypto OTC traders. Miners turned into net sellers after weeks of accumulation (most likely attributable to Chinese miners). Hashrate concentration in the largest pools continues to drop, but hash rate decentralization improves with smaller pools increasing their share.
BTC To Retest Neckline Support
With China's move against Bitcoin and a bloody start to the week, it looks like BTC is on the path to retest a key level at $30,540.
This level is very important for a few reasons mentioned in one of our market commentary reports. This level represents the head and shoulders neckline support, Tesla's buy price, and BTC's yearly open.
Successfully defending this level would likely signal range-bound behavior between $30,000 and $40,000, and opens the door to an upside move. However, failure to hold could spell more pain in the near term.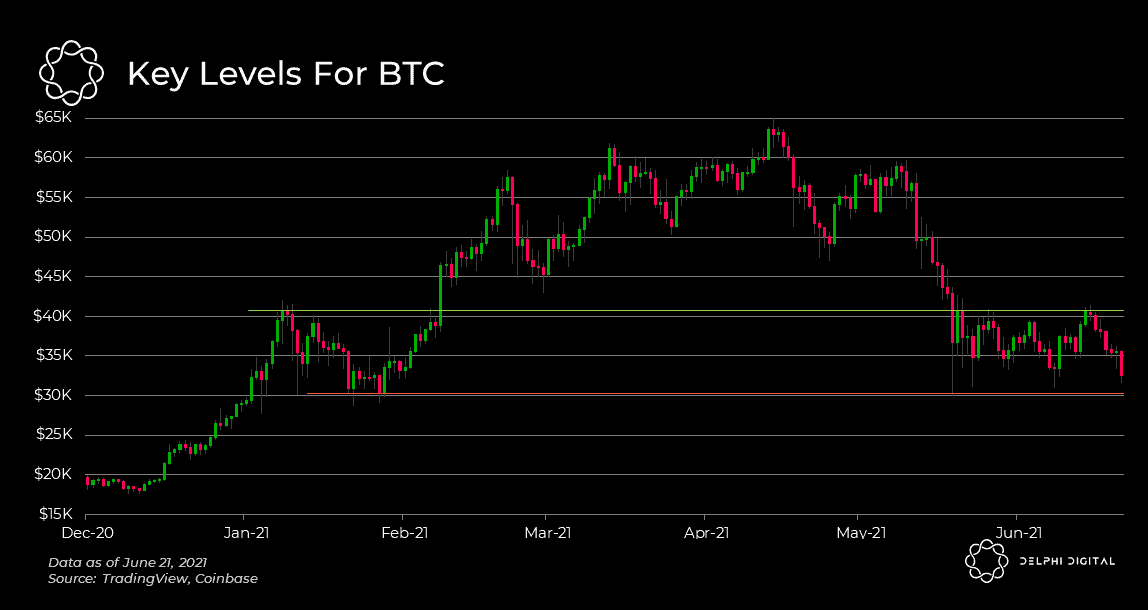 Hashrate Exodus From Larger Mining Pools
Ever since China started clamping down on Bitcoin mining, hash rate concentration in Chinese-based mining pools has been in a downward trend while smaller pools (labeled "others") are growing their share from 30.81% to 37.96% over the last 30 days.
This is a short-term negative short-term, as it caused the total network hash rate to decline. In the mid to long term, this should be viewed as healthy for the Bitcoin network as hash rate concentration risk is significantly reduced.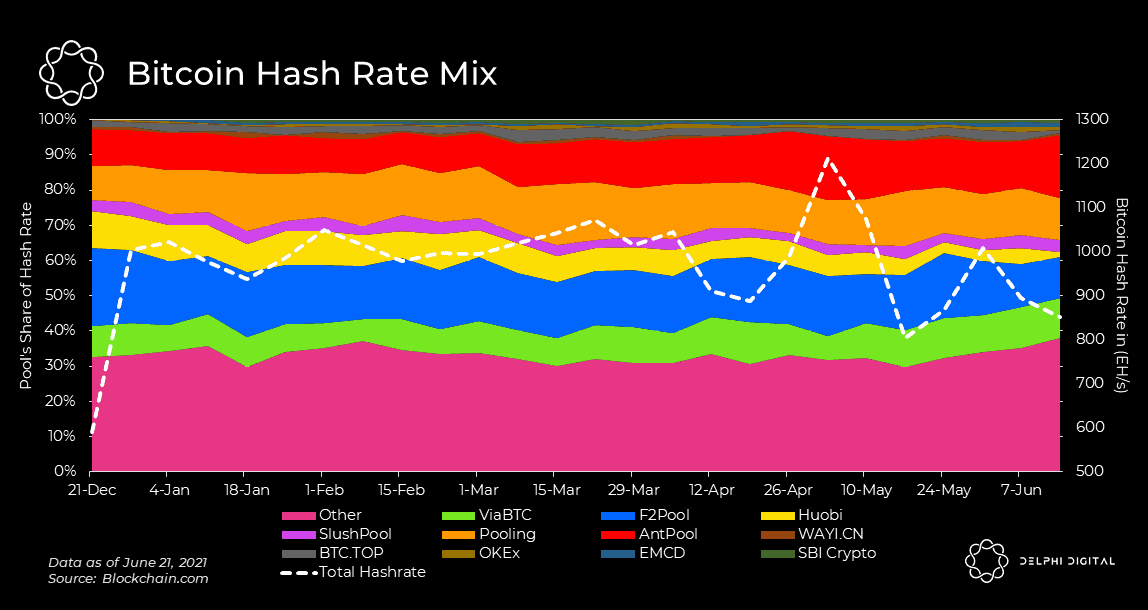 Miners Net Position Flipped Negative
Complementary to the hashrate exodus, miners as a whole are now net selling — which is in line with selling pressure we've seen over the last couple of days.
The Chinese government also re-iterated on an old regulation, saying that banks should not be supporting crypto OTC businesses, which further amplified panic among Chinese miners and investors. We see this translating into miners selling off inventory.
Miner's Net Position refers to the 30d change of the supply held in miner addresses. Green shows accumulation and red indicate deposits into exchanges. It's worth noting this the number of BTCs reported by this metric is relatively negligible to the total circulating supply of BTC and should mostly be used as a sentiment gauge as BTC miners are based in China.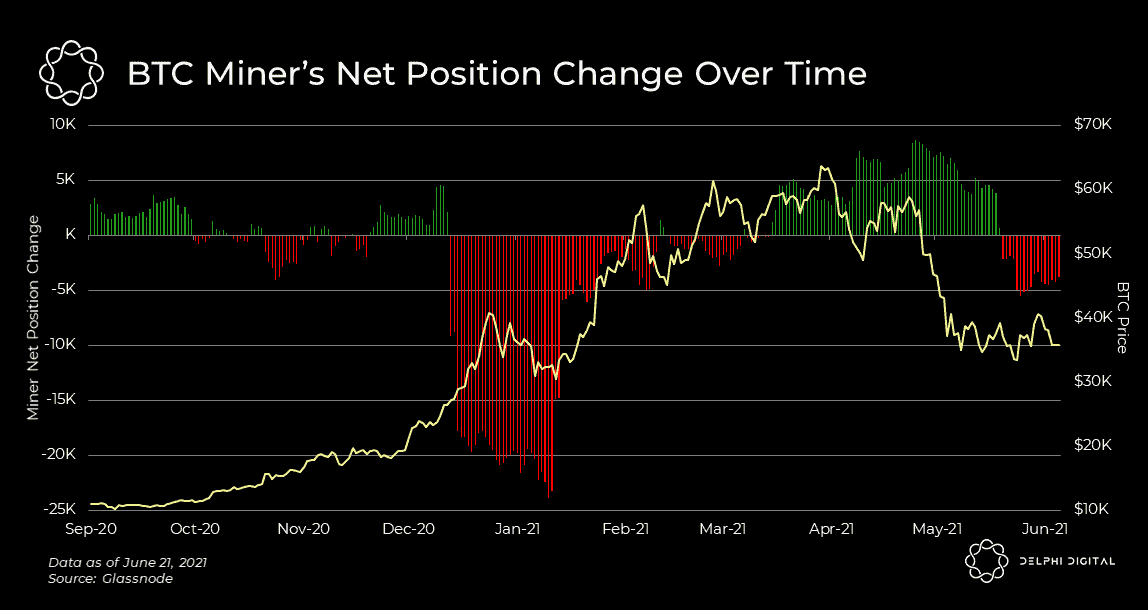 Overleveraged Apes on Bybit Get Liquidated (Again)
In the last 7 days, there were 3 separate instances of >$1bn of open interest getting liquidated.
The top 3 contributing exchanges to this flush are primarily Chinese exchanges: Bybit, Huobi and OKEx, as Chinese traders and investors reacted to their government's mining and OTC crackdown.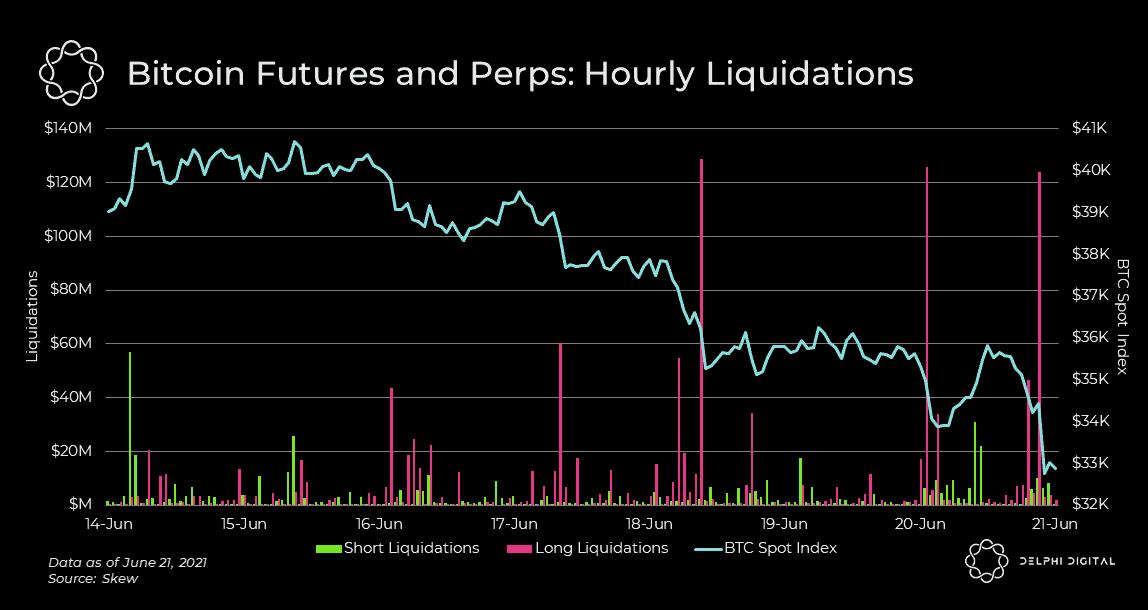 Notable Tweets
Chinese miners are shipping their mining rigs overseas. Can we expect hash rate recovery soon?
#China logistics firm in Guangzhou confirms to @CNBC it's airlifting 3,000kg (6,600lbs) #bitcoin mining machines to Maryland, USA. Fenghua International advertises products delivered to door, tax on both ends cleared. Price per kilo: as low as $9.37! #cryptocurrencies pic.twitter.com/8yUjZjhpkk

— Eunice Yoon (@onlyyoontv) June 21, 2021
Ethereum miners have made $100m from integrating with Flashbots.
As of today miners have made $100m from Flashbots ? pic.twitter.com/S6v4QEMlJk

— Robert Miller (@bertcmiller) June 21, 2021
MicroStrategy bought more BTC.
MicroStrategy has purchased an additional 13,005 bitcoins for ~$489 million in cash at an average price of ~$37,617 per bitcoin. As of 6/21/21 we #hodl ~105,085 bitcoins acquired for ~$2.741 billion at an average price of ~$26,080 per bitcoin. $MSTRhttps://t.co/gLfnOxZEZc

— Michael Saylor (@michael_saylor) June 21, 2021